Judge Ouko: I will restore public confidence in the Judiciary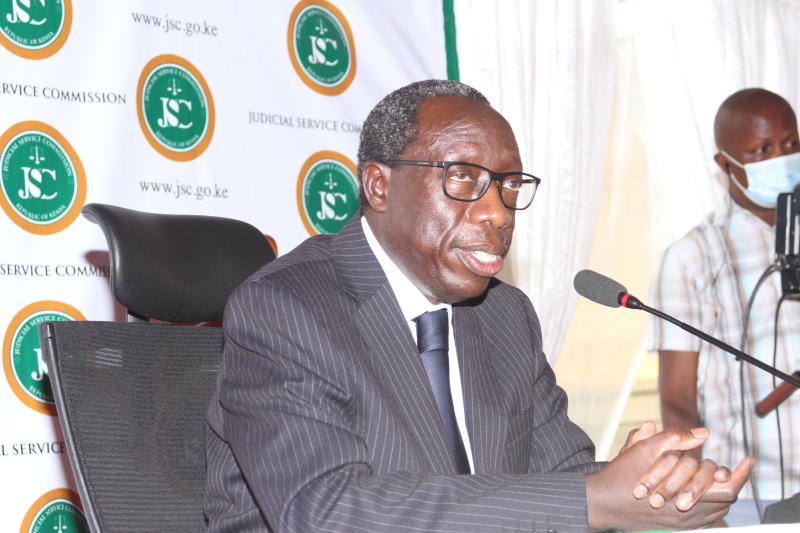 The President of the Court of Appeal Justice William Ouko has vowed to leave a legacy of satisfied litigants in the Kenyan courts.
"My judiciary vision is in one sentence -- restoration of the public confidence in the judiciary," said Justice William Ouko when he appeared before the Judiciary Service Commission (JSC) panel today.
The judge was quick to note that most courts were not conducive to the comfort of people living with disability.
"There are no ramps, braille and interpreters in our courts. Our courts cannot treat special needs litigants with respect but worsen the situation. There is a strategic plan to cater for them," said Justice Ouko.
This he said as he concurred with the interviewing panel that the inherent problems in the judiciary were corruption, backlog of cases, and delayed judgments all of which impact on the litigants.
Further, Justice Ouko told the commission that if he became the Chief Justice his focus would be on implementing recommendations that were already in place as opposed to initiating new projects.
"We have not paid attention to implementation, which is an area the next CJ should address," noted the Court of Appeal president.
Justice Ouko said that if appointed the CJ he would improve on the digitization of the judiciary operations.
Besides, the judge backed the adoption of court-mandated mediation by working with private lawyers as well as alternative dispute resolution mechanisms.
Judge Ouko is among the judicial officers who have been putting pressure on President Uhuru Kenyatta to appoint 41 judges, 10 of which were nominated to sit at the Court of Appeal.
He has also taken the Executive head-on for slashing the Judiciary budget.
When he was faced with a reducing number of judges sitting at the Court of Appeal, as a result of retirement and non-appointments Justice Ouko shut down other courts of appeal stations and called back all the judges to Nairobi.
Today marked the 8th day of the Chief Justice interviews by the JSC with just two candidates to face the panel on Thursday, April 22, and Friday, April 23