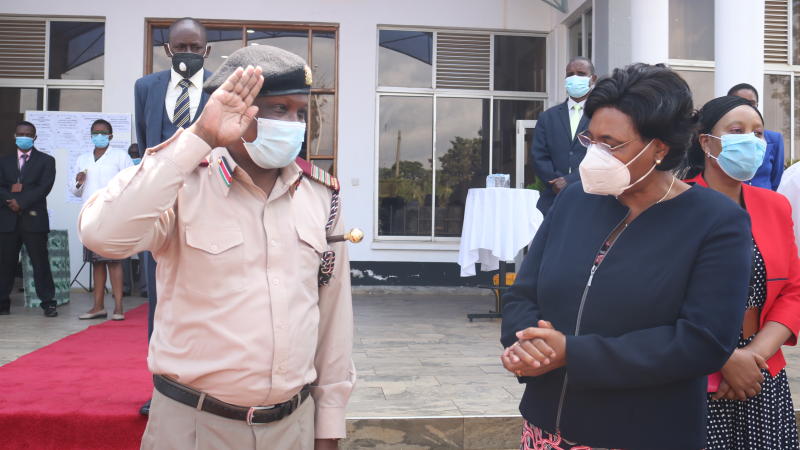 The state has raised concerns over increasing cases of gender-based violence.
Through the Ministry of Public Service and Gender, the government said all Kenyans must be tolerant and find appropriate ways of solving differences rather than resorting to violence.
CS Margaret Kobia said at the end of 2020 some 5,009 gender-based violence cases were reported compared to the same period in 2019 with 1,411 cases.
Kobia said the increase can be attributed to the Covid-19 pandemic.
"Between January and March 2021 we have already recorded 877 cases with a high prevalence in Nairobi, Kakamega, Kisumu, Nakuru and Kiambu Counties. As Government, we recognise that we cannot win the fight against GBV single-handedly therefore, we have to synergize efforts," Kobia said.
Kobia said, "We are appealing to the public to help complement the Government's efforts to fight GBV. We must all stand up against GBV through reporting, supporting victims and we must also discourage harmful and retrogressive cultural beliefs".
Kobia said the national GBV Toll-free Helpline 1195 is available to provide immediate assistance to survivors through tele-counselling and referrals for medical and legal services.
Other government-run helplines include National Police Helpline - 0800730999 and Child Helpline -116.
In May last year, President Uhuru Kenyatta directed the National Crime Research Centre to move swiftly and investigate the increasing cases of gender-based violence and teenage pregnancy.
Uhuru said his administration is concerned by increasing tension within homes across the country.
He said cases of gender-based violence had risen, mental health issues worsened, and instances of teenage pregnancy escalated.
"I appeal to social institutions, including the religious institutions, to exercise civic responsibility to bring these unfortunate trends to an end," he said.
Uhuru said a family is a projection of the state and if the same family is under attack, the state is under attack.
"If the family is weak, the country is weak. Therefore, to fortify our protection of the family as the foundation of the state, I direct and order that the National Crime Research Centre probe the escalating cases of gender-based violence, the worrying trend of cases where the girl child has been disempowered and the violation of children's rights," he said.
The nature of gender-based violence cases commonly reported is intimate partner violence, defilement and rape, especially in Nairobi and Kisumu.
Widow eviction and physical violence by in-laws are mostly prevalent in the Western region.