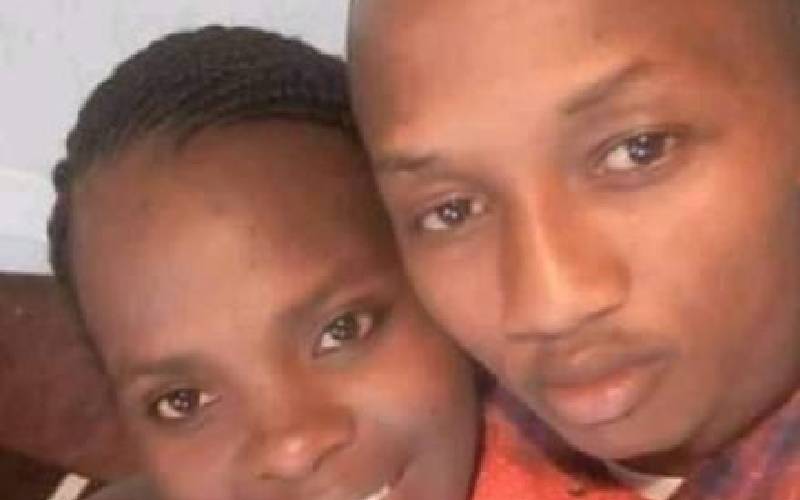 On Monday evening, Police Constable Hudson Wakise stepped out of an altercation with his wife, came back with a gun and emptied its bullets into her chest, before turning the smoking gun on himself.
The killings shocked the nation, with Wakise's boss, Interior Security Cabinet Secretary Fred Matiang'i describing it as "a rude awakening to psychosocial challenges among some of the young officers that we have no choice but to now paying greater attention to."
The couple's death is not an isolated incident. Many more spouses or partners are falling into the arms of their loved ones, for good.
"They started exchanging bitter words and the wife accused him of infidelity. As a result, the said husband went out of the house and shortly returned to the sitting room. Suddenly, he drew out his Jericho pistol and fired several rounds at his wife's chest, killing her instantly," a statement on the Wakises killings read.
On February 23 when Velvine Nungari accepted an offer of lunch and later on a drink from a man she had met two days earlier, she never knew the meeting would end with her being part of growing statistics.
Less than 24 hours later, Velvine, 24, was in the hospital, her spine broken in two places. Her pelvis was shattered. She could not move on her own. Could not feel her toes. Was barely audible.
She went missing
Her memory, according to police records, ended at the lunch table at a city restaurant. After that, only blackness. And then the pain that woke her up on the morning of February 24. Then the screams alerted staff that all was not well. When staff followed the cries, they found Velvine. She was alone in the room. Naked. Struggling to express herself.
"That's when I received a call from her mobile phone," says Lucy Wanjiri, a friend of Velvine.
"In fact, we were supposed to meet on the day she went missing," Lucy says in a phone interview with The Standard that took place a week after Velvine's funeral.
"We spoke that night and she told me her phone was about to go off. It was running out of charge. She told me that if anything were to happen to her, I should ask the owner of the phone she was using," Lucy says.
She, later on, texted her roommate and told her she was on her way home.
But something happened after she ended the conversation with her roommate as the 24-year-old girl with ambitions of making it in the hospitality field, an only child and a student at Kenya Methodist University, never made it to her room.
Days after Velvine's death, the National Crimes Research Centre (NCRC) released an annual report detailing incidences of various forms of violence, among them the death of women from what the report termed as 'domestic violence.'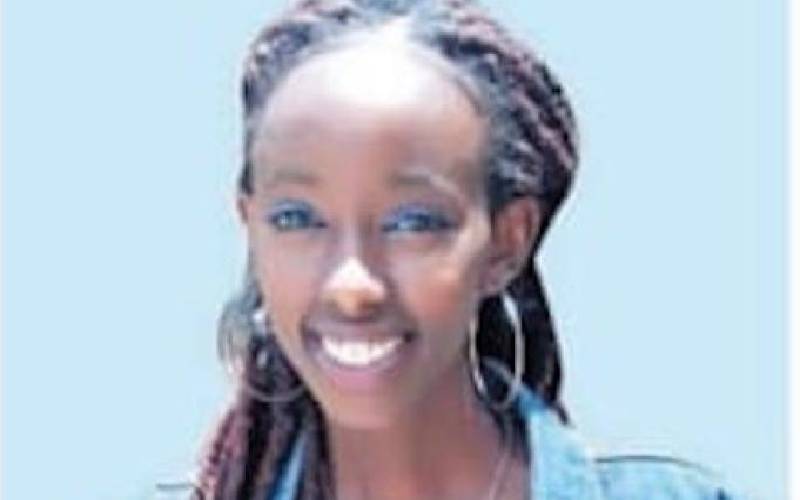 The agency singled out men as the biggest perpetrators of abuse within families, and put the number of cases recorded between January and June last year at 2,032, a 92 per cent increase from a similar period in 2019 when 1,057 cases were reported.
"There is a likelihood of the post-Covid-19 period confounding the forms of family-based crimes and violations in the country because of the uncertainties and unpredictability of the pandemic," the agency said.
Of the total number of cases reported in the six-month period, 81 per cent were of husbands beating their wives, while 19.8 per cent were related to women assaulting their husbands.
Public health problem
Further, the NCRC noted that violence is more prevalent among married couples aged between 18 and 33.
Another report by researchers from the United States International University paints a deeply accurate, yet disturbing picture of current realities.
"Kenya has recently witnessed a surge of intimate partner killings (IPV). Eleven women were killed by a current or ex-partner in February 2019. During that year, 44 women and 3 men were killed by a current or ex-partner," the report, titled Masculinity and Intimate Partner Violence in Kenya states.
At the time of the report, the researchers found that IPV is common and normalised, affecting 4 out of 10 women in Kenya. Globally, the World Health Organisation states that IPV is a major public health problem and disproportionately affects women at the hands of men.
The health body estimates that 35 per cent of women worldwide suffer IPV which leads to a range of physical, sexual, reproductive and mental problems. The majority of affected women do not seek help from formal services or authority figures.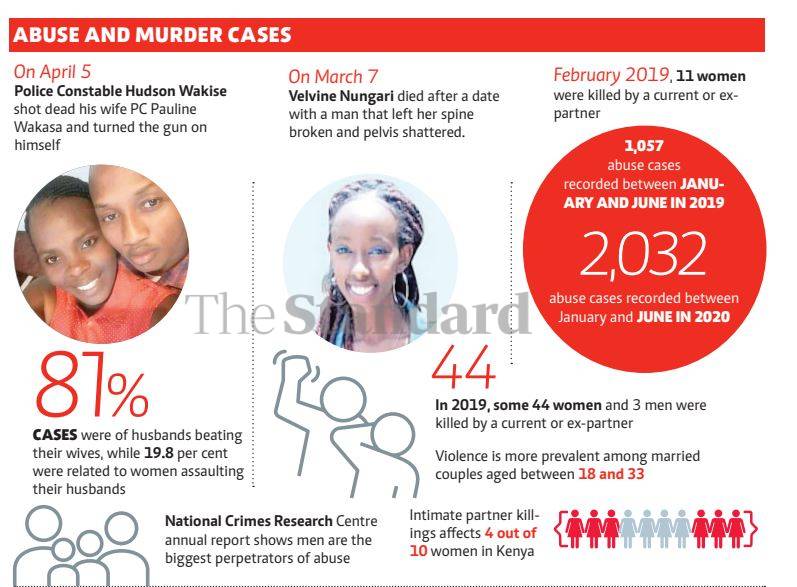 "As many as 38 per cent of murders of women are perpetrated by an intimate partner," the report reads.
"Unfortunately, these forms of violence have been normalised and tolerated," Maryanne Kasina, a GBV specialist at Kayole Justice Centre in Nairobi says. According to her, the normalisation is so intense that victims more often chose not to report violations against them. Her thoughts are backed by data from the Reinvent project.
"Respondents blamed domestic violence on gambling, social media, culture, harmful traditional practices, parenting, poverty, land conflict, weaknesses in legal and judicial systems and other social supports," the report reads.
Of these reasons, it is perhaps the weakness in the legal and judicial system that makes the hurdle of IPV harder to jump over, and by default, makes it harder for prosecutors to secure convictions of suspects in cases similar to Velvine's.
Every new day brings a new case at Ms Kasina's doorstep. And every new day, she says, comes with the disappointment of delayed justice to most victims.
"There are too many delays in the judicial process. We have many cases in court but the perpetrators are hardly convicted," Maryann says. "The suspects are often set free and walk within our communities intimidating or buying off witnesses," she says.
"Often, solidarity even from the community is with the perpetrators. Not the victims or the survivors."
For Kasina, the solutions will not come from the government. Neither will they come from the law.
"Unless communities rise against these injustices, speak about them and address the root causes, we are fighting a losing battle," she says.
Wangechi Wachira, the executive director of Centre for Rights and Awareness Education, believes hurdles for survivors and their kin start from the very beginning.
"Victims or their kin are expected to first narrate their ordeal at the hospital, then repeat it at the police station then repeat the same story perhaps multiple times in court. By the time the process is over, they are tired of the whole system and are broken emotionally," she says.
And, she says, a number of these cases do not even make it to court.
"We know of the corruption in police stations where officers are paid to look the other way or suppress evidence making sure the cases never even start," she says.
She has a solution too.
"We have to get a model that works in favour of the victims. For instance, having the public prosecutors work as a team with the police and the medical fraternity in evidence gathering? Countries such as Rwanda have models that have gotten rid of some bottlenecks we are struggling with."
The Kenya Demographic Health Survey 2014 found that the 80 per cent of IPV named their husbands as the perpetrators.