Search for college pocket money that left student immobile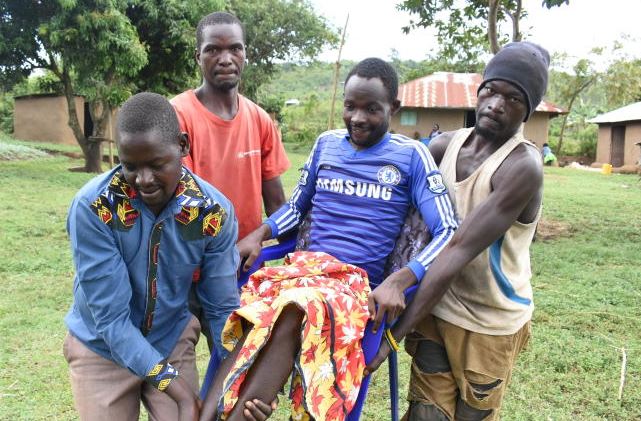 Samson Otieno, 29, a Third Year student at Kenya Medical Training College in Nairobi has been forced to defer his studies as he cannot walk.
It was a warm and humid afternoon in December last year and all Samson Otieno wanted was to climb out of the gold mine where he had been working since dawn.
After assembling all the tools and ready to call it a day, a sharp sound pierced through the entrance, followed by people wailing and calling for help.
A heap of soil covered Otieno's lower part of the body. His colleagues quickly moved in, removed the soil and rescued him but as soon as they brought him up on the ground, Otieno lost consciousness.
"We tried to seat him up when we pulled him out but he could not," said Nicholas Omondi, 37, who had also been working at the quarry.
Otieno, 29, a Third Year Medical Laboratory Science student at Kenya Medical Training College in Nairobi, said he ventured into mining gold when schools and colleges closed due to the coronavirus pandemic.
"I had always burned charcoal during school holidays to raise pocket money but I thought of trying out mining," he said.
Since March last year when the schools were closed, this is all Otieno had been doing.
Otieno joined his village mates in Kowee in Seme, Kisumu County, in the gold mine where they earned money to meet their needs.
On this fateful day, he had been at the quarry from 6am, and by 4pm, they had collected enough soil which they would sieve in search of the precious stone.
"The previous day, I had made Sh800, but on this day things looked brighter and we were expecting to earn more than we did the previous day," he said.
The quarry's walls crashed down hitting Otieno around his waist and lower abdomen. He came out alive but couldn't walk or speak.
He was rushed to Port Florence Hospital in Kisumu where he was treated and referred to Moi Teaching and Referral Hospital (MTRH) in Eldoret and he was admitted for one month.
"It was after the tests and scans at MTRH that I was informed that I had a bad a spinal injury.
"I underwent surgery on January 5, and discharged on January 13," he said.
Otieno's bill came to Sh160,000 but the hospital agreed to discharge him after his family raised Sh24,000.
However, his life took a different turn - his lower body is now paralysed, and he has to be assisted to do things he used to do for himself.
"The doctors said his situation is delicate so we were advised to ensure he is turned from the sitting or sleeping position every two hours.
"I had to quit my job to take care of him," Maureen Adhiambo, his sister who takes care of him, said.
His mother Siprosa Akinyi said her son's situation has affected the whole family as they had hoped that after college, he would get a job and educate his other siblings and take care of her too.
When her daughter Adhiambo is not around, she said, she is forced to seek help from her neighbours to carry Otieno back in to the house.
She used to get menial jobs such as weeding in the nearby farms, but now she has to supplement the income by making sisal ropes as she is the breadwinner for the family.
"Now that my daughter had to quit her job to look after her brother, I have to cater for their needs including his medication," she said.
Otieno is due for a review next week and hopes the doctors will give him some positive news that he might regain his mobility.
He was forced to defer his studies for one year in the hope that by then, he will be back on his feet.
"If I could afford proper medical care, I would be better by now but we have to work with what is available now," Otieno said.
His class mates at the medical college sat their final examinations this month.
"My prayer is that I am able to walk again and go back to my studies."
His days, he says, are spent sleeping or listening to his radio and sometimes reading the few books he has on his bookshelf.
"I wish to get back to school to complete my education but as at now it is only through proper medical care that I will realise this dream," said Otieno.
He said he's optimistic things will change for the better soon.