Travellers rush to beat lockdown as faithful mark low key Palm Sunday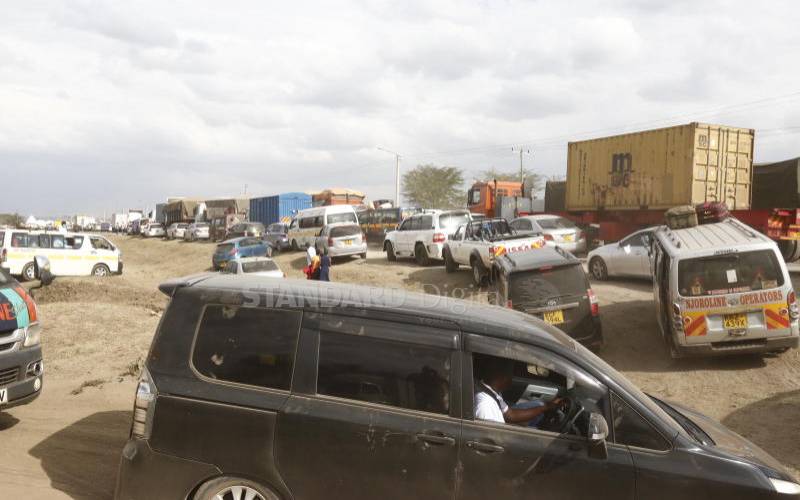 The full extent of revised measures to tame the third wave of Covid-19 announced by President Uhuru Kenyatta on Friday was felt yesterday.
Churches were deserted even as faithful of the Catholic Church across the country marked a low-key Palm Sunday, which is important in the Christian calendar.
Some of the churches, however, remained open for faithful to say private prayers although few turned up.
At Christ The King Cathedral which has a sitting capacity of more than 1,500 people, Bishop Maurice Muhatia of Nakuru Diocese presided over a brief Palm Sunday sermon attended by less than 30 priests and nuns.
"It is heartbreaking that our members have missed this critical Sunday service for the second time in two years. Today we would have had seven services. We are also approaching Good Friday and Easter Monday during which we shall not manage to fellowship together," said Muhatia.
He, however, assured the faithful that the church will continue to minister to them through live stream service.
Catechist David Njoroge said the ban on gatherings has affected the planned baptism of hundreds of faithful during the Easter period.
"I had prepared many people for baptism over Easter, but this will not be possible since churches have been shut down. We shall have to wait for a period which remains uncertain," said Njoroge.
Bishop Mike Brawan of Metro Church, who conducted a 45-minute service that was streamed online, said the church will remain at the forefront of giving Kenyans hope during the pandemic.
"It appears the pandemic is getting even worse but as a church, we must assure our people we are soon getting out of this. We shall put into practice what we learned from the first and second waves of the pandemic to win this war," said Brawan.
Erected a roadblock
Rev Elijah Mwangi of Deliverance Church, who was joined by the church choir, media and leadership delivered a summon that was streamed online.
Nakuru Business Association chairman Muchemi Mwangi said the shutting down of the five counties will be detrimental to the economy as Nakuru is a major transit route.
"The five counties are major contributors of the country's economy. We didn't anticipate this drastic measure just when businesses were picking up. We now urge the government to focus on increasing vaccines rollout during the lockdown and support the health system," said Mwangi.
He added that the curfew and restriction on operations of the hospitality sector will affect the economy.
In Machakos, residents of Kithyoko and Kivaa areas of Masinga Sub-county were forced to use 'panya' routes to reach Matuu town on Saturday after GSU officers erected a roadblock at Kanyonyo along the Thika/Garissa highway.
This was to ensure nobody crosses over from the neighbouring Kitui, Embu and Garissa counties.
"How can we be locked out of our main shopping town on suspicion of coming from Kitui and Embu counties just because we live near their borders," posed a resident.
People who had travelled to Kitui, Embu and Garissa counties were rushing back home in personal cars and others public service vehicles after the government announced that they had until Sunday 8pm to return to the five counties, which have been locked down after they were declared disease infected zone.
Hundreds of travellers were stranded at Kakamega, Bungoma and Mumias bus parks on Sunday due to a shortage of vehicles and fare hikes.
Travellers interviewed lamented that it was not possible to make their travelling plans within 24 hours as directed by the government.
Andrew Ndagalu, who was waiting to board a vehicle at Blue Line Shuttle terminus, said he arrived in Kakamega town at 5am with the hope of catching a vehicle to Nairobi. They were charging Sh3,500 fare from Kakamega to Nairobi yet there were no vehicles in sight.
"If I fail to report to work today as expected, I could as well forget about my job and given that I was here early and there are no vehicles, it is possible I will not make it to Nairobi any time soon," he said.
Isaiah Mwanzi, who has been on leave, said he had not anticipated the lockdown in the five counties that has now inconvenienced his return to Nairobi.
"My employer called saying I must report to work without fail, but as you can see, there is a big problem; there are no vehicles yet travellers are many," he said.
Other travellers who were stranded at Eldoret Express bus park and opted to hire private cars were taken aback after they were told to part with between Sh5,000 and 6,000 from Kakamega to Nairobi.
Mercy Wafula and her two children arrived at the booking office at around 4.30am but six hours later, they were yet to board a bus.
"We are being told that a vehicle will arrive here at noon; it is not possible to travel today because vehicles will not be allowed through Nakuru after 8pm," she said.
"I decided to seek transport from a private car and the owner told me to pay Sh5,500. I would rather go back home and wait for the situation to return to normal," said Wafula.
Juliana Akumu said after realising there was no public transport vehicles, she opted for private cars, but they were charging Sh6,000 from Kakamega to Nairobi.
"Booking offices have been closed and they are telling us that they are serving those who came here early so we should wait. I decided to try a private vehicle but they were demanding fare that is five times more than the normal charges," said Akumu.
A similar situation was witnessed in Mumias town, Bungoma and even Vihiga, with some travellers opting to cancel their trips.
[Reports by Kennedy Gichuhi, Victor Nzuma, Benard Lusigi]