Religious leaders, restaurant and bar operators caught off guard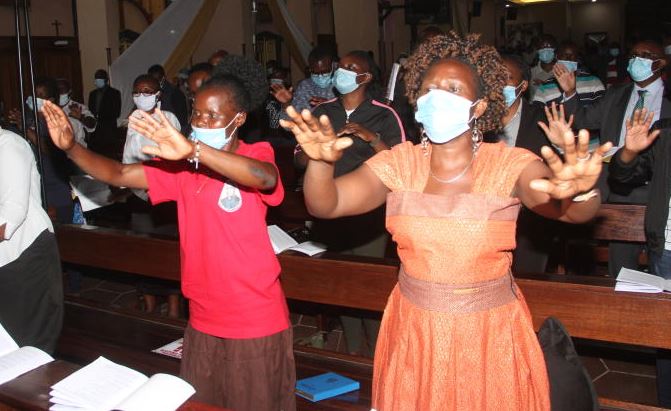 Members of the public, clergy and administrators in Kiambu have been caught flat-footed by the new Covid-19 enforcement announced by President Uhuru Kenyatta.
Geoffrey Githu, a bar and restaurant owner said that he was fearful of an impending close down, but never thought it would happen this fast.
"I am now a worried man, I have been caught unawares just a few hours ago I restocked my bar in anticipation of an Easter bumper sales. I am now scratching my head," he said.
Githu added that he not only felt sorry for himself, but his workers who he will be forced to lay off.
"They are the age of my sons and daughters, sending them home makes me feel bad. They are already in very foul mood," Githu said.
Father George Kariuki of Thigio Parish said the church will abide by the directives issued by the government.
We shall know how to keep the church going through various communication channels. we must keep our flock informed in their small communities commonly referred to as mwaki," Fr Kariuki said.
He added that it's unfortunate that last year the church did not celebrate Easter and now again in the year 2021 the celebrations, one of the biggest church festivities has been put on hold.
"We, however, encourage Christians to observe the protocol as issued by the Ministry of Health."
Peter Njenga a matatu operator in Limuru said that it's a double tragedy for the industry as petrol prices have recently gone up and now the carrying capacity which they thought would improve have been deflated drastically.
"We are now operating from hand to mouth, a car that ferries eight people paying the usual fare and the new restrictions have clamped us down," Njenga said.
Mary Njambi, a trader in Kiambu town said that she welcomed the new measures as the third wave had proved to be vicious.
"I have lost two relatives to covid and a friend. It has the worst sting ever," Njambi said.
Njambi added that the effects on the commoners are unpleasant, but it's a necessary evil that we must embrace.
Elsewhere in Machakos African Brotherhood Church Archbishop, Timothy Ndambuki who is also the chairperson the regional National Council of Churches of Kenya, said the president's directive was necessary in the interest of safeguarding the lives of the people
The Archbishop noted that the third wave of Cocid-19 was more aggressive and had claimed many lives of worshippers.
"I think the president has done the right thing. The third wave is so deadly and has affected many people of my own church. Many other senior people have also died of the disease and it is high time even as shepherds to mind about the flock we lead," Archbishop Ndambuki told The Standard over the phone yesterday.
At the same time, the chairperson of Machakos County Boda Boda Association, Allan Musembi said the president's directive will adversely affect the sector.
"We have heard Uhuru advice people to work from home and this is definitely going to affect human traffic. The closure of eateries and bars and longer curfew hours will also hit our members hard," said Musembi.
Similar sentiments were echoed by the chairman of Lower Eastern Transport Welfare Association Onesmus Ndambuki.
"The fact that matatus will not be able to access Nairobi and even Machakos means many vehicles will be grounded and rendering many drivers and conductors jobless," said Ndambuki.
[George Njunge, Erastus Mulwa and Peterson Githaiga]