Uhuru Kenyatta declares 7 days of mourning and flags to fly on half mast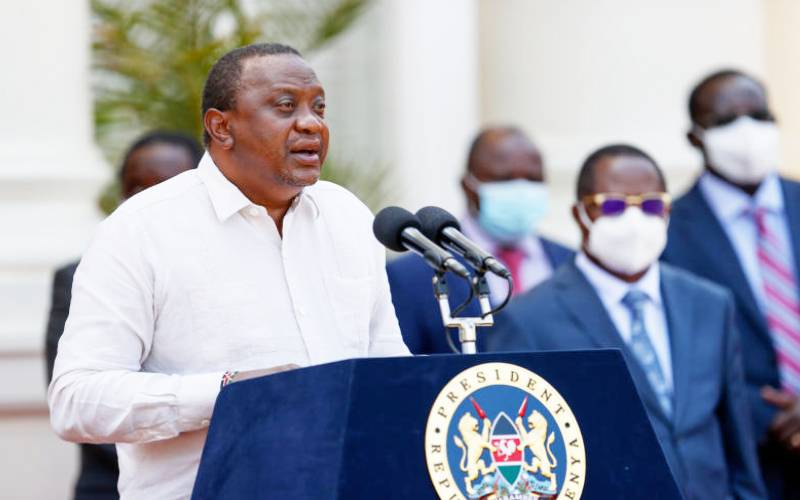 President Uhuru Kenyatta (pictured) has announced a seven-day period of national mourning of Tanzania President Magufuli starting today.
"In testimony of the high esteem in which the people of Kenya hold President John Pombe Magufuli, the Republic of Kenya will observe a period of seven days of national mourning," said President Kenyatta.
Uhuru mourned the death of his closest territorial colleague, Magufuli, by calling him an "illustrious leader and a champion of pan Africanism".
"I have lost a friend, a colleague, and a visionary ally with whom I worked closely, particularly on our commitment to form lasting bonds between Kenya and Tanzania," Uhuru said during a live address from State House, Nairobi, on Thursday.
The President recalled how Magufuli graced their friendship by coming to Kenya to meet the president's family and pay respects to his mother, Mama Ngina Kenyatta.
"He invited me to visit his home in Chato where I also met his mother. We spoke a lot about our two countries and our relationship as members of the East African Community (EAC)."
The President also expressed his commitment to work with the incumbent president and Former Vice-President, Samia Suluhu.
"I have gotten an opportunity to speak with Vice president Suluhu and assure her we will continue working with her, the government, and the people of Tanzania."
President Kenyatta who is also the chairperson of EAC said it is high time we continue with Magufuli's dream of uniting Africa.
Kenya will pay its respect to the fallen leader by flying the Kenyan and EAC flags at half-mast in all public buildings and public grounds, wherever else throughout the entire territory in the Republic of Kenya, and at all Kenya diplomatic missions abroad from today till the day of his funeral.
Magufuli, 61, died from a heart attack, according to a televised announcement by Suluhu.
The populist leader will be remembered for his radical measures of reducing government spending and corruption, increasing focus on infrastructural development, and promoting nationalism among the Tanzania people.