Suspect in son's killing wants to be released on bond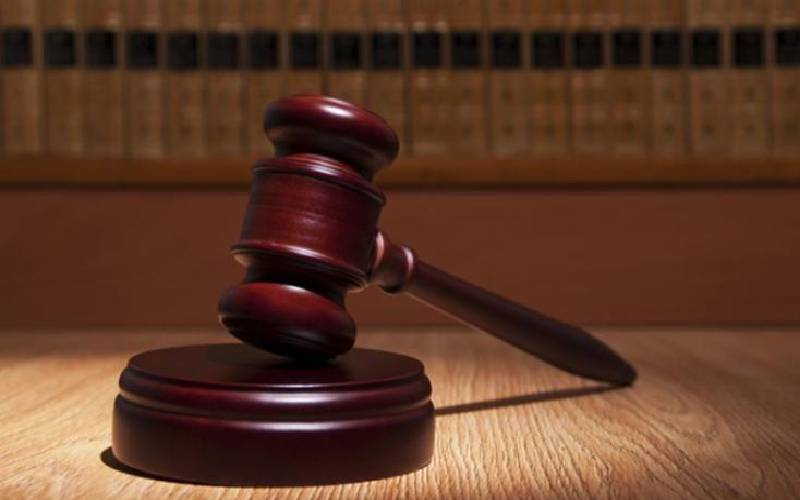 A Nyeri-based businessman accused of murdering his son will remain in custody until April 20 when the court will rule on his bond application.
Yesterday, Stephen Wang'ondu appeared before High Court judge Florence Muchemi to apply for bond, alongside his co-accused James Mahinda Mwangi, Eddy Kariuki Ngari, Raphael Wachira Kariuki and Geoffrey Warutumo Waturi.
They have denied murdering Daniel Mwangi Wang'ondu, whose body was found in a pool of blood at his gate in Wendiga village on January 1. Mwangi was 32.
The 74-year-old Wang'ondu is accused of hiring hit-men to eliminate his son, claims he denied.
The prosecution claimed the businessman planned his son's murder to benefit from his insurance cover.
In her affidavit filed in court, investigating officer Joyce Maluki said there was a possibility that insurance fraud was the motive behind Mwangi's killing.
Justice Muchemi directed that the suspects remain in custody for close to two months when she will make her decision on their application for bond.
The prosecution said Wang'ondu should not be released on bond, claiming he would abscond court and interfere with investigations.
Maluki said they were investigating Wang'ondu over the possibility of an offense of insurance fraud.
She told court the trader had on January 25 filed a report of personal accident form with ICEA Lion General Insurance Company.
"The prosecution is relying on an affidavit before the court by the investigating officer to oppose bail application by the accused," Duncan Ondimu, a senior counsel from office of Director of Public Prosecutions, told court.
Mr Ondimu asked Justice Muchemi not to release the suspects on bond owing to the seriousness of the offense.
"We urge the court to look at the strength of the evidence by the prosecution and whether the suspects are a flight risk and likely to interfere with the witnesses," Ondimu said.
Sufficient grounds
Wang'ondu, through lawyer Mahugu Mbarire, told the judge grounds given for the police to continue holding him were insufficient.
Mbarire argued that the businessman should be released on bond, as he was of advanced age, and suffering from high blood pressure and diabetes.
This came as Scolastica Wachuka Wang'ondu, the trader's first wife, sought to be enjoined in the case.
Wachuka and her children Crispin Kinini, Martha Nyawira and Rosemary Wamucii told court they made the decision to be enjoined in the case to push for justice for their kin.