VIDEO: What professional dowry negotiation involves
In most African setups, dowry negotiation is often left to close relatives like uncles and aunties who are always left to do the bidding.
But as the uncles and aunties become increasingly unreliable, things are changing fast especially in urban and peri-urban areas where men are making quick money for being chief negotiators. The changing dynamics have seen the emergence of professional dowry negotiators.
In Nakuru, we caught up with George Njoroge, also known as Gatiba wa Njoroge, who prides himself as a modern dowry negotiator in Rongai, Nakuru County, to understand his trade.
How dowry negotiations work
We witnessed firsthand, Njoroge's negotiation skills that left us astonished when he took a lead in convincing a family to lower the price of a cow from Sh100,000 and take Sh60,000.
In the Kikuyu marriage customs, the price of requesting a woman's hand in marriage is negotiated in form of cows.
As Njoroge puts it, in a dowry negotiation, care must be taken by both sides to please the gods and conserve the culture.
"One wrong move and the family may see themselves and their generations suffer over small things. Even Sh20 matters in a dowry negotiation ceremony," he says.
At his level, Njoroge is now referred to as a Mutonyi (Counselor) and a leader. He acquired the title in July 2020 as a sign of respect from the community.
The title comes with its own outfit - akala (african sandals), fly whisk, and a cap.
To be a Mutonyi, one ought to have done three dowry ceremonies, slaughtered a goat for the elders, be of age a certain age and his children must be above 18, narrates Njoroge.
Njoiroge says his next goal is to become a Muthamaki (King) which is also a process coupled with rituals such as the slaughtering of goats for other elderly men who decide who gets the title and when.
Works with other tribes
Njoroge's work cuts across all communities especially because of intermarriages. He also solves societal disputes and two weeks ago, he was deep in the Rift, solving a dispute between a warring couple.
"I do not discriminate; I deal with anyone who calls me irrespective of the tribe, race or religion," he adds.
Notably, Njoroge's services are paid for depending on the class, tribe and agreement with whoever is seeking his service.
"At my level, as an elderly person, I must be paid money, but it solely depends on the financial level of people I represent. I am their lawyer, doing their work and I cannot shame them," he says stressing that he only takes money and not gifts in form of animals.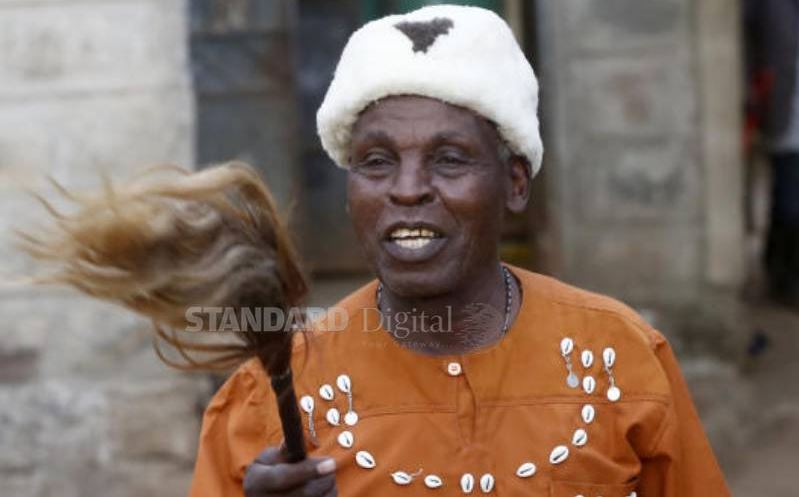 Since 1994, Njoroge has done over 100 ceremonies from dowry negotiations to traditional weddings among others.
A couple, Boniface Kariuki and Dorcas Wangari, are some of the beneficiaries of Njoroge's mastery of traditional weddings and they shared the experience with The Standard.
"His oratory skills during my dowry negotiations were amazing. He was articulate, respectful and knew what to say when and how to say it. He was just amazing," Kariuki recalls the events of October 10, 2020 when Njoroge helped him get Wangari's hand in marriage during the celebrations in Rongai, Nakuru County.
Wangari says her parents Harun Marira, and Cecilia Njoki were equally amazed by Mr Njoroge's negotiation skills.
"He showed respect to my parents and ensured my husband's side gave everything that was listed by my parent, he is quite a great negotiator, " she says. Mr Kariuki says he learnt of Njoroge from his fellow elders.
"He is a God-fearing person and people in Bahati show him a lot of respect. When I hired him, I was sure that I would convince Wangari's parents I'm the right person for her," adds Kariuki.
Mr David Kahira, who has benefited from Njoroge's services says he was lucky to have him in his team on such a crucial day of his life.
Kahira's dowry negotiations were on January 24, 2021.
"We spoke to him before the event. He was full of knowledge and wisdom of the culture, something we young couples do not have," he adds.
Kahira says the reason he didn't use his uncles for the negotiations is that he was scared they might not have been well versed in Kikuyu culture which Njoroge has at the back of his palm.
"He can be trusted with his work, people speak highly of him and that is why he gets clients," he adds.
Njoroge says that his negotiation skills and gift run in the family but is quick to emphasise that his closeness to his father drove him to the work. His charges vary depending on the distance and how wealthy a family is.
Njoroge says the first people who sought his help inspired him to pursue his interest as a chief negotiator.