Kenya's ultra-modern library where 'our cultures' blend with modernity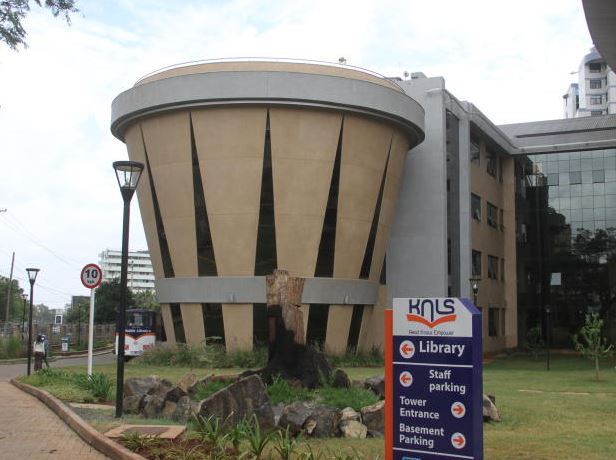 A new imposing public library in city sits atop three drums; a symbolism of the fireplace where stories were told in the past. The use of drums was a deliberate attempt to blend cultures that share their love for storytelling.
"We thought about it and chose drums as an architectural design because every community in Africa had drums. They were used at weddings, funerals, events and to communicate. They are the perfect symbol of cohesion," said Sports and National Heritage Cabinet Secretary Amina Mohamed on the new public library that has been constructed at Community in Upperhill, Nairobi.
Outside the library, there is fusion of modernity and traditionalism. A lone telephone booth that was used before mobile phones became easily accessible stands illuminated against the tall imposing modern building that makes up the newly launched Kenya National Library.
Inside the building, the walls are made of sculptures and murals. Again, an attempt to preserve tradition merges with the inevitable embracing of technology. The sculpture of a woman seated with children at her feet, telling them stories from a fireplace stands opposite that of a teacher holding an iPad, to solidify the idea that the library is a place for preservation of culture while embracing the inevitable swing to new technologies.
Renowned author Ngugi wa Thiong'o's image takes up a prime spot at the entrance of the library, surrounded by Wangari Maathai, Mekatilili wa Menza, Koitalel arap Samoei and other heroes that are immortalised in sculpture.
"We wanted to ensure everyone who walks in here gets a story they can resonate with," said Timothy Mahea, head of marketing at Kenya National Library Service (KNLS).
The modernising of Kenya's national library has been in works for a long time. It is a journey that started in 1965 when the library was a temporary wooden structure next to prison headquarters that housed a few books that mainly catered for institutions of higher learning.
Almost a decade ago, the Government developed an elaborate plan to set up an ultra-modern national library, Maktaba Kuu Building, that houses KNLS headquarters. It was a race against time, hoping to catch the attention of book lovers who were rapidly shifting their interest to online entertainment and social media while turning away from printed books.
Amidst the staggered funding and diminishing reading culture that threatened the value of the building, President Uhuru Kenyatta recently launched the Sh2.4 billion building.
KNLS is currently implementing a Sh250 million virtual library.
"The first phase will digitise 800,000 books, periodicals, research papers and government publications. It will also contain 600,000 e-books, which are currently accessible offline through e-readers across 63 KNLS branches countrywide," said President Kenyatta during the launch last October.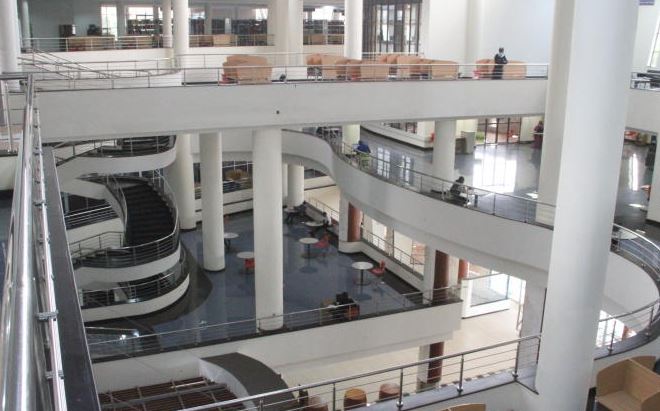 The library can sit 5,000 people, compared to the 300 capacity one that previously occupied the space. It also has meeting spaces including the Hadithi Centre where CS Amina reads to little children every last Saturday of the month.
"I love reading and I feel like I am home when in the library," she said.
There is also a theatre, auditorium and private cubicles meant for people doing intense research. They also have a play area for children, and a secluded space for the elderly.
Visually impaired readers have a dedicated room where they can access braille machines, including a Topaz machine that magnifies books for those with low vision.
"It is exciting for people who have been ignored in the setup of library infrastructure to find a place they can enjoy their favourite books," said James Njoroge, the librarian who operates the department for the visually impaired.
The launch of the building brought nostalgic memories from avid readers who went to social media to describe the thrill and memories that the library brings.
"It takes me back to when I was a child, walking along rows of books and taking in every scent of new books," said Maureen Makori on Twitter as she shared her trip to the library.
For others, the library was a painful reminder of how some counties have never gotten public libraries.
"Homa Bay County has never had a public library. Most people have to travel several kilometres to access even the most basic books," said Tom Aigi, a community leader in Homa Bay.
Others spoke of the state of ruin that other libraries across the country are in. Macmillan Library that once held space in the history of libraries was reported to be in a poor state.
For Maktaba Kuu, one of the fascinating features is a protected area that houses rare books from all over the world. Some of them date from as early as 1800 and have to be placed in fireproof cubicles to preserve them.
"Some, like a book that was done by Mary Leakey in the early years about the Agikuyu community is no longer in print. There are very few copies. Nobody is allowed to borrow them. Even taking them to read for an hour takes a long process," says Mary Linda Adhiambo.
The most sought-after book in the country, Kathryn Mutura who cares for the protected area adds, is "Thinking Black" by D. Crawford that was first published in 1912. They are in the process of digitising the rare books.
Four floors of the building will be used as commercial space to sustain operations of the library.