Leaders: Executive disregard of court orders could plunge country into chaos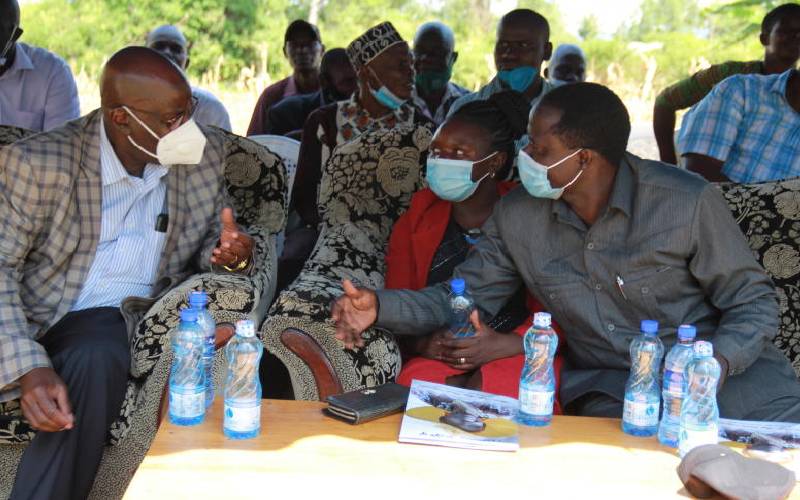 Disobedience of court orders by the Executive could plunge Kenya into anarchy, an MP and a High Court judge have warned.
National Assembly Constitutional Implementation Oversight Committee vice-chairman Peter Kaluma and Justice Aggrey Muchelule have expressed concerns over the manner in which the Executive arm of the government is defying court rulings, warning the move is interfering with the independence of the Judiciary.
Speaking at Ndiru village in Homa Bay Town Constituency during the burial of Kaluma's grandmother Jennifer Akeyo Omollo, the leaders said failure by the government to implement court orders has denied many Kenyans justice.
Kaluma said the government should be a role model in enforcing court orders to prevent anarchy.
"The move by the government to ignore court orders will culminate in anarchy in this country. We don't want Kenya to be in that dangerous state hence the government must respect the rulings," said Kaluma.
The Homa Bay Town MP expressed concerns over rising cases petitions being filed in Parliament to express their grievances after the government failed to implement court orders issued in their favour.
Among them are people who need compensation from the government especially those who were denied their rights by being tortured.
He urged the Attorney General Kihara Kariuki to ensure court orders are implemented.
"There are many people who consistently petition Parliament because the executive has refused to honour court orders which require them to be compensated. It should not be a tussle between the Judiciary and any other arm of government for the orders to be enforced," he added.
Kaluma called on the Executive to provide the Judiciary with funds as a way of ensuring its independence. The legislator said it was wrong for the Executive to hold budgetary allocations meant for the Judiciary.
He argued that begging for funds from the Executive by the Chief Justice compromises the independence of the Judiciary.
Muchelule stressed that judicial officers will not allow anybody to jeopardise the independence of the Judiciary.
The Judge said the rule of law must be respected by all.
"Kenya is governed by the rule of law and independence of the Judiciary is not negotiable. The rule of law must be followed the way it is stipulated in the Constitution," Mchelule said.
The leaders' remarks come after the outgoing Chief Justice David Maraga accused the Executive of interfering with the work of the Judiciary in service delivery.
The interference emanated from failure to remit funds to the Judiciary and failure to appoint new judges.