Kenya launches strategic plan to guide space programmes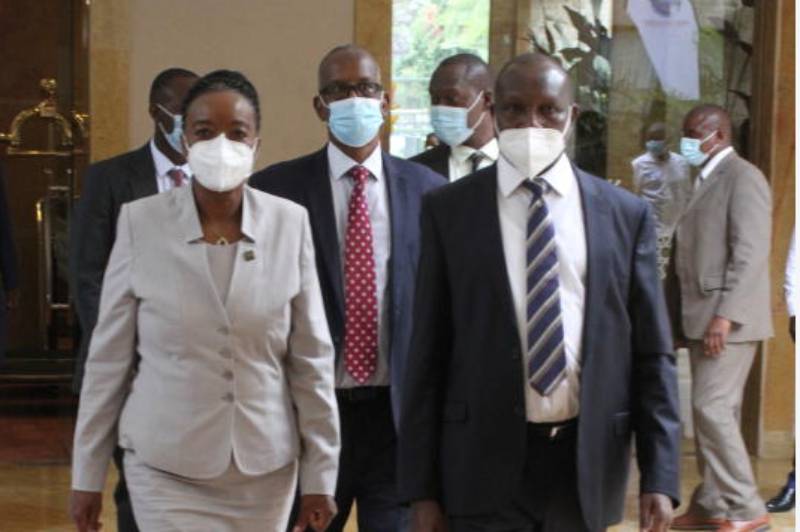 Kenya is determined to spread its wings into matters space.
To achieve this dream, President Uhuru Kenyatta issued the 2017 Gazette notice to establish the Kenya Space Agency, one of just five space institutions in Africa at the time, to amplify Kenya's interest in space innovations.
The agency was tasked with coordinating, regulating and promoting Kenya's development of the space sector.
To demonstrate its commitment, the Kenya Space Agency on Wednesday launched an ambitious strategic plan to guide Kenya's space programmes between 2020 and 2025.
Launching the blueprint, Defense Cabinet Secretary Monica Juma said the plan is an ambitious effort to propel Kenya's space science, one that will position the country among the big league and set the pace for a new technological dawn for Kenya.
Under the strategic plan, the space agency intends to undertake more intensive programmes, including the developing and launching of more Kenyan satellites into space.
To attain this target, the agency is betting heavily on the innovations from local university students, a bet that the University of Nairobi already proved possible.
In 2018, undergraduates from the University of Nairobi, in collaboration with the University of Rome, developed and launched a nano-satellite, named the 1st Kenya University Nano Satellite –Precursor Flight (1KU NS-PF) from Japan.
Coinciding with the launch of the strategic plan, the agency awarded funding to several universities, which will boost the country's space innovations.
The universities include University of Eldoret, Taita Taveta University and the Dedan Kimathi University of Technology.
Moi University, University of Nairobi, Kenyatta University, Technical University of Kenya and Jomo Kenyatta University of Agriculture and Technology also obtained funding to develop nano-satellites.
The plan also hinges heavily on Kenya's strong historical alliance with Italy to grow Kenya's space sector, an industry that is valued at trillions of shillings.
Bilateral agreement
Last week, Parliament ratified a bilateral agreement with Italy, regarding the Italian-run Luigi Broglio Space Centre in Malindi, from where many of the new space programmes and explorations will be undertaken.
Kenya's history with Italy on matters space dates back to 1960s and the European country is Kenya's oldest ally in space.
"Kenya's history of space activities dates back to the 1960s with the establishment of a Satellite Launching and Tracking Base in Malindi, in collaboration with Italy.
"Over 20 sounding rockets and nine satellites were launched from the facility between 1967 and 1988," the agency said in a statement.
Sh10.8m fund to aid youth
Asharami Synergy, Kenya, a member of energy conglomerate Sahara Group, now wants youth in Kenya to take advantage of the platform.