Governor admits to misuse of funds as 'fake' files rejected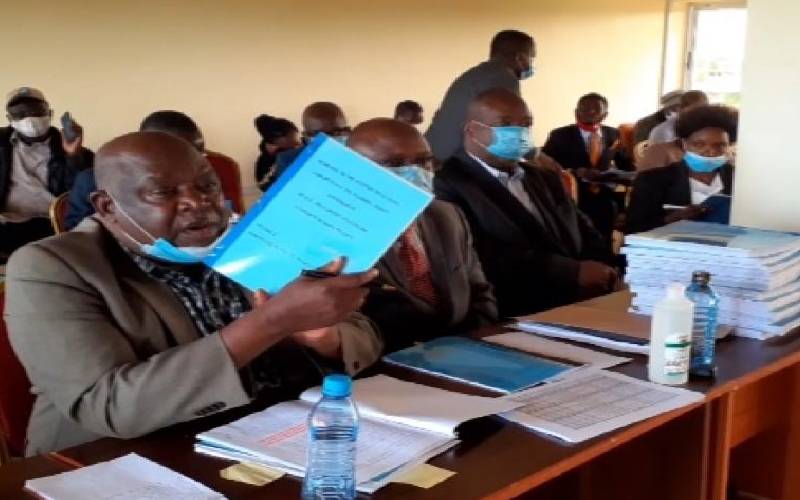 Nyamira Governor John Nyagarama has admitted there were suspicious dealings in the management of donor funds meant for the county's farmers.
Nyagarama said he was shocked that his officers had provided "either forged or falsified financial documents" to the Senate Justice, Legal Affairs and Human Rights Committee.
"I am shocked by the facts," he told the committee on Monday.
The governor was being grilled by the committee following a petition by four youth from his county over alleged financial impropriety and abuse of office. He was accompanied by his deputy Amos Nyaribo, lawyer Jones Nyachiro, members of his Executive Committee and all accounting officers.
The Senate committee suspended the hearings after rejecting the financial documents that were filed as responses to the petition.
Samuel Nyachiro, Ronald Nyaribo, Vitalis Ongaro and Lameck Ochengo had accused the Nyamira County government of nepotism, stalled development and alleged diversion of donor funds.
The four, who are allied to the Nyamira ni Yetu Sisi Mayouth lobby group, also alleged misuse of donor funds by the governor, his close relatives and cronies.
The senators put the governor to task to explain why huge amounts of money were being withdrawn from a particular commercial bank where the funds are channelled.
Nyagarama then sought leave to consult with his accounting officers over the financial queries, which he said would be better answered by his "technocrats".
However, the explanation by his Finance and Planning Executive John Omanwa was not convincing enough until the Agriculture Department's Director in charge of the National Agricultural and Rural Inclusive Growth Project, David Munyi, came in to provide the much needed answers.
More confusion arose after committee chairman Okong'o Mogeni, vice chair Naomi Waqo and Makueni Senator Mutula Kilonzo Jnr poked holes into the opaqueness of some of the financial accountability documents that were provided.
Munyi was at pains to explain why some of the receipts of imprests had no dates.
"All these receipts do not have dates and it is very suspicious for any accounting document to lack such an important mark," Waqo said.
The committee also asked why the county spent money meant for farmers to train MCAs.
"Is it proper for the county to spend Sh1 million meant for farmers to train MCAs in Kisumu for a project that is being implemented in Nyamira? Are there not hotels in the county where they can be trained to save on costs," posed Kilonzo Jnr.
The committee demanded that Nyagarama files correct receipts and lists of all farmers and stakeholders who were trained, and all bank statements and transactions during the period in question.
"We will have to announce another date when the sitting will reconvene," Mogeni said before the adjournment.