80 cases of police brutality recorded since October 2019-DPP Haji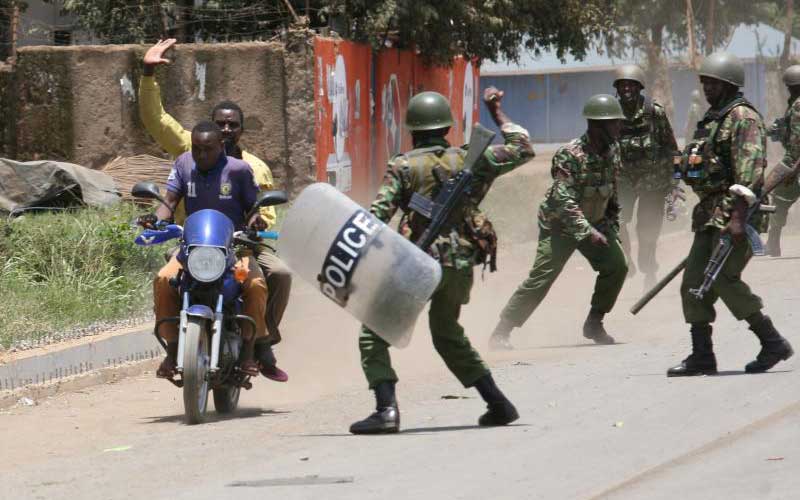 Hours after a homeless man known as 'Vaite'was allegedly shot by police in Mathare, Nairobi, the Director of Public Prosecutions (DPP) Noordin Haji, has acknowledged that his office has received 80 cases of police brutality since October 2019.
According to the DPP, Independent Policing Oversight Authority (IPOA) is trying its' best but the office is limited in human resource capacity.
"IPOA is doing a great job but are challenged by their human resource capacity. There is need to look at their capacity to enable them to deal with the cases with regard to complaints against the police," he added.
The DPP who was speaking during a webinar session on Human Rights and Government Response Measures to Covid-19 Pandemic has said that his office is currently working with Independent Policing Oversight Authority (IPOA) for judicious expedition of the cases.
"Since October 2019, ODPP has received 80 cases against the police and is working closely working with IPOA for judicious expedition. ODPP is seeking funding to support protection of witnesses & victims for cases on human rights violations," Haji said.
The police institution has on the spot for the wrong reasons since the curfew measure was put in place by the president.
The Independent Policing Oversight Authority (IPOA) now says 15 people have been killed and 31 others injured by police officers since Kenya heightened security measures to curb the spread of the novel Coronavirus.
"After preliminary investigations, fifteen (15) deaths and thirty-one (31) incidents where victim's sustained injuries have directly been linked to actions of police officers during the curfew enforcement," reads a statement
"Upon conclusion of the investigations and pursuant to Section 6(a) of the Act, the Authority will make recommendations, including prosecution if criminal culpability is established on the part of the police officers involved."
According to human rights organizations through the missing voices webpage, cases of police brutality have been on the increase with very few cases getting the much needed justice.
As per data from missing voices, 77 people have died or gone missing since the beginning of the year due to police brutality and enforced disappearance.
According to Missing Voices, which comprises human rights organizations in Kenya from 2007, so far 689 People have been killed by the police or reported missing since 2007.
At least 58 per cent of them were shot dead with battering and teargassing accounting for a majority of the deaths.
Sadly only 26 people have been charged for the deaths as the rest go scot free or cases are still pending in courts.
In this data men account for the biggest percentage at 66 per cent. Out of the 77 cases, 28 names have been published.
They include; Vitalis Owino, Ali Kodza, Kennedy Okata Otunge, Reuben Karani Kiriinga, Maurice Otunga, Kennedy Wanyoyi, George Abuta Wesonga, Idris Mukolwe, DK, Juma, John Muuo Muli,Anthony Njehu, Peter Gacheru, Erick Ngethe, Ramadhan Juma, Victor Lubakya Nganga, Yassin Moyo, Ochieng, Calvince Omondi, Hamisi Juma Kambiriwa, Wycliff Vincent Oduor, Dan Fungututi, Edwin Lemiso Sirinkit, Muthiora Mutembei, Clifford, Lawrence Juma, Daniel Mburu, Hamza Issa and Mwanaisha Omar.
Out of the 28 only one is female as the rest represent the big challenge the men are the most targeted in police brutality.
453 males have been killed by the police or disappeared under unclear circumstances.
Youths being the most affected, among the accounted for cases, 141 lie between ages 18 to 35 while 43 lie between 0 to 18 years as the rest remain unaccounted for.
As per counties, Nairobi is no longer a safe haven with 316 cases stemming out from the capital city followed by Mombasa with 98 cases.
Kwale and Garissa have 24 cases each, Mandera 16, Nakuru and Muranga 12 while Kilifi and Kiambu follow closely each with 10.
Machakos and Kisumu tally at 9 each, Naivasha 6, Migori, Wajir, Nyeri, Kisii, Kakamega has 5 each while Uasin Gishu, Embu and Bungoma account for 4 cases each.
Meru, Malindi, Isiolo have 3 cases each, Laikipia and Bomet 2 each while Vihiga, Ukunda, Taveta, Marsabit, Maralal, Kirinyaga, Kericho, Busia and Baringo have 1 case each.
The recent most tragic case is of the late Yassin Moyo a Standard Eight candidate at Ndururuno Primary school in Kiamaiko, Huruma area. The young boy dreamt of joining secondary school but his dream came short at around 7pm when a bullet hit him as he was playing with his siblings on the balcony of their rented house.
According to Yassin's father the single bullet by a trigger happy police officer snuffed life out of his son.
"Given the many cases of unresolved police murders, my son's death might just add to the numbers. We cry for justice but our poverty limits us," Moyo said.
According to a postmortem conducted by three pathologists from Independent Medical Legal Unit, IPOA and one representing the government, Yassin died as a result of excessive bleeding and a bullet was removed from his stomach.
That is not the only case according to data from missing voices. On January 14, 2020, Mwanaisha was allegedly taken by police in uniform at her house in Miobogi, Lamu. The family claims she was not taken to any police station but her whereabouts remains unknown to date.
Vitalis Owino, a 36-year-old man from Mradi area market in Mathare, left his house around 6pm to get some food for his family and use the public toilet facilities. It is however reported that police officers physically assaulted Owino and he succumbed to his injuries. His body was found the next morning in Mradi market.
On April 13, 2020, police officer Beckham Osoro shot Reuben Karani Kiriinya in the chest killing him on the spot, at a kiosk in Mathare. The officer is reported to have fled from the area of the incident on a motorcycle. Osoro has now been charged with the fatal shooting of Kiriinya.
According to Democracy in Africa organization the main problem hindering an end to extra judicial killings in the country is problematic investigations. For instance, if bullets or cartridges are found, they must be sent to the ballistics department which is inefficient, lacking experts and resources alike other forensic departments.
Furthermore, as part of the Kenyan Police Service, this is fundamentally police investigating police.
Another bigger challenge is the unwillingness of witnesses to come forward. Witnesses fear retaliation and do not trust the police with a lot left to be desired from the witness program in the country.
The Independent Policing Oversight Authority (IPOA) is currently investigating several cases that have been brought forward including the death of Yassin Moyo but more remains to be desired from the authority.
A failed implementation of a crucial law that was intended to solve the mysterious deaths in the country remains a big challenge deterring the end of such occurrences.
The Office of the Coroner General is supposed to be tasked with investigating violent, sudden and suspicious deaths.
The office should provide complementary forensic medical science services to police investigations involving dead bodies and crime scene management.
Two years down the line since President Uhuru Kenyatta signed it into law, several mysterious deaths have been recorded and are currently being investigated by the police but the office remains a dream.
Following the recent police brutality in the US where George Floyd an African-American man, died in Powderhorn, a neighborhood south of downtown Minneapolis, Kenyans on social media have joined in the conversation accusing the police of an intended murder.
According to lawyer Benjamin Crump in an interview with CBS News, the Minneapolis policeman Derek Chauvin who was seen on a video footage is seen kneeling on the kneck of Floyd, has been charged with third-degree murder, yet it was a case of first-degree murder.
"We think that he had intent... almost nine minutes he kept his knee in a man's neck that was begging and pleading for breath," he said.
"The fact that officer Chauvin kept his knee on his neck for almost three minutes after he was unconscious. We don't understand how that was not first degree murder. We don't understand how all these officers haven't been arrested," lawyer Crump said.
According to a report from BBC news, three other officers present at the time have also since been sacked.
One of the cities worst affected by unrest is Los Angeles forcing the California Governor Gavin Newsom to declare a state of emergency in the city and activate the National Guard.