Mass testing for medics starts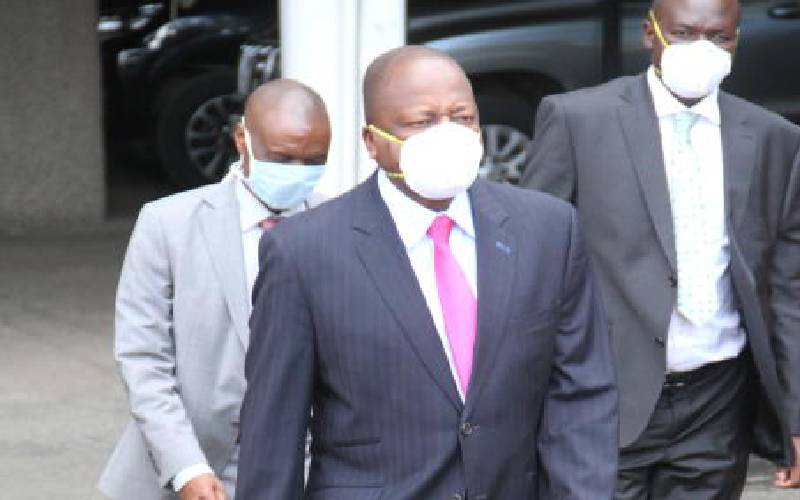 All healthcare workers will be tested for Covid-19 as the government yesterday announced that 14 more people had tested positive.
The government has also ordered closure of all golf clubs and directed open sporting arenas to adhere to social distancing rule.
The closure announced by Health Cabinet Secretary Mutahi Kagwe is the latest move by the government to restrict person-to-person interaction, a day after movements into or out of Nairobi, Kilifi, Kwale and Mombasa counties were banned.
"We will not hesitate to take even bolder measures," he told Kenyans yesterday. "Let us brace ourselves for bad news, because not all measures we have taken will stop this disease."
Seven of the new cases are in Nairobi, Mombasa has two, Machakos one, Kisii one, Kiambu one, and Mandera two. This brings the total number of confirmed cases in the country to 172.
Recently travelled
He said one of the two Mandera cases was of someone who had recently travelled from Mombasa.
Earlier, Mandera Governor Ali Roba had said the two had travelled by bus on March 31 from Nairobi, arriving in Mandera the next day.
He said a private health facility called the county's hotline on April 5 to report that they had received two people with flu like symptoms and fever.
He said the county's Covid-19 response team picked up the two and isolated them at Mandera County Referral Hospital.
"The families and contacts of the two clinicians who attended to them were all put under mandatory quarantine," Roba said.
Yesterday, Kagwe announced that the government plans to embark on mass testing, with priority given to health workers manning isolation and quarantine centres across the country.
The tests will also target emergency response teams and subordinate staff in all hospitals.
"We have to ensure that there is no medical worker who is infected and ends up passing the virus to patients," said Kagwe.
Kagwe said the country had acquired new reagents that would give results faster during the mass testing.
Globally, health workers have been at the highest risk of getting infected with the virus. For example, Italy has lost 73 doctors and 24 nurses to the virus while China, at the peak of infection, reported about 3,300 infections among health workers.
Kenya has, so far, one documented case of a health worker testing positive for the virus after attending to a Covid-19 patient. The patient's status was only confirmed later, after the hospital visit.
Kagwe assured health workers that since the Personal Protective Equipment kits were now being manufactured locally, there would be no shortage. He said at least 200,000 kits would be ready by the end of next week.
It is almost a month since the first case was reported in the country, and so far the government has tested 4,973 samples.
Four of the 14 new cases have a history of travel, having been in the US, Tanzania, South Africa and the United Arab Emirates. Of the 14, 12 are Kenyans and two are foreigners.
Four of the 14 cases are individuals currently under mandatory quarantine after jetting back into the country days before suspension of international flights.
The other 10 were picked by surveillance team who traced them from contacts of previous positive cases.
Meanwhile, Health Acting Director General Patrick Amoth said all the patients are faring on well, except one patient who was on a ventilator due to difficulty in breathing, a severe symptom of the disease.
"We are in touch with the doctors and we hope in one or two days, the patient will be out of the ventilator," said Dr Amoth.