Matiangi declares war on families shielding terrorists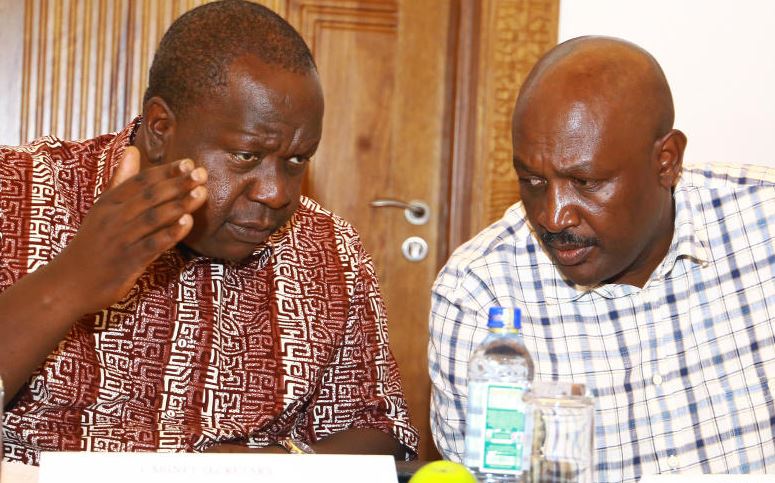 Interior Cabinet Secretary Fred Matiang'i has warned that stern action will be taken against anyone found harbouring terrorists.
Dr Matiang'i said continued weaknesses in the governance structure in Somalia had seen the resurgence of Al Shabaab and other criminal gangs, which the government now wants to ruthlessly deal with.
"While we have and shall continue to have respect for the rule of law and human rights, when the clean-up time comes, we shall make no distinction between the enemy and those who harbour them. We shall be driven by our sacred and cardinal responsibility to protect and defend our country," said Matiang'i.
The CS spoke at a Mombasa hotel during the second annual review and planning conference for top security officers and government officials in the ministry.
Among those present were his Principal Secretary Karanja Kibicho, Inspector General of Police Hillary Mutyambayi and other top government officials.
The three-day conference is also being attended by regional commissioners, regional police commanders, county commissioners, top police officers from police headquarters and county police commanders.
Speaking at the opening of the conference, Matiang'i said top security officers would exchange ideas on how to deal with problems arising from insecurity and other issues meant to improve services for Kenyans. He directed county commissioners, chiefs and their assistants to take stock of people living in their neighborhoods and flush out criminals.
"We shall spare no effort nor resources in attainment of freedom from fear. May this serve as clear warning to harbourers and coordinators. You shall not be spared. I, therefore, direct national government administration officers, in particular the chiefs, to take stock of the people who live in their neigbourhoods and they shall be held responsible for the presence of criminal elements in their jurisdictions," said Matiang'i.
The CS commended county commissioners and police officers for diligently doing their work to ensure there was peace.
"You should not fear anybody, whether a politician or any other person, as long as you are working within the frame of the laws of the land," said Matiang'i
The CS directed county commissioners to take charge of the coordination of issues touching on issuance of birth certificates, identity cards and passports. Matiang'i said he would hold them responsible for any complaints arising from issuance of the documents.
Matiang'i also directed the county commissioners to ensure by July 1 issuance of the documents to applicants was done within a day.
He directed the county commissioners to take stern action against government officials demanding bribes from the public. "We cannot be expected to be providers of solutions yet deemed to be the greatest source of pain. This must, and shall stop. Change in our process, procedure and attitude cannot be overemphasized," he said.
The CS added that reforms in the police service were on track.
The conference is expected to end on Friday. Top officers will meet President Uhuru Kenyatta before they leave for their stations.