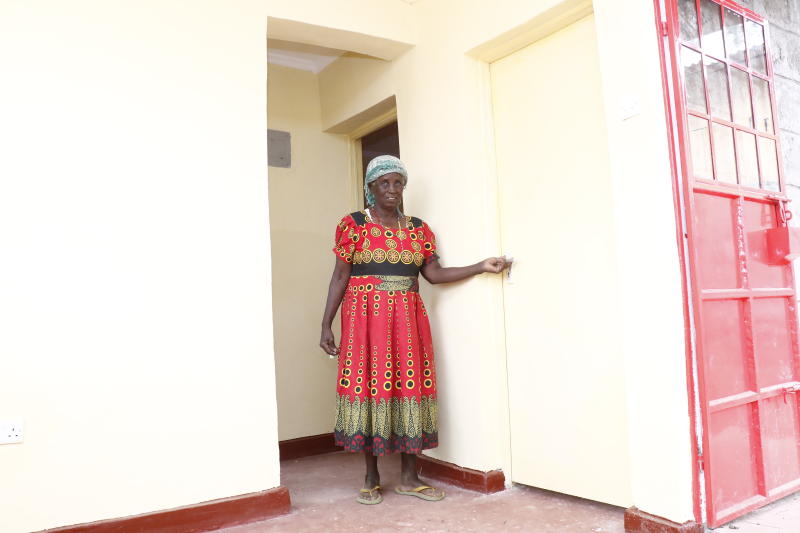 A year ago today, Nakuru County experienced one of its worst tragedies.
A dam at Patel farm in Solai burst, releasing massive water, which spread out over a stretch of 10km, leaving a trail of destruction and deaths in Nyandarua, Energy and Nyakinyua villages.
At least 48 people were killed and about 223 families left homeless. Property worth millions of shillings was also destroyed.
At the time, the owners of the expansive Patel farm, which is associated with Solai Group of Companies that comprises the Patel Coffee Estate and Solai Roses, called it an accident.
Criminal act
The victims on the other hand, called it "a criminal act" and wanted someone held responsible. That has not happened one year down the line.
Today, the land that used to provide them with food crops is no longer arable. Massive erosion that was caused by the water that swept away soil from the farms robbed them their livelihood.
Using money donated by the national and county governments, the Kenya Red Cross Society set up a fund to compensate the victims.
After months of waiting, Kenya Red Cross, through a restoration programme, built 37 houses for the families that lost everything in the tragedy. The organisation also furnished the houses. The Nakuru County government was to rehabilitate the destroyed land.
The damage is still massive, and victims are calling for reparations and help to rebuild.
John Mwangi, a victim, says whenever they congregate, they are victimised by chiefs and their assistants, who are not keen to see them unite and push for justice.
"If there was a way we could seek justice, we could adopt the route, but how? Anytime we congregate to deliberate on the matter, we are threatened and victimised by State officers," says Mr Mwangi.
Mwangi, 62, lost his wife in the tragedy. He says humanitarian organisations that came on board to help push for justice, have also been intimidated.
"Nobody is coming to our support, and, unfortunately, human rights groups are also being silenced by the Government that was expected to be on our side," said the retired teacher.
Kabazi Ward Representative Peter Mbae filed a case at a Nakuru court seeking orders to compel the National Management Authority (Nema) to conduct an assessment of seven dams at the Patel farm.
In the case still pending in court, Mr Mbae is also seeking restoration of the ecosystem at the Patel farm.
A criminal case filed against the owners of the farm is yet to kick off one year after nine suspects were arrested in connection with the death of the 48 people.
In the case, the nine suspects, including the dam's owner Perry Manusukh, are charged with 48 counts of manslaughter and failing to prepare an environmental impact assessment report.
The other eight are Vinoj Jaya Kumar, Johnson Njuguna, Luka Kipyegen, Winnie Muthoni, Jacinta Were, Tomkin Odo Odhiambo, Willie Omondi and Lynette Cheruiyot.
Kenya Human Rights Commission Executive Director George Kegoro told The Standard in an interview that plans were underway to file a civil case in High Court to help families seek justice.
"We have done all ground work in regard to the tragedy and we are currently planning to take it to court," he said.
Mr Kegoro said it was unfortunate that a year after the tragedy, Government agencies were not in agreement on who eligible victims were.
Life on the other hand has never been the same for the victims, most of them residents of Energy, Nyandarua and Nyakinyua villages.
A visit by The Standard team to the villages revealed that normalcy was elusive and locals were still struggling to pick up the broken pieces, while the horrific encounter remained fresh in their minds.
Some individuals have moved to live in the newly constructed housing units, while others remain reluctant to visit the site.
Isaac Muna, who lost his wife in the tragedy, is among those who have moved to the new structures.
"Memories of the tragedy still haunt me. This was the worst encounter I have ever witnessed, as it killed my wife and injured my daughter," narrates Mr Muna.
Muna moved to the house last month.
Another victim, Joseph Gathogo, 37, and his wife Rose Wangui, are reluctant to move to their new house, citing bad memories.
"My wife is so traumatised by the horrific encounter that we survived by a whisker. Maybe with time we shall move in," said Mr Gathogo.
The couple lost four children- Jane Wambui (eight), Isaac Kamau (six), James Karanja (three) and Gideon Wachira, aged one month.
"I wish my children survived. They died a very painful death," says a devastated Gathogo. He said moving to the new house would not give him joy.
An ad-hoc senate committee led by Makueni Senator Mutula Kilonzo Jnr maintained that it would push for restoration of Solai and justice for victims.
According to an ad-hoc report submitted to Senate in July last year, Interior and Coordination CS Fred Matiang'i was asked to suspend top Government officials in Nakuru to allow enforcement of restoration order.
Among officials to be suspended were the former Nakuru County Commissioner Joshua Nkanatha, Rongai Deputy County Commissioner Justus Kavita and Solai location Chief Charles Kiragu.
The report also recommended decommissioning of Milmet and Tindress dams located on the higher reaches of Solai farm, saying the owner of the farm had blocked the streams, denying residents water.
The Ministry of Water and Sanitation was also expected to immediately decommission the two dams that were unlawfully constructed.
Restoration of flow of Watkins stream and Tindress River that had been blocked by owners of Patel farm was also to be effected, as the dam owner lacked a permit.
Today victims are planning to hold prayers at the site, as there are no elaborate plans by the Government to mark the anniversary.