D-day for Waiganjo as court rules on movie like police 'job'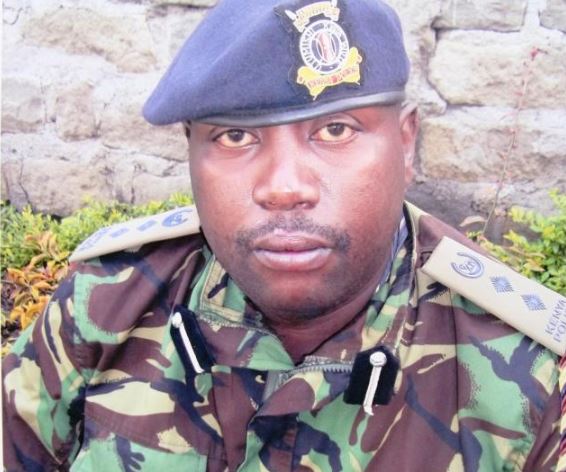 Joshua Waiganjo's thrust into public limelight in 2012 was dramatic, startling and reminiscence of a Hollywood movie. The revelations rocked rank and file of the National Police Service.
For years, Waiganjo had allegedly masqueraded as a senior police officer, in the rank of an Assistant Commissioner of Police, and wielded unlimited powers which wowed junior and senior police officers alike.
His proverbial 40 days, however, came calling after he accompanied a team of senior police officers, led by then Rift Valley Provincial Police boss John M'mbijiwe, to Baragoi, Samburu County, after bandits had brutally killed more than 40 police officers and police reservists.
In 2014, Waiganjo was hounded to court alongside M'Mbijiwe and former Anti-Stock Theft Unit (ASTU) boss Remi Ngugi, charged with abuse of office, among other charges.
During the five-year court hearings in Nakuru, senior police officers shed light on their engagements with Waiganjo and testified how the Standard Eight dropout managed to weave through file and rank of the police force with ease.
In one testimony, former Njoro OCPD Peter Nthiga Njeru said he was wowed when Waiganjo's promise to deploy a police car to his division was effected in two days.
"He was and will remain a police imposter in capital letters. He succeeded even to blow dust into my eyes as my boss because of protection by then Commissioner of Police Mathew Iteere," said Njeru.
In his bag of tricks, Waiganjo was always in full police uniform with Assistant Commissioner of Police insignia. He appeared genuine to many officers who never second guessed his rank.
"No one could have doubted him. He was in full uniform with Assistant Commissioner of Police (ACP) badges and thus he appeared genuine," Mr Njeru would tell the High Court. He recalled that on December 9, 2012, he received orders from Waiganjo to raid a restaurant in the area on suspicion that robbers were using it to plan robberies. He later learnt that Waiganjo had accrued a lot of debts that he was not intending to pay.
Another witness, former Kenya Forest Service Commandant - Londiani Training School John Francis Waweru said Waiganjo visited the training school where he enjoyed VIP treatment and gave the impression that he could help the officers access police training slots for their relatives.
The mystery over his movements and claims puzzled the court, as Waweru claimed Waiganjo donated books on VIP protection yet the institution was primarily set up to protect forestry.
A former Njoro OCS, Haron Mugere, told the court Waiganjo was behind the closure of five popular joints in Njoro town over lack of licences to operate overnight.
Bishop's son
Among the junior officers who suffered the wrath of Waiganjo was Jackson Makaya who told the court he was transferred after he impounded a lorry allegedly owned by Waiganjo.
David Ngige, a retired teacher, said he knew Waiganjo as a son to his bishop at Full Gospel Church in Njoro. Through Waiganjo's father, Ngige attended a passout for forest guards where they were offered seats at the dais and later joined Waiganjo for lunch. "It (the invitation) was special, I don't even think we will get another one. I was so much astonished, those who were passing out saluted to us, that day I was a very important person, I felt like a king," said Ngige.
Both Iteere and Francis Munyambu, a former Rift Valley PPO, rejected allegations that they were in the know of Waiganjo's presence in the police service.
Mr Iteere, appearing in court in August 2017, firmly denied ever meeting or speaking to Waiganjo.
"I have never met Waiganjo; in fact, today is my first time to meet him face to face. I have never set my eyes on him," he said.
In a rare twist around the same time, Inspector Fatuma Abdi denied being an investigating officer in the case, throwing the case into disarray and forcing the court to close it prematurely.
On August 28, 2017, the court was informed by then Prosecutor Sandra Kosgei that Abdi boldly denied being the overall investigating officer in the case. Ms Kosgei said all along, while prosecuting the case, she knew Inspector Abdi as the overall detective.
The prosecutor said the officer, having said she was not the general investigating officer, had served a major blow to the prosecution case. "I leave this matter in the hands of the court," said Kosgei.
Case closed
The court, in a brief ruling, ordered the prosecution to close its case. "There being no further evidence, the court orders the prosecution case closed," ruled the court.
The case was closed after over 37 witnesses testified; however, not a single document and or exhibit marked had been produced. The investigating officer who had denied being one was expected to produce them but could not after the denial.
Five months later, the prosecution made an application to the High Court seeking to have the case re-opened.
The prosecution wanted the High Court to review the order of the court made on August 28, 2017 that had ordered closure of the prosecution case and have their last key witness to testify.
High Court Judge Justice Maureen Odero however referred them back to the trial court to have their application heard.
The prosecution said having been ordered to close the case the court failed to accord them a chance to explain the turn of events that day after the investigating officer informed the court she was not the overall investigating officer.
"We feel the investigators evidence was locked out and since there was no document produced we felt prejudiced," said the prosecutor.
Waiganjo, M'Mbijiwe and Ngugi through their lawyers, however opposed the application and pleaded with the court to go on and deliver its final judgement in the case.
In a shocker, Inspector Abdi, the same officer who had denied being the investigating officer, turned out to testify that she was indeed the investigating officer.
"Now here is an application stating Fatuma was the investigating officer yet she said she was not," stated the court.
The application was however dismissed and the court said it will deliver a ruling on March 7, 2019 on whether the three have a case to answer.