Former top UN staffer ailing as her children fight over vast estate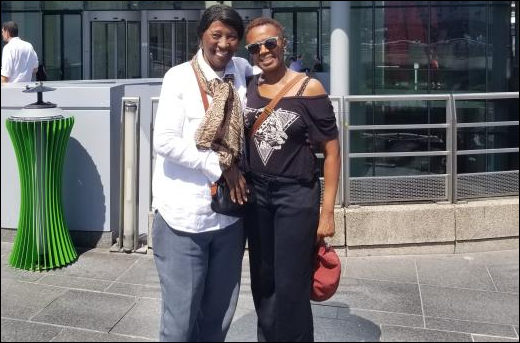 The family of a former UN employee is battling with her adopted children over the control of her multi-billion shilling estate in Kenya and France.
The 77-year-old woman's retirement dream turned into a nightmare and had to be brought back home from Paris recently due to poor health.
Elizabeth Olive Wangari, who worked for the Unesco for more than 25 years, was flown back by her niece after her adopted children failed to travel to Paris to take care of her.
Ms Wangari, described as "once sophisticated and citizen of the world," lived with the children until they moved to other countries to pursue further education.
The children are Rachel Mugure (34), Robert Gathoga (33), Charissa Natalie (29) and Venessa Lisa (27). Mugure lives in Canada, Natalie and Lisa are in UK and the US respectively, while Gathoga lives in Kenya,
Apart from the posh home in Paris Courbevoire neighbourhood, she invested in real estate and blue chip companies in Kenya; and receives a monthly pension of close to Sh1 million (10,000 Euros).
Her niece Dr Nancy Chege, who works in the US, also obtained interim orders to manage the estate with two other co-managers. She flew in a few weeks ago and testified in court.
In the suit papers filed at the High Court, Nancy found the aunt in a devastating condition with nobody to take care of her.
Wangari was alone in the house that had no working phone, TV or internet, kitchen sink broken, while the shower and washing machine had broken down and she had neglected her personal hygiene. Documents filed in court allege the woman was using a bathtub in the house to wash her dishes.
"My aunt had neglected her personal hygiene and lived in a house without basic amenities," said the niece, adding that Wangari has no relatives in France who can care for her.
Nancy said she considers her aunt "her first role model" who needs urgent medical intervention, adding that she has no desire to benefit from her estate as she lives a successful life in the US.
Misconception of facts
She asked the court to appoint her to manage her aunt's estate, a medical analysis be conducted in France and Kenya to ascertain Wangari's mental status and proceeds from the assets be used to cater for her maintenance and medical expenses.
Nancy also asked the court to stop her children from meddling in the estate.
Her mother Grace Wanjiru Chege, who is Wangari's elder sister, said she is capable of looking after her.
Robert filed an affidavit in support of the application in July 2018, authorising Nancy and her mother to manage health and financial matters of his mother. In November, High Court judge Abida Aroni issued interim orders allowing Nancy, her mother and Robert to be the woman's legal guardians.
The Kenyan High Commission in France with the aid of the Immigration Department was ordered to facilitate her travel to Kenya since she had lost her passport.
"For the court to make serious orders being sought for, it is imperative that all persons of interest and those being adversely mentioned be served with the pleadings before court," the judge ruled.
However, Nancy moved to court in December seeking orders removing Robert as one of the co-administrators on the grounds that he is unfit to discharge duties as his mother's guardian.
She claimed he had been expelled from the UK, France and Canada and has criminal tendencies.
In his response filed in court, on January 19 Robert stated that the claim was a misconception of facts only meant to steal a match between him and his siblings in terms of the mother's property.
In an affidavit filed on behalf of her siblings, Venessa said there were no consultations on who should be appointed her mother's guardian and denied claims of abandoning her.
"We appointed a caretaker for our mother by the name Esperance Paradero whom we paid for her services and therefore allegations of neglect are misconceived and calculated to mislead this court to advance the applicant's selfish gains," she stated. The matter will be heard on February 26.