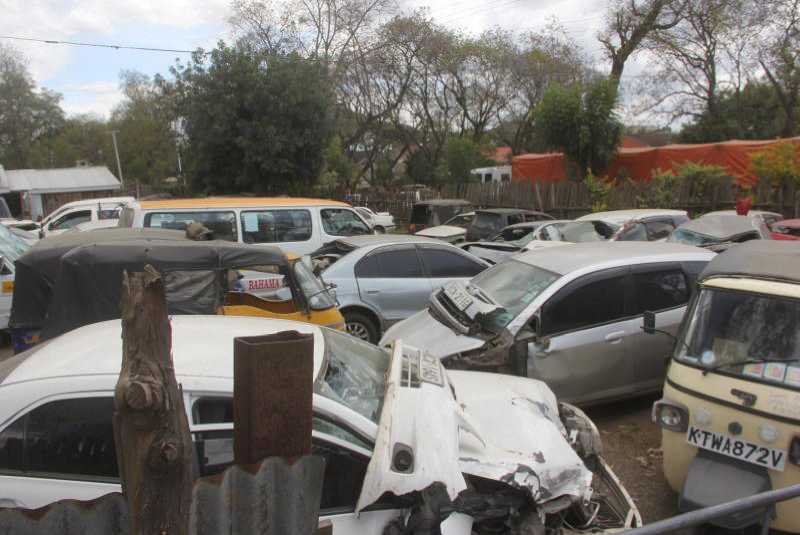 It is a familiar sight in police stations in the country - dozens of cars and motorbikes parked in the yards.
Some have been written off. Some are still in good condition save for a few dents after they were involved in accidents. Others were impounded over traffic offences.
Now the cars and bikes risk being disposed of. Their owners have six months to claim them, failing which the State will take possession.
A week ago, Interior CS Fred Matiang'i said the Government would take over unclaimed cars and motorcycles held in police stations.
"Many vehicles have been at the stations for months, some for years. The vehicles, especially those impounded ferrying contraband materials, shall be repurposed for service delivery and cleaning up of stations," said Dr Matiang'i.
Last week, OCSs were ordered to prepare inventories for unclaimed vehicles within at
Motorcycles impounded
The Nakuru Central Police Station yard is overwhelmed by vehicles and motorcycles impounded or towed after the drivers and riders were caught on the wrong side of the law.
County police boss Hassan Barua said the station had submitted an inventory of the vehicles and motorcycles to police headquarters.
"Some are exhibits for ongoing court cases but there are others whose cases are closed but they have yet to be claimed. Some were salvaged from scenes of accidents while others were lost and found," said Mr Barua.
At Kasarani Police Station in Nairobi, officers said the unclaimed vehicles and motorcycles had become an eyesore.
The scenario is replicated at the Central Police Station and the Nairobi Area traffic police headquarters.
In Nyeri, some of the vehicles have been at police stations for up to 20 years.
Last week, county police boss Ali Nuno and Nyeri Central OCPD Paul Kuria asked the owners to claim them before they were disposed of.
Reports indicated that police stations could be holding as many as 100 vehicles.
Most of the cars, Mr Nuno said, were involved in accidents and neither the owners nor the insurance providers claimed them.
"If the owner has a comprehensive cover, they forget about the faulty car once they have been compensated. All the same, the insurance provider is expected to tow it away but many have not," he said.
At Nyeri Police Station, some vehicles have been at the yard from 1999 and have been vandalised.
Those that are part of active court cases have labels indicating their status.
For instance, a notice on white Toyota Corolla Station Wagon, which was used in a robbery, indicates that the judgement was still pending. The car has been at the station's yard since 2009.
"If we find a car was left by a person who was convicted and is still serving a sentence, then we will keep it until they are released. After that the owner will have three months to claim it," Nuno said.
In Uasin Gishu, police stations are holding dozens of unclaimed cars and bikes.
Data from the county traffic office shows some of the 89 vehicles have been in police stations for over a decade.
Eldoret West OCPD Zacharia Bitok said some of the cars and bikes were towed to the stations after accidents while others were court exhibits.
County police boss Augustus Nthumbi said some of the vehicles and motorcycles were impounded during the countrywide crackdown that began on November 12.
In Elgeyo Marakwet, County Police Commander Kenneth Kimani said at least 15 vehicles were lying at the Iten Police Station.
"We don't know their owners. Some of the cars are in a bad condition but we can't dispose of them," Mr Kimani said.
In Busia, County Police Commander Wambua Katithi said the process of disposing of unclaimed cars and motorcycles was going on. Most of the vehicles and bikes have been abandoned by their owners for fear of prosecution.
At Kisumu's Central Police Station, a 62-seat bus is among the vehicles wasting away.
"The owners have refused to come for them while others have ongoing cases in court," said an officer who did not want to be named.
At Nyamira county police headquarters parking yard, there are only eight vehicles. They include three matatus and five private cars.
At the Central Police Station in Kisii, the yard had at least 50 vehicles. Some had been there for more than a year.
"All I can tell you is we have send an inventory of all vehicles and bikes to Nairobi for direction," said the county police boss, Bernard Muli.
Several vehicles are wasting away in Migori County. An officer said some of them had been at stations for over a year.
Officers at Bondo Police Station in Siaya said they were concerned about the pile-up of cars and bikes.
"Most of them were impounded for contravening traffic rules. Some have cases still pending in court," said Harriet Kinya, the Bondo sub-county police boss.
Homa Bay Police Station yard had 11 vehicles, including two saloon cars with Ugandan registration numbers.
County Police Commander Marius Tum said the cars would only be released if the owners produced legal documents.