Miners whose lives hang by a thread in search of flecks of precious metal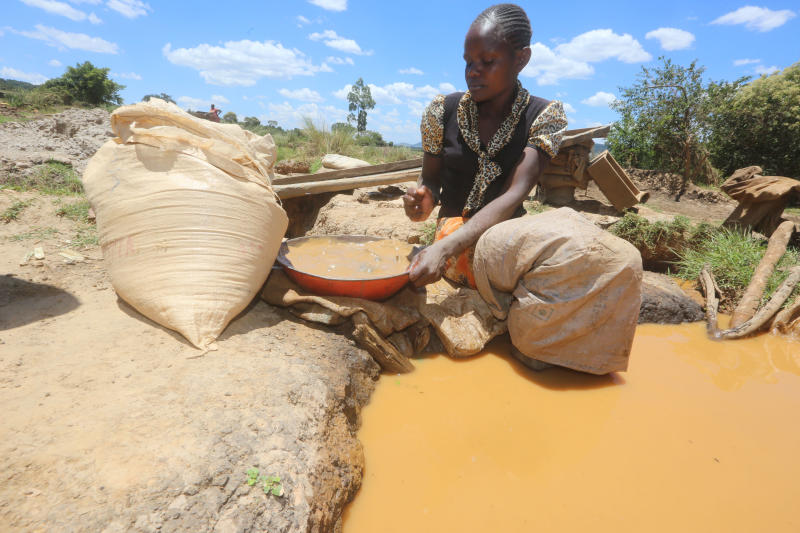 Driven by poverty, the gold miners of Lolgorian in Trans Mara Sub-county stop at nothing to dig out a few flecks of the precious metal.
They risk their lives and those of their children in pursuit of riches, which geologists say are in abundance in the tiny far-flung trading centre that neighbours Tanzania.
Violet Akoth, 21, arrived here in 2015 after sitting her Kenya Certificate of Secondary Education (KCSE) examination at Ranen Secondary School in the neighbouring Migori County.
Her parents could not afford to pay her fees at Kisii University where she was admitted for a degree course.
This forced her to look for employment at the Lolgorian mines as a small-scale miner, someone not officially employed by a mining company, but rather works independently, mining or panning for minerals using their own resources.
Here, she is among an estimated 1,000 men, women and children who flock to tens of mines scattered across the dusty Lolgorian town.
We caught up with her at Natikile where the miners have set up a makeshift crushing site – to process the stones from mines and produce gold.
She is here to raise money for university education. "So far I have saved Sh20,000 from my earnings," she says proudly as she washes crushed rock now in powder form in search of gold dust.
She uses her bare hands to wash the sand poured in a wooden box with a sieve at the bottom. The murky water sieves through gunny bags placed on a trough to trap the gold dust.
A similar scene plays out a few meters away where two women are busy cleaning the gold dust to get a few grams of gold that they sell at Sh3,000 per gram to brokers.
At intervals, Akoth applies some oil on her hands from a small bottle she carries to work to treat the cracked palm of her hands. Her hand has turned dark, she complains of chest pain and loss of weight.
"The doctor at the Catholic Church-sponsored clinic told me to go for further testing but I have no money for that for now," she says as she immerses her hand in a metallic container, which has shiny substance.
"That is mercury," remarks John Okello, the chairman of the Lolgorian Farming Gold Association.
He says more than 1,000 small-scale miners working in mining pits that dot the shanty town have no protective gear.
"We risk it all here! You see most of them have lost weight, complain of weakness, headache and suffer tremor," says Okello, adding that doctors at the local clinic and officials from human rights organisations told them the conditions are caused by mercury.
Okello's wife Angelina is unwell, she could not go to work. Okello says this is because of the working environment they have been subjected to.
"She is lying in the house, she suffers tremor. She has been in and out of hospital. I'm planning to take her to Migori for treatment later," he says, as he supervises the group of women washing the sand to retrieve the gold dust.
Most of the people working in the mines lack safety gear such as gumboots, gloves and masks.
No oxygen masks
The work is manual. Those climbing in and out of the mining shafts do so using ropes and without oxygen masks, gloves or helmets.
They crawl through the underground tunnel in search of stones that are ferried to the crush sites by women and children for processing.
A few children we meet work in the mines, helping their parents to almost double what they earn. Without them, the parents can't afford to feed and school their large families.
But poverty is a vicious cycle. The search for gold means more children are missing their education, and without an education they remain trapped in poverty and danger.
However, Okello insists that children are not allowed into the mines.
"We try as much as possible to discourage parents from bringing children to help in the mining process," he says.
But our team visited Natikile and met a 16-year-old boy who joined the mining team a year ago.
The boy has been more than 50 feet below the surface for eights hours, only depending on compressed air forced into the mines by a small pump that uses power from an old generator.
"I do get afraid," says the soft spoken boy. "It's hard chiselling and I fear the earth collapsing on me underneath."
He says the work earns him little money everyday to help feed his five younger brothers and sisters. He does not do it every day but is here enough to know the risks.
As he gets into one of the mines, he takes in a deep breath, adjusts his torch strapped on the forehead and ropes up at the waist.
He is lowered down by a makeshift lowering gear made of wooden plunks and a rope.
Once he reaches the bottom, he chisels the seam of gold-bearing rocks, filling bags that are then hauled to the surface by men waiting outside the mine hole.
The rocks are scoured for even the tiniest spec of gold to be processed with mercury – a poisonous metal causing brain and organ damage. And the women doing the 'washing' are in grave danger.
A human rights group working in the area say the miners are exposed to health hazards because of lack of protective gear.