Confusion, protests and drama as Oyamo is released, re-arrested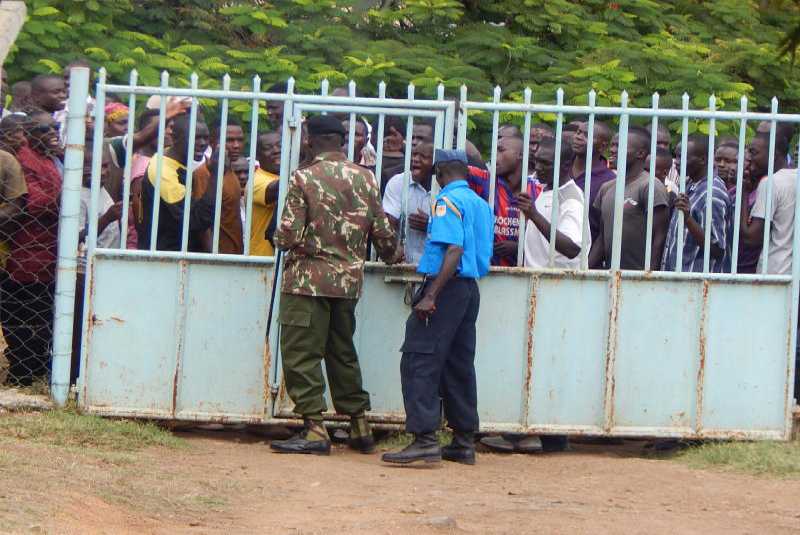 There was anger, drama and confusion after Michael Oyamo, the former Kenya Navy officer being linked to the kidnap and murder of University student, Sharon Otieno failed to return to court as ordered by a Magistrate.
In a day full of drama and protests, Mr Oyamo is said to have been unconditionally released by a Homa Bay court early yesterday morning but was quickly re-arrested by CID officers who drove him to Kisumu, where his boss- Migori Governor Okoth Obado was also being interrogated over Sharon's death.
Sources told the Standard Mr Oyamo was driven out of Homa Bay police station under tight security with a car carrying him, sandwiched between a convoy of over 10 unmarked cars.
At the Kisumu CID offices, Oyamo who is Obado's Personal Assistant was held inside a black a Subaru car as Obado wrote lengthy statements over what he knew about Sharon's kidnap and brutal murder last week.
Oyamo has been named by Nation Journalist, Barack Oduor as the person who had invited them for a meeting with the late Sharon at a Rongo hotel, before they were kidnapped.
While Oduor, who said he was pursuing a story of Mr Obado's love affairs with Sharon, reportedly jumped out of the moving vehicle and escaped into the darkness, Sharon was later found killed and her body dumped into a thicket near Oyugis town.
A post mortem conducted by government pathologist revealed she was gang raped, stabbed Eight times and strangled.
Oyamo's lawyers protested at the Homa High court after their client mysteriously failed to appear in court as directed by a Magistrate on Monday.
On Monday, Homa Bay Senior Resident Magistrate Lester Simiyu issued an order that Oyamo be arraigned in the High Court this morning at 9.00 am or he be released from police custody after prosecutors sought more days to hold him.
In the morning, Oyamo was released unconditionally before being arrested again.
Homa Bay Sub County Directorate of Criminal Investigations Officer Joseph Tuksho said they decided to transfer the case from Homa Bay to avoid tension which had grown in the area. The tension was noticed when Oyamo's case was heard in the Homa Bay magistrate's court on Monday.
"We have realized that the matter is very sensitive and could cause more tension if the case was heard here," said Tuksho.
Threat to security
He assured Oyamo's relatives and lawyers that he was safe and in good health.
"We didn't want to expose Oyamo to security threats. Nobody should be worried about his safety," he added.
But Oyamo's lawyers Neville Amolo, June Ashioya and Rogers Abisai protested against transfer of their client.
Amolo accused the police of keeping them in the dark over their plans on Oyamo's detention.
He also accused the police of violating a court order which required Oyamo to appear in the High Court yesterday. The Magistrate had accused the prosecution and the police of delaying in their investigations.
"The court made a clear order that Oyamo was to appear in the High Court at 9.00am today. It is unfortunate that he has not appeared yet we don't know his whereabouts and it is past midday," said Amolo.
Ms Ashioya said they were worried about Oyamo's safety.
"The court allowed us to visit Oyamo in the cell but we were denied entry in the morning. I don't know whether he ate last night or not," said Ashioya.
Earlier, tension was high at the High Court after more than 200 people thronged the judicial institution to follow Oyamo's case live.
The attendance included Sharon's parents, relatives and friends, Oyamo's lawyers and relatives, a battery of journalists and police officers who were manning security.
Between 9.30am and 11.00 am, the police had difficult time in quelling tension which grew as more than 150 youths wanted to force themselves into the court.
The police had to lock the court gate with a padlock to prevent the rowdy youths from gaining entry. The youths banged the metallic gate to demonstrate their anger.
"Tunanataka haki! Tunanataka haki! Tunanataka haki! (we need justice) ," the youths chanted amid banging the gate.
The crowd waited patiently until midday when they began smelling a rat that Oyamo would not appear in the court.
Oyamo's lawyers who were oblivious of their client's whereabouts became worried.
They lost hope towards midday and left for Homa Bay police station, about 200 meters away, to enquire their where Oyamo was.
The crowd of youths who were charged vacated the court gate after seeing police officers leaving the court in a vehicle.
A few minutes later, the crowd dispersed gradually after realizing that Oyamo would not appear any time soon.