Thrills and spills as camel derby opens county to visitors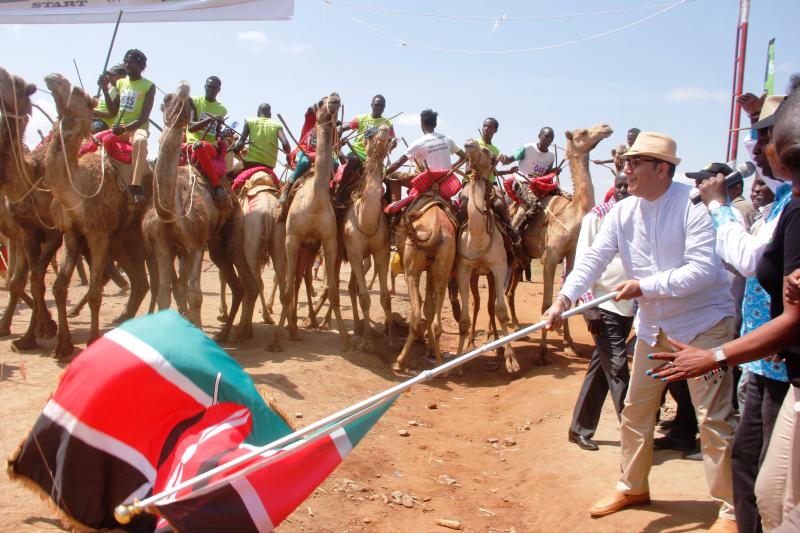 The camels have cooled down their toes and dust has settled on the 29th Maralal International Camel Derby that took Samburu County by storm last weekend. And as the Yare Club grounds that hosted the four-day festivities returns to normalcy, there are numerous takeaways from the annual derby. The beast of ancient travel, which is classified as a mammal and has a hump at the back consisting of fatty deposits, has thrilledsports lovers for three decades now.
This year, thousands of Samburu residents welcomed hundreds of foreigners to celebrate their unity in cultural diversity through sport, tourism and community conservation. From the young to the elderly, everyone had something to enjoy and a lesson or two to take home.
There was a cultural wedding called Nkiiema, where Mathew Lepariyo and his wife formalised their marriage through traditional rituals. Accompanied by a few of his friends adorned in traditional regalia, he took three goats to his in-laws and had to slaughter one at the doorstep. Samburu elders then blessed their marriage and counselled them on Samburu traditions concerning family life.
"This is a special day for me and my wife of nearly 10 years. We have now made our marriage official according to our traditions," Lepariyo told the Sunday Standard.
Esther Samana, 56, a Samburu woman who had constructed a traditional manyatta at the venue, said she had participated in the derby for the last eight years. "I feel proud to showcase our culture at the derby. I take it as a calling to let our young people understand and appreciate our heritage. It is very important to know your people's past even as you look forward to the future," she said.
Host governor Moses Lenolkulal and his wife Lily were all smiles and mingled freely with the participants and guests. While welcoming Deputy President William Ruto to launch the 21km amateur camel race, Mr Lenolkulal said Samburu relies on tourism revenues for nearly 70 per cent to sustain the county economy.
"That is why we are encouraging local and foreign investors to pitch camp here and they will not be disappointed. We have stepped up security and we are working with the County Commissioner to curb cattle rustling, especially in the north," he said. He said while the derby has helped promote peace among communities, their huge challenge is establishing enough first-class hotels, a functioning airstrip and completion of tarmacking of the Nairobi-Maralal road.
Global appeal
DP Ruto promised to race in next year's derby and urged Tourism and Wildlife Cabinet Secretary Najib Balala to step up the ministry's involvement to make the event more appealing globally. "This derby not only gives us an opportunity to showcase our Maa culture, but it can also bring in much-needed financial resources to Samburu. The Ministry of Tourism must market this event much better next time and going into the future," the DP said after causing a buzz through a mock race on top of a camel.
After flagging off the 21km professional camel race on the last day of the festival, CS Balala said Kenyans must roll their sleeves in the management of the ecosystem for wildlife to thrive. "Elephants, zebras and other animals are dying at a high rate in our parks due to drought. We must come up with urgent strategies to sustain our parks. That is why the camel derby has an important role to play in encouraging community conservation," he said.
The CS also announced that the ministry, through the Kenya Tourism Board (KTB), would facilitate the travel of selected Samburu Moran dancers to Germany next year during a tourism exhibition. The ministry also pledged continued support to Ushanga initiative that produces and sells traditional items such as beads, necklaces, lessos, dresses, belts and rungus.
Sufficient marketing
This year's event attracted participants from eight countries, which was a huge drop from last year where not less than 24 countries were represented. Rahisi Lepers won the 21km professional camel race followed by Saidimu Lengupae. Weronica Czadka won the female amateur race followed by Dinka Basuki. The top five winners in each category won various cash prizes.
And as the curtains fell on one of the rarest camelderbies in the globe, you could not help wondering what could have been with better event management, sufficient marketing and suitable narratives on how the monies raised through the derby could help uplift the lives of locals. Well, those are just a few points to ponder as the county government, Tourism and Wildlife ministry plan for the next derby on August 30, 2019. For now, the camels must continue depositing enough fats in their humps for the next derby, which could well infuse energy, hope and financial power in the race of life for Samburu residents.