Inside story of Sonlink: A firm where laughing at work is a crime [Photos]
Fresh revelations at the Chinese owned motorcycle assembling firm at the centre of the derogatory racial slur reveal that the incident was not an isolated case even as the firm temporarily shut down its operations in Ruiru.
Several other recordings seen by Sunday Standard reveal a disturbing pattern of institutionalised harassment of black Kenyan employees by their Chinese bosses, often involving an array of rules, procedures and disciplinary measures that would rival even those set by hard-faced colonialists.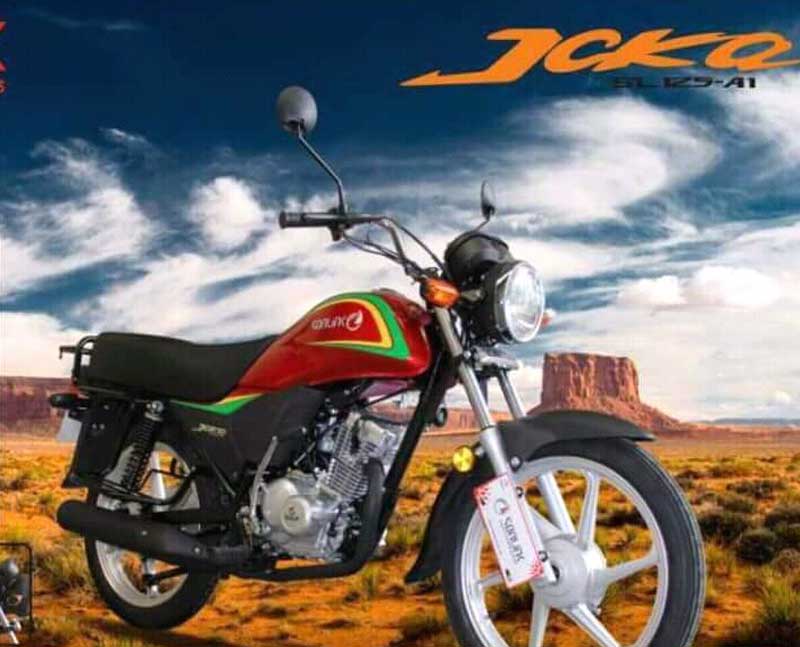 Official rules and regulations of Sonlink Kenya Company in the possession of Sunday Standard show that all mistakes committed by Kenyan employees are quantified in monetary terms. For instance, if a boss calls a junior staff and the worker fails to answer the call, he incurs an automatic Sh1,000 dock off his pay. If you miss more than one phone call, you will pay Sh2,000.
Lateness to work is an offense punished by a Sh50 penalty off your pay for every minute after the reporting time.
"Time after 8:31am and 13:31pm treat as late. Fine Sh50 for every minute of lateness," rule 4 of the company's 2018 Rules and Regulations states.
No laughter
Employees are prohibited from using their computers or mobile phones to browse any non-work related things during office hours. Bizarrely, employees are also not allowed to laugh while on duty.
"Every employee must stick to the work. No laughing. No noise. If (you) leave the position for 15 minutes without reasons. Treat it as absence," the firm's list of rules and regulations state.
"Do not use a computer or mobile phone to browse non-work related pages during working hours," the regulations add.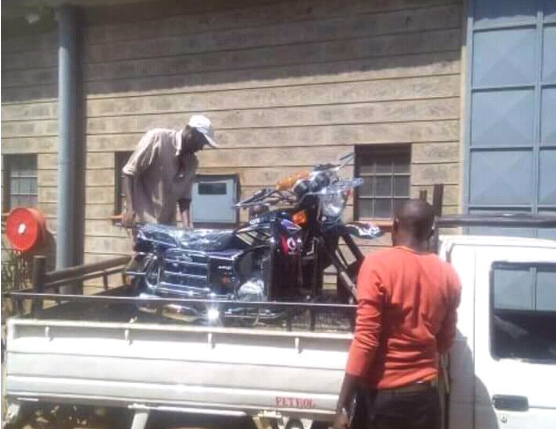 To ensure that staff stay at work, everyone is required to clock in and out four times a day --8.30am, 12.30pm, 13.30pm, 17.30pm.
The besieged firm ran into heady waters after a Kenyan employee defied his Chinese boss who had accused him of not answering his phone when called, an offense that would see the worker lose Sh2,000 from his pay cheque.
Shocked and angered, the employee refused to sign the letter penalising him for not picking his phone when he was called by his Chinese boss who at the time had run into trouble while on a business trip to Machakos.
"This is to inform you that you have infringed on the company rules and regulations. The company marketing manager called you three times but you failed to pick his calls," the letter, whose subject is 'Penalty', addressed to the aggrieved employees reads in part.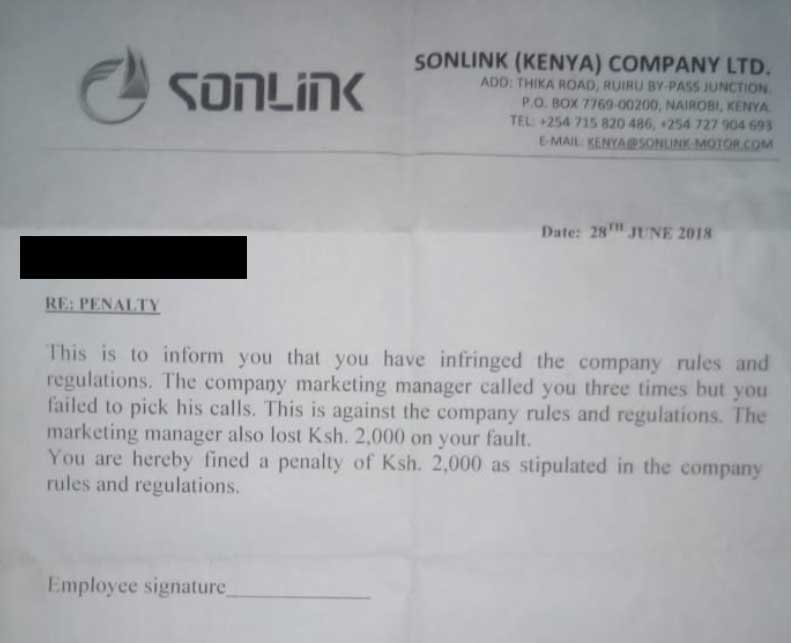 "This is against the company rules and regulations. The marketing manager also lost Sh2,000 on your fault. You are hereby fined a penalty of Sh2,000 as stipulated in the company rules and regulations," the letter adds.
It is this letter that led to the argument between the staff and the firm's marketing manager - Liu Jiaqi – an argument that would quickly get nasty and earn the Chinese national immediate deportation. Liu Jiaqi, the man who said President Uhuru Kenyatta and one of his employees looked like 'a monkey, introduced himself as 'judge' to the locals, saying his official name would be too hard for them to pronounce.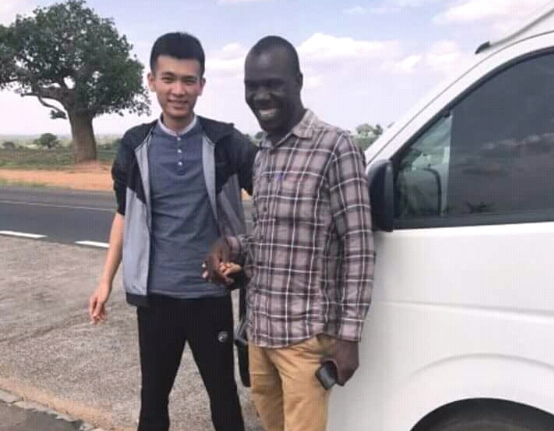 Employees say the deported man's nickname embodied his character. He could decide an employee's fate at the drop of a hat, dishing out penalties without batting an eyelid. "I was fined Sh1,000 for failing to pick up my phone call. I explained that I was at Huduma Centre filing my returns at the time and I could not pick calls but this did not help," another employee said.
According to another staff, the fining incident happened after Liu's botched trip to Machakos. The official company vehicle was unavailable so the Sonlink team opted for an Uber.
But the Uber driver had underestimated the work ahead of him after they ended up spending five days on the road. He asked for more money but the Chinese would not budge.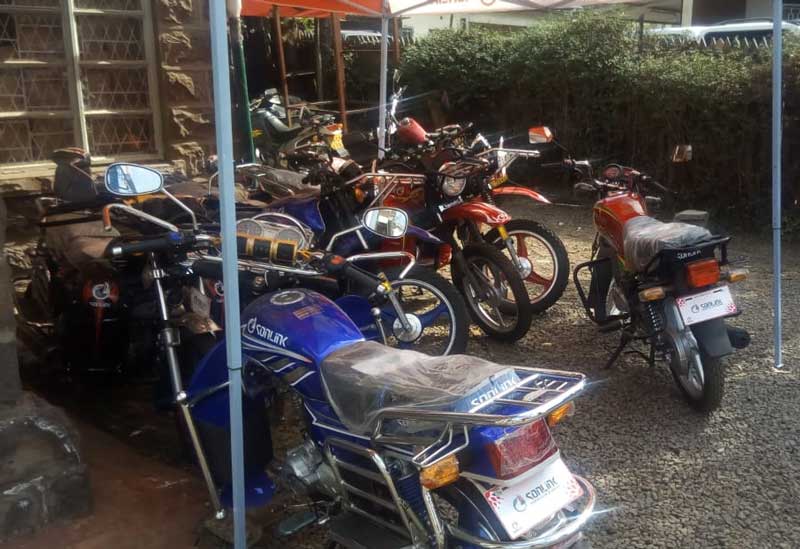 A brief standoff between the client and the driver ended up at a police station where after long negotiations, it was agreed that the Chinese would add a Sh6,000 fee to the original pricing.
After he was paid, the Uber driver drove off and left the Sonalink team stranded at the police station. This is when Liu tried calling his Kenyan colleague in Nairobi.
Credible reports indicate that after they left the police station, Liu was livid that his employee did not answer his call. He started hurling insults all the way to their offices in Ruiru, accusing his Kenyan employee of doing nothing to help him.
"The Chinese was not happy. He was angry that the Kenyan was not helpful. When he arrived in the office he reported the matter to other Chinese managers here and asked that the Kenyan be fined," another employee said.
"If you are lucky, you will get away with a fine. On a bad day, you will lose your job," the employee said.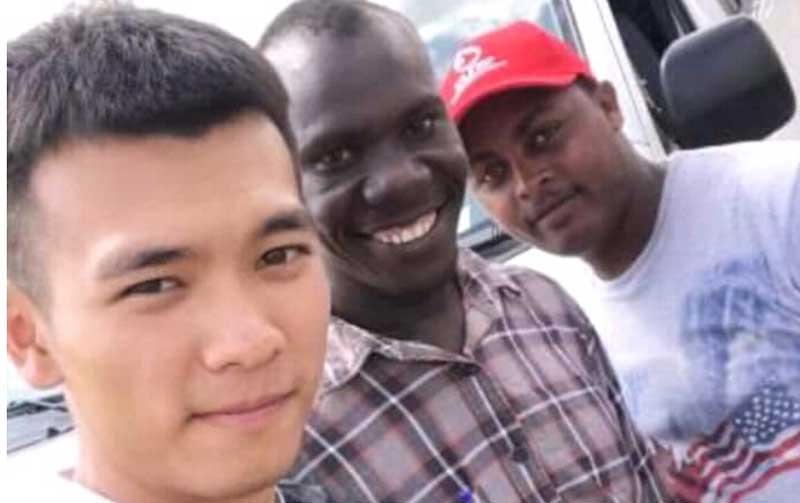 Liu had been in the country for just eight months. His family is said to be in Australia. Sunday Standard has established that the company has about eight Chinese and 12 Kenyans. All the Chineseare to be treated as bosses. It is not known who the overall boss is.
"Insults here are a common occurrence and we just persevere to keep our jobs," the employee said.
In the full 16-minute video of Liu, which was partly published last week, the employee asks why Sh2,000 was being deducted from his salary.
Disciplinary matters
The argument started with the Uber incident then morphed into other disciplinary matters, before the insults started.
"Why do you want to deduct Sh2,000 from me? I don't understand," the agitated employee asks.
"You don't understand? You can check our regulations. I called you more than three times and you did not pick up," Liu responds.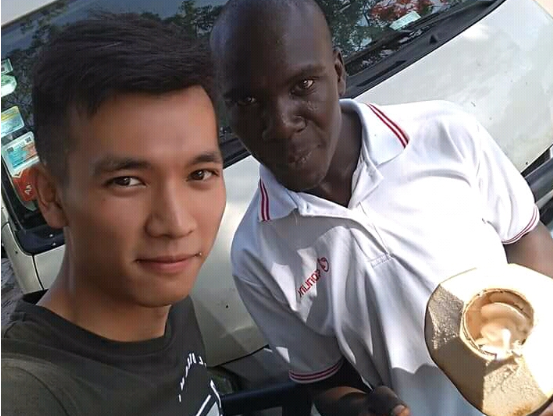 "I went to file my returns. The first time I went the queue was so long I did not succeed. Yesterday, I went there at 5am and maybe my phone could have been on silent mode and that is why I never heard it ring. It is unfair, you have been deducting my money so many times," the employee pleads.
"You did not pick up my calls for more than three times. According to our regulations, Sonlink regulations, if you don't pick my phone, Sh1,000. Especially during a business trip…get up," Liu says.
Liu would explain that the employee was lucky to just have been fined Sh1,000. Had he been in danger, he said, he would have fined him Sh10,000. "We can fire you anytime," he says.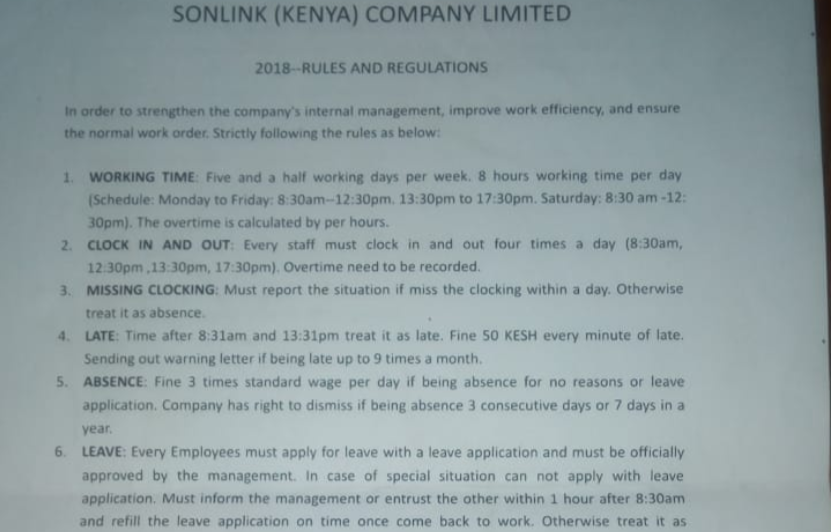 The rest of the conversation is a back and forth between Liu and the employee.
Employee: You can report him (Uber driver) to the police if he was unfair to you. Why are you diverting your anger on me?
Liu: Really? Because you are Kenyan…
Employee: So you are punishing me because I am Kenyan?
Liu: Everyone, every Kenyan is like a monkey, even Uhuru Kenyatta all of them are monkeys…
Employee: The President of this country?
Liu: Yes, sure you can go to court… who has the evidence… so this is why I have to give a letter to you to resign.
Employee: Judge, I think you should go back to China…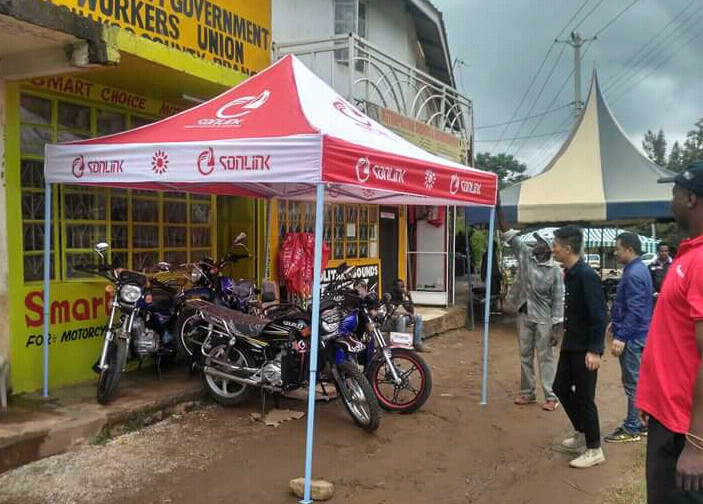 Liu: Really? And why do you have to stay here?
Employee: You see, even if you fire me….
Liu: I will fire you when I go back to China
Employee: No problem, I will not work here forever, but whatever you are doing is extremely wrong.
Liu: I don't care, I don't like you, like monkey people you smell bad, and poor, foolish and black… white not the bright people, like Americans?
Employee: Why are you coming to do business in Kenya if we are black and poor, why is it that you need our money?
Liu: Money is important
Employee: Money is important? Why don't you go and look for money from the fellow whites why are you coming to Africa, specifically Kenya? We are dark and poor, why are you coming for our money? If we are poor why don't you give us the bikes for free?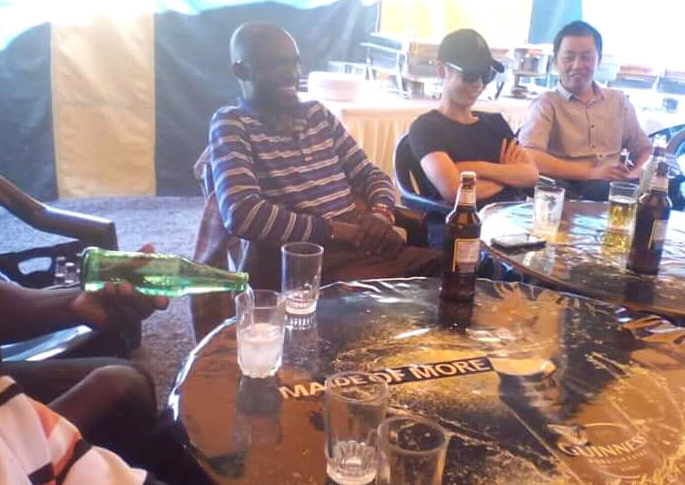 But it is not all gloom at Sonlink. The company also recognises its employees who do well. One of the letters we have seen shows that it also rewards its hard working employees with a token of appreciation whenever they achieve the set target
"On behalf of Sonlink Kenya company management, we would like to appreciate your effort in general performance improvement. Your effort in achieving the same is truly appreciated," the letter reads.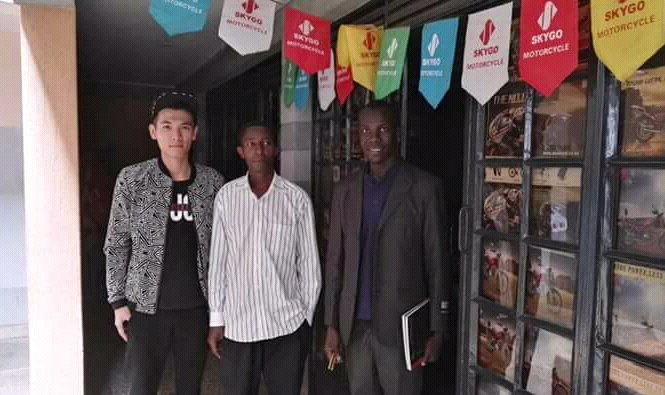 "As a token of appreciation, Sonlink Company has offered you a performance bonus of Sh3,000. I wish that you will maintain the same spirit in future also (sic)," the letter reads. But these acts of generosity are rare and hard to come by. Another video seen by this paper shows another 'disciplinary session' where another of the Chinese bosses whose local name is 'Charles' is giving the Kenyan staff three minutes to accept a suspension or be fired.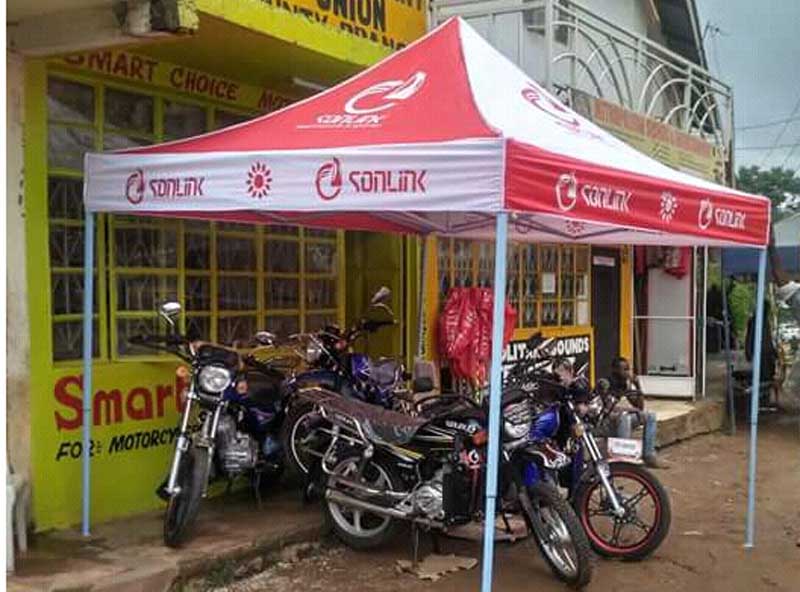 He is not the only one with such an attitude. Several staff working at different firms run by the Chinese including restaurants, media houses and even the Chinese embassy have come out to say the treatment is not any better.
The Sonlink incident comes a month after Sunday Standard exposed blatant racism at the Standard Gauge Railway (SGR) where Kenyans were treated as second class citizens in their own country by their Chinese bosses.