Investigators reveal Mwilu's trail of money transfers that led to her prosecution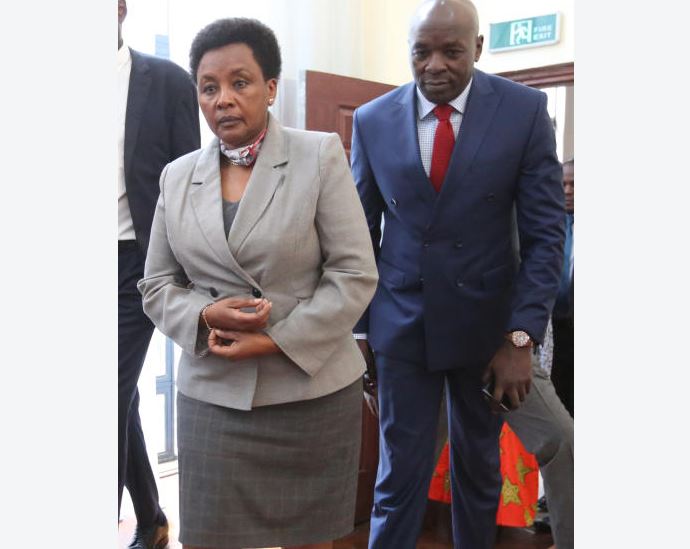 Investigators have released the details of what they termed as suspicious transactions and money transfers that led to the attempt to prosecute the Deputy Chief Justice.
Justice Philomena Mwilu has opposed the attempt to prosecute her on charges of abuse of office, tax evasion and forgery.
She obtained orders barring the Anti-Corruption Court from proceeding with the charges until the High Court determines the issues she has raised.
Prime properties
Responding to her petition, the investigators claimed that Justice Mwilu used her position to acquire Sh12 million from Imperial Bank, which has since collapsed, and acquired several prime properties which she later but failed to pay tax totaling Sh12.4 million.
The prosecution's claims are contained in an affidavit filed in court by police investigator Abdallah Komesha, on behalf of the Director of Criminal Investigations.
Mr Komesha's affidavit claimed that on August 15 and 30, 2013, Justice Mwilu composed a handwritten letter on the official Judiciary letterhead to then Imperial Bank MD, Jan Mohammed, requesting an unsecured loan of Sh12 million.
"She was given the said loan under circumstances not commensurate to bank-customer relationship as no appraisal of her credit worth had been done. She had not asked for the loan in terms of application and no letter of offer to specify the terms," said Komesha.
The investigators said that they concluded that, being a State officer, the circumstances under which Justice Mwilu received the loan were illegal, given that there was no letter of offer and she repaid it without paying any interest.
On the issue of taxes, the investigator claimed that Justice Mwilu received another loan from Imperial Bank to purchase land from Mohamed Chute at a cost of Sh70 million, which she later sold to Grand Forest Hospital Japan at Sh150 million.
"Our investigations revealed that she never paid any stamp duty for purchasing the land," said Komesha.
The investigator added that it was irregular for the Deputy Chief Justice (DCJ) to receive payment for the property because its title had been used as security for the Imperial Bank loan.
Exposed bank
He stated that this left the bank exposed after Justice Mwilu and her co-accused, lawyer Stanley Muluvi, made false representations about the transaction.
Komesha added that inquiries made at the Kenya Revenue Authority revealed that the DCJ and Mr Muluvi never paid stamp duty totalling Sh12,440,000 for four other parcels of land worth Sh341 million.
In his response to Justice Mwilu's petition, Director of Public Prosecutions Noordin Haji denied harassing her, stating that he followed the due process.
"We followed the right channel in respect of her office and even consulted Chief Justice David Maraga before arresting her," said Mr Haji. The case is scheduled for October 9.