'It's been 20 years of endless pain as a result of this weed':Dickson Lekakisio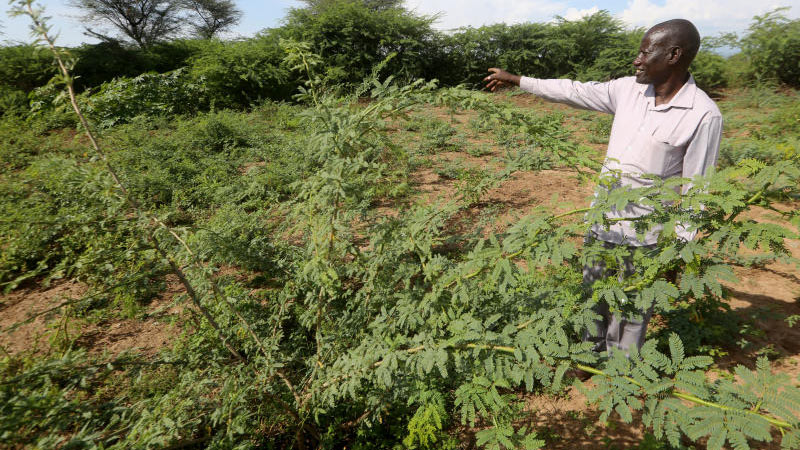 Martha Kibilion, 63, stares at her swollen sweaty foot that is slowly rotting because of a wound she developed on her sole more than 20 years ago.
She sustained the injury after she was pricked by mathenge, a noxious woody weed.
"It pains a lot, I cannot walk far. My foot is rotting. It has been over 20 years of endless pain as a result of this weed crouching over my compound," says Ms Kibilion.
Kibilion, just like other victims who cannot seek specialised treatment visits Ilng'arua dispensary where she is given painkillers and the wound is dressed.
"When this tree was introduced, it was a perfect wind breaker and for once, our grass thatched houses were once again intact. It has the best shade but over time, it has invaded our farms, water ways, injuring individuals and even injuring livestock's teeth," Kibilion said.
Amputated
Kibilion's son, Hassan Omari, feels his farher's pain.
"We have tried all we could, finally this leg will have to be amputated but where do we get money to seek specialised treatment when all our cows and goats have died as a result of this weed," Omari poses.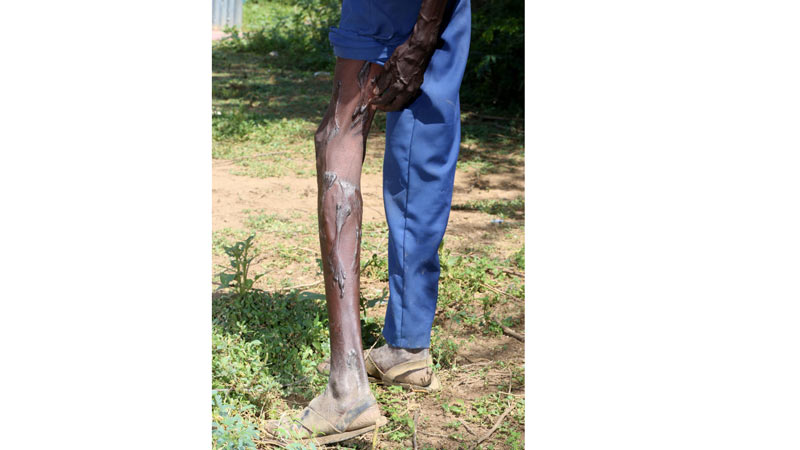 Omari, too fears for his school going children, having seen his mother suffer for decades. "The worst thing is that this weed is all over now, spreading so fast and children are very vulnerable even as they play around," he says.
The weed was introduced in Kenya from Brazil in 1973 for the rehabilitation of quarries in Mombasa by Bamburi Cement and was later introduced in Baringo, Tana and Pokot areas to serve as a windbreaker, stop erosion, curb desertification and fuel wood shortage.
Previously before the charcoal ban, the weed was used to prepare the same, which locals used as a measure to prevent the plant from spreading.
Kibilion's neighbor, Joseph Kakumor, was a victim of the noxious weed. He was pruning a tree when he fell down and his leg landed on Proposis, leaving him with bruises that took almost a decade to heal.
His leg appears scarred and the skin has regenerated.
"I visited several heath facilities although it started like a small wound. It took almost eight years to completely heal but it left ugly marks. I can barely wear a pair of shorts as a result," he says.
He visited Ilng'arua dispensary and Kabarnert hospital for specialised treatment.
And across the heavy Mathenge thicket, is Grace Letangule's homestead that has also been infested by the weed. Ms Letangule was pricked by the thorn in April as she was tending to goats, rendering her immobile for a while.
"I was bed-ridden for almost two months. The leg was swollen and had cracks all over. I thought it might eventually be amputated but we had to seek further treatment at Marigat Sub-County hospital besides the local dispensary," she said.
Chamain Lememba, a herder however, has a different story -- of his toothless goats.
Once the goats feed on pods of Prosopis, their teeth fall off, a condition that experts have attributed to excess sugar in the weed.
"The teeth are falling off and after some time, they are unable to feed on leaves and end up dying. This weed is slowly sucking our livelihood and needs to be urgently eradicated," he said.
Control the spread
Farmers want the weed eradicated. "In April, floods swept our plantations and although it was a natural disaster, the weed played a major role. The weed has interfered with water ways diverting courses of some rivers on to farms. It has grown on roads not frequently used," Murda irrigation scheme chairman Dickson Lekesio said.
The farmers, who supply seeds to Kenya Seeds Company are at a loss as the weed spreads. To reclaim land that has been covered by the weed, one requires up to Sh50,000 per acre.
"But the weed still resurfaces because it is spread by goats that feed on the pods and execrate, further dispersing it," Mr Lekesio added.
And as residents grapple with effects of the noxious weed, Kenya Forestry Research Institute (Kefri) is exploring ways of controlling the spread. (See separate story)
The weed has infested Baringo, Turkana, Tana River, Taita Taveta, Malindi among other areas where research is being undertaken.
Baringo County Kefri Director Simon Choge said charcoal burning has greatly helped to control the spread and density of the weed.
"We however wish the Government will consider Prosopis for charcoal burning since it is the only method that we are currently using as a control mechanism," he added.
Researcher Abdalla Kisiwa however said Prosopis, being a woody weed, can be managed through thinning of the thicket as well as used as fuelwood, making furniture and poles.
"In Turkana, Prosopis is the main source of fuelwood, especially in Dadaab refugee camp. It is also used for construction and that is why it is viewed differently," Mr Kisiwa said.
Last year, Energy Regulatory Commission official Pavel Oimeke told Saturday Standard that the multi-million-shilling weed power generation venture at Marigat, Cummins Cogeneration Limited Kenya might take long to begin operations because of technical hitches.
The firm, which opened its doors in 2014, was expected to generate power using the weed.