Waxing spiritual, Raila lights up Prayer Breakfast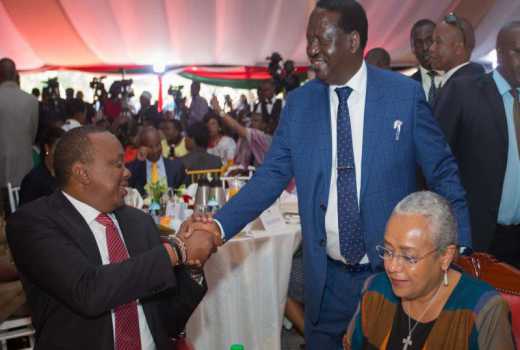 Opposition chief turned-to-the President's ally Raila Odinga lit up the National Prayer Breakfast with a combination of light-heartedness and seriousness.
Mr Odinga elicited cheers when he jokingly told the congregation that just like his NASA co-principal, Kalonzo Musyoka, he was surprised to be invited to the spiritual parley. That being an allusion to post- election animosity between him and the president when the two were barely in talking terms, a state of affairs that meant he was rarely invited to state functions.
"The Lord works in mysterious ways," he said alluding to his rapprochement with President Uhuru Kenyatta on March 9 which has come be known as the "handshake". He said that spirit of reconciliation had spread all the way to the two Koreas referring to last week's meeting between South and North Korea leaders at the 38th parallel that divides the two countries.
Sixty five years after the end of the Korean War, the two sides were technically at war but a détente is now holding.
Injecting some pathos into the speech, Raila invoked memories of Israeli's Yitzhak Rabin and Egypt's Anwar Sadat handshake that ended decades of animosity between the two countries and the Nelson Mandela- De-Klerk handshake seen to have symbolised the death of Apartheid in South Africa.
Raila said after the handshake on the steps of Harambee House, "many things changed; the shilling steadied; the stock market steadied."
The National Prayer Breakfast tradition is borrowed from the US and has been held in Kenya since 2003.
To fight drought, involve communities
According to the latest information from the Meteorological Department, rainfall will be poorly distributed in April, May and June, and this will have a serious impact on agriculture