Geologists dismiss report that Kenya is splitting into two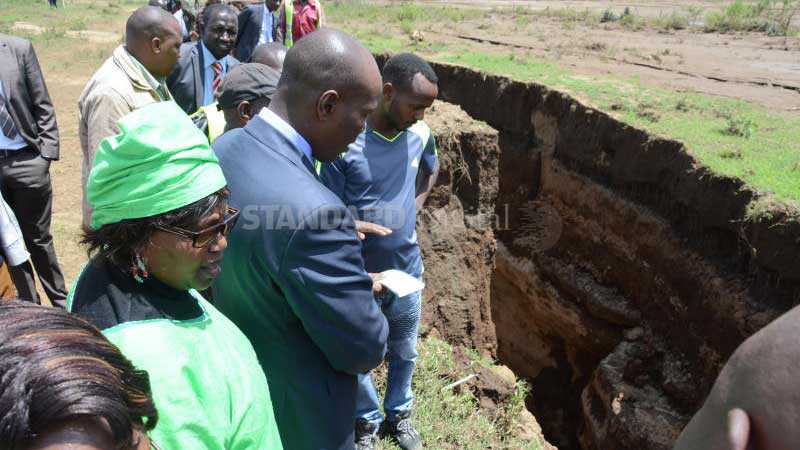 The Geologist Society of Kenya (GSK) has now dismissed allegations that the country could be split into two following the emergence of fault lines in Mai Mahiu Naivasha.
The organization has pointed to the current situation in sections of Mai Mahiu-Narok road to volcanic activity which had been worsened by the ongoing rains.
The geologists through their top leaders termed as far-fetched the assertion that the continent was drifting apart due to the current underground activities.
This emerged when the experts visited the affected area where the fault lines have continued to widen and get deeper raising fears among local residents.
According Gladys Kianji who is GSK chairperson, the phenomena in Mai Mahiu developed after volcanic ash under the ground was washed away.
The geologist said that the area affected was between Mt Longonot and Mt Suswa which had volcanic activities years back thus creating tunnels underground.
"The current situation has nothing to do with the splitting of the continent as alleged as it's the gushing waters that are sweeping away the volcanic ash underground thus creating the fault lines," she said.
Kianji who is also a lecturer at the University of Nairobi said sand collected from Mai Mahiu area was not fit for building construction noting that this had led to collapse of many buildings.
"The volcanic ash from this area has been used to construct buildings in various parts of the country and due to its weak nature we have seen an increase in buildings collapsing," she said.
Society vice-chair Marietta Mutonga said that they were mapping out areas mainly in Rift Valley that had similar challenges.
She said the change in land use has also played a part in the current crisis of soil erosion adding that this is a seasonal phenomenon that will end once the rains sub-side.
She revisited the allegations on the movement of underground plates in the continent noting that this occurred at a rate of 1mm after over 1m years.
"The allegation that the part of the country could be split into two is not possible but we should invest more on research mainly around the affected areas," she said.
Naivasha Mp Jane Kihara who visited the area also expressed concern over the safety of tens of families living in the surrounding areas.
"The families in this area have been advised to relocate to other safer areas but the main issue is that they do not have any other home," she said.