KFCB welcomes Multichoice removal of gay series from Disney channel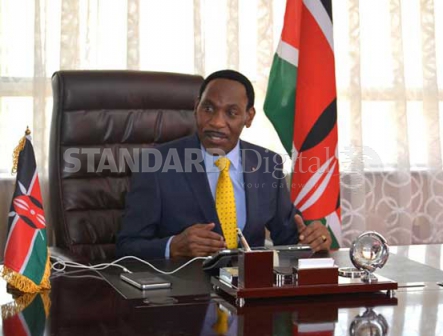 The CEO of the Kenya Film Classification Board was in the news this week, commenting on information that Disney Channel was about to air in its children's channel a series about homosexuality.
Ezekiel Mutua wrote to the Multichoice management, which airs Disney on the pay TV DStv, to complain about airing the content in Kenya.
"Following public concerns about the introduction of the Andi Mack TV series on Disney Channel, the board issued a statement advising pay and free-to-air TV stations against airing the programme in Kenya as it contains content that is likely to influence children's perception negatively on the institution of family," he said in a statement released to media houses on Wednesday.
His concern was that children were going to be exposed to value systems that do not tally with Kenya's national values.
"Indeed as a regulator, while recognising freedom of expression as enshrined, KFCB has a duty to protect children from exposure to harmful film and broadcast content as we endeavour to promote growth in the creatives sector," he said in an interview with The Standard at his offices in Nairobi.
And he is a happy man after getting assurances that the second season of Andi Mack will not air on DStv in Kenya as had earlier been planned.
He was full of praise for the DStv team's quick and positive response to the concerns the board had raised.
"The board takes this opportunity to commend MultiChoice for respecting our cultural imperatives and upholding the protection of children from accessing unsuitable content," he said.
Take a quick survey and help us improve our website!
Take a survey
DStv and GOtv had reportedly on their Twitter handles said the series was not in their repertoire because MultiChoice was respectful of each market's cultural sensibilities and compliance to rules and regulations.
According to reports, Andi Mack, which airs every Friday in the United States, will see best friends Andi (Peyton Elizabeth Lee) and Cyrus (Joshua Rush) admit they are attracted to the same boy.
Created by Sex and the City writer Terri Minsky, the series depicts teens figuring out who they are.
The Walt Disney Company pushed the LGBT envelope a little further this week by airing its first on-screen gay kiss on an animated children's programme, in March this year.
The scene in Beauty and the Beast took place at a boy band concert, where several concertgoers, including gay and lesbian couples, kissed while the band sings the song Best Friends.
This development comes after the board banned six cartoon programmes this June aired by DStv - Loud House, The Legend of Korra, Clarence, Steve Universe, Hey Arnold, and Adventure Time.
Mutua has urged parents to be on the lookout and stop their children from watching inappropriate content on TV.
"Marriage is a union between two people of the opposite sex and attempts by the media to teach our children that a man marrying another man is okay must be condemned,' said Mutua when he banned the six in June.
Several same-sex couples were shown kissing in the latest episode of Star vs the Forces of Evil, a cartoon targeting children and adolescents that airs on Disney XD, the company's digital cable and satellite television channel.
Disney has faced pressure from LGBT activists to feature more openly gay relationships on its programmes.
When former US President Barack Obama visited Kenya the delicate issue of gay and lesbian rights popped up during a joint press briefing at State House with his host, President Uhuru Kenyatta.
President Obama differed sharply with President Kenyatta over the matter in full glare of local and international live media.
Responding to a question from journalists after holding bilateral talks in the afternoon, Obama pleaded the case of those "with a different sexual orientation", asking the Kenyatta administration not to discriminate against such individuals.
But Kenyatta stood his ground and rejected the idea of promoting gay and lesbian rights.
"We need to speak frankly about some of these issues. Kenyans and Americans share ideals such as democracy, entrepreneurship, and family values, but some things are not part of our religion or culture – and we cannot impose something on people that they don't like," said Kenyatta.
To fight drought, involve communities
According to the latest information from the Meteorological Department, rainfall will be poorly distributed in April, May and June, and this will have a serious impact on agriculture