Kenyans' obsession with politics, what numbers say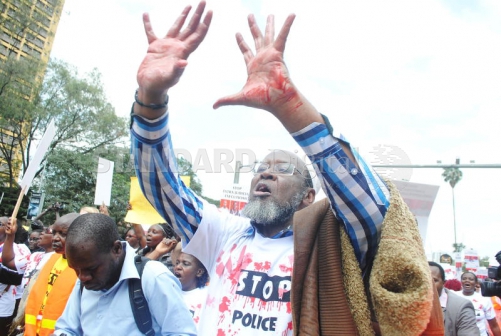 The General Election is just a few days away and fever-pitch campaigns are now entering the homestretch.
That will be a relief to many – it seems everything in Kenya is holding its collective breath, just waiting for the poll to be over. Business has clearly slowed down, plans are being postponed to "after August", or being rushed to be completed within the next two weeks.
From all the media coverage, it would seem that "politics" is oxygen to Kenyans; there is the widespread perception that this is all that adult citizens in this country are really passionate about.
But data suggests something entirely different, and hints at a growing group of Kenyans who feel increasingly alienated from the political discourse.
Data from Afrobarometer, a series of independent, pan-African, nationally representative public opinion polls on democracy and governance in Africa, gives us a hint of this growing alienation and silence.
In the survey, researchers asked citizens how often they discussed politics. The results are telling. In 2002/03, during the first round of surveys, those who said they "never" discussed politics were 26 per cent.
By the most recent round of surveys (2013/14), the proportion of those who said they "never" discussed politics had grown to 34 per cent. It has been a steady rise in disaffection over the past 15 years, it seems, from the heady years of the downfall of the 40-year-old Kanu regime, and the euphoria that accompanied Mwai Kibaki's election – the first democratic transition in Kenya.
The blip in the data was in 2008/09, when that election and its violent aftermath rattled the country, and political discussions peaked, according to the survey.
For a country supposedly obsessed with politics, it is somewhat surprising that only a fifth of respondents (20 per cent in 2002/03, and falling to 18 per cent in 2013/14) said they "frequently" discuss politics. The rest are in the middle, saying they "occasionally" discuss politics.
This data suggests a disconnect – either the media assumes that politics is a national passion, and so bombards audiences with political content that people are actually not interested in, or the minority that "frequently" discusses politics are influential, shrill, or both and so end up dominating the national discourse, and shaping the perception that their passion is a national one.
Perhaps the disengagement is a natural extension of the retreat of the African states in most sectors of society over the past few decades.
Traditionally, the relationship between a government and its people is one of bartering political support for provision of certain services, such as roads, schools, electricity, water and security. There was a time when public hospitals, public schools, municipal water and city-run garbage collection were the way African states were managed.
Today, with the collapse or underperformance of most public services, people come together with private solutions: medical harambees to cope with the lack of universal healthcare, boreholes to make up for unreliable council water and private security guards instead of an unresponsive police service.
Everything private
Data from the Kenya National Bureau of Statistics shows the number of private primary schools rose nearly 1,000 per cent in just a decade from 2001 to 2011, while the number of public primary schools grew just 40 per cent.
In Uganda, the percentage of university students attending private institutions jumped from nine per cent in 1999 to 74 per cent in 2011. In South Africa, there are more private security guards than police officers and army soldiers combined.
No wonder that many people don't feel as though they have a stake in what happens in the political sphere – they don't feel as though it affects their lives.
Still, there could be something else here. One of the noticeable changes over the past few decades has been the "professionalisation" of civil society. In its early days, that move was perhaps an attempt to streamline and make civil society more effective. But over the years, it has turned into a subtle shift in the idea that civil society work – the work of "caring" about governance – is something a group of people called "activists" do.
The majority of people, those who do not self-identify as activists, can thus comfortably sit back, knowing the dirty work is being done by someone else; an activist possibly paid to "care" about governance. That "outsourcing" of the conscience and of political responsibility perhaps explains the ambivalence that many ordinary Kenyans feel towards civil society work.
One should not assume that support for freedom of association is universal, or that the persecutions of civil society will necessarily find a sympathetic ear in the public.
Looking at a separate Afrobarometer survey, while six in 10 Africans (63 per cent) "agree" or "agree very strongly" that they "should be able to join any organisation, whether or not the government approves of it", one-third (32 per cent) of citizens say the government "should be able to ban any organisation that goes against its policies".
Kenya's support for freedom of association is lukewarm, going by the data, far below the African average. Just 54 per cent of Kenyans say that people should be free to join any organisation they want to, and a full 42 per cent say the government should be able to ban organisations it doesn't like.
Mixed feelings
A recent report by the Heinrich Böll Foundation describes the mixed feelings that many ordinary citizens around the world have towards caring about governance, discussing politics, or being otherwise engaged this way in the public sphere.
Sometimes, people are satisfied with prosperity, like a section of the middle class in Turkey, or they let their desire for freedom and political participation be eclipsed by economic progress and development, as in China.
Sometimes, they are subdued by the loyalty they feel towards the government and its policies that led to their advancement, as is arguably the case in South Africa; or they are co-opted into the system through a stirring up of nationalist pathos, as in Russia.
Even when a raft of onerous restrictions are put on NGOs and civil society organisations, they actually do receive some public support, especially from those who believe that local "activists" are doing the work in the streets for personal gain.
The core concern of the new or amended NGO laws that have emerged in many countries – Kenya included – is to cut the flow of foreign cash to domestic organisations, or to place the flow of money under State control, the report by the Heinrich Böll Foundation explains.
Much of this denunciation of civil society is done in the name of strident, nationalist rhetoric, with governments denouncing foreign interference and trumpeting national sovereignty.
In Kenya, there have been repeated government attempts to deregister hundreds of NGOs for alleged financial violations.
The moves have been seen in part as an effort to silence criticism of the government's human rights record. In 2016, the government again failed to put into effect the 2013 Public Benefit Organizations Act, which was expected to provide a more transparent and supportive legal framework for NGO registration and activity. While delaying implementation, officials have sought to introduce restrictive amendments to the law.
In Ethiopia, a 2009 law prohibits all domestic NGOs receiving more than 10 per cent of their budget from abroad from engaging in any form of political activity.
India's Foreign Contribution Regulation Act (FCRA) grants NGOs receiving money from abroad a license that dictates that ultimately no political activities may be funded with that money.
Emulated
In 2012, Russia passed what was to be called the "foreign agent" law, which would then be emulated by many other countries. The law required that NGOs that receive funding from abroad and engage in "political activities" must register themselves as "foreign agents". The Ministry of Justice can also unilaterally declare NGOs to be "foreign agents".
What the authorities specialised in finding was not evidence of funding from abroad, as this is difficult to hide anyway. Their special talent, the report states, was in discovering "political activity", the report states.
Kenya's vilification of civil society by a section of government is, clearly, by no means isolated in the global order of things. But one should not assume that support for "activists" is universal or overwhelming.
- The writer is a journalist and executive editor of Africa data explainer site Africapedia, and a 2018 Nieman fellow at Harvard University
@chris_mungai