Rectified typo leaves six in the dock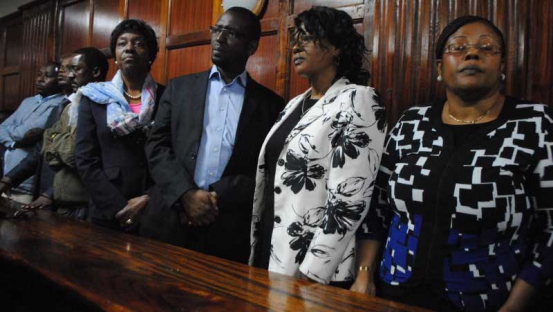 A typing error by the Court of Appeal that could have seen six suspects walk free in a Karen land grab case has been rectified. Because of this correction, the trial of six suspects will proceed, even though former Lands Cabinet Secretary Charity Ngilu was acquitted on account of this error.
Ngilu's criminal case was dropped by a consent registered at the Appellate Court after the State withdrew charges. However, when the order was presented in a lower court, the other suspects sought to use the same technicality that rescued Ngilu to seek freedom.
Last Wednesday Principal magistrate Lawrence Mogambi issued an order specifying that its only Ngilu's case that had been terminated following a clarification.
"That in conformity to the Court of Appeal, this court hereby orders and confirms that the charge against the 5th accused person (Ngilu) is terminated and cash bail deposited shall be refunded to her accordingly," the order dated April 12, 2017 reads.
The suspects had argued through their lawyer Hiram Kago that the Court of Appeal order was specific that the criminal trial relating to the 134-acre Karen land valued at Sh8 billion had been terminated and wondered why only Ngilu was acquitted.
This prompted Mogambi to order the Director of Public Prosecution (DPP) to seek a clarification from the Court of Appeal within two weeks failure to which he will acquit the suspects.
Ngilu had entered into consent with the DPP to terminate charges against her after negotiations. The consent was endorsed by Appellate Judges Alnasir Visram, Wanjiru Karanja and Jamila Mohamed.
The suspects—former National Social Security Fund Managing Trustee Jos Konzolo, his firm Telesource.com, former Chief Lands Registrar Sara Mwenda, former Deputy Director of Survey Pauline Gatimu, Registrar Mark Muigai, lawyer Macmilan Mutiso and businessman James Mbaluka—are accused of conspiracy to transfer the land owned by Muchanga Ltd between 2005 and October 2014.
This comes as hearing of a second case involving the land starts at the High Court. Former Vice President Moody Awori will take the witness stand before Justice Elijah Obaga next Monday. Last year Awori said he oversaw the purchase of the controversial Karen land 33 years ago.
In documents filed in court last year, the former vice president said he was a director of Muchanga Ltd when the land was transferred from Barclays Bank. He said he attended a board of directors' meeting on April 29, 1983 that resolved to charge the land with Barclays for Sh10.5 million.
Awori was both a director of Muchanga Ltd and Da Gama Rose Investments, which surrendered the land title as security to borrow from Barclays Bank. Mr Awori filed his affidavit last Friday to support claims by businessman Horatius Da Gama Rose, now deceased, that he bought the land from Barclays in 1983. Dimitri Da Gama Rose has since taken his father's place in the case.