Fierce gunfire as bandits attack police convoy in Baringo again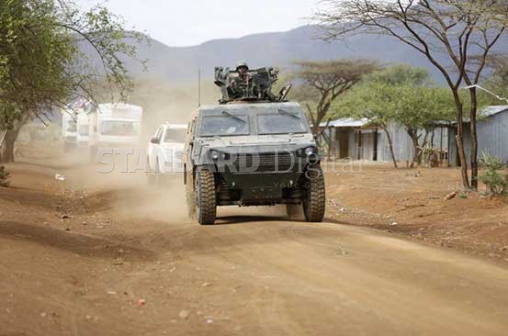 For the second time this week, bandits attacked police officers evacuating hundreds of residents from Mukutani in Baringo South.
The bandits attacked a police convoy on Thursday evening as it snaked its way through the Makutani-Mosuro road, causing panic as heavily armed security officers responded with heavy gunfire directed at attackers holed up in surrounding hills.
The bandits shot at but missed an officer operating a machine gun mounted atop an armoured personnel carrier which was leading the convoy.
Accompanying the two armoured vehicles were a Toyota Land Cruiser and three police lorries ferrying the evacuees and their property.
Exchange of fire
The officers disembarked in response, spraying bullets into the bush in retaliation as residents took cover in the police lorries. The exchange of fire took place 10km from Mukutani, an indication that the bandits may have been monitoring the evacuation.
On Tuesday, armed bandits attacked the convoy of Rift Valley Regional Coordinator Wanyama Musiambo and Baringo Governor Benjamin Cheboi as they prepared to evacuate hundreds of pupils of Mukutani Primary School following the killing of 11 people.
In the Thursday incident, 100 families had to hurriedly collect whatever they could and leave the only place they have called home.
Nangolete Lotome, whose two children were killed in the Tuesday evening attack, said the village is no longer habitable. He said despite the presence of police officers in the area, they were not assured of their safety.
The 67-year-old was inconsolable over the death of his children.
"This incident has left me a lonely man. My wife and my three-month-old child were taken by the rescue team and I believe I will find them safe at Eldume," said Lotome.
He accused police officers of laxity, and said had they responded on time, they would have repulsed the attackers.
Another resident, Gabriel Legishab, said he was trying to come to terms with the brutality of the attack. He said the picture of burning houses, broken doors and maize scattered all over the field would be forever etched in his mind.
The residents said the government should either disarm the bandits or give them guns to protect themselves.
"The government should speed up the process of disarming the Pokot or peace will not prevail," said Legishab.
Ilchamus community spokesperson Amos Olempaka said the attack has left them with nothing.
Olempaka said the residents will return to the village after a month to plough their lands because they cannot not leave their homes to the Pokot.
"We are going to console the bereaved families, we urge the government to give us security when we return," he said.
He also urged the government to declare the area a no man's land until the two communities sign a peace agreement.
Residents who survived the attacks blamed the police for the slow response.
To fight drought, involve communities
According to the latest information from the Meteorological Department, rainfall will be poorly distributed in April, May and June, and this will have a serious impact on agriculture