Raila Odinga battles graft claims by Dominion group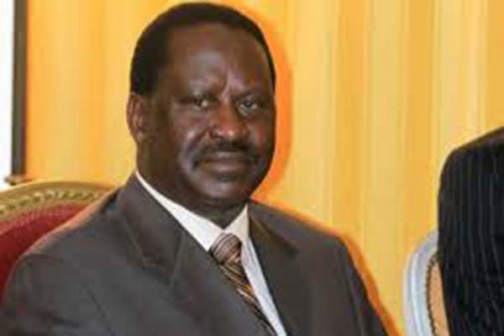 An American investor based in Siaya has accused Opposition chief Raila Odinga and his political associates of trying to extort campaign money from him.
In a 22-page statement, Dominion Farms Ltd Chief Executive Officer Calvin Burgess said the leaders frustrated his business.
Mr Burgess detailed his frustrations in Kenya since 1999 when he first came to the country at the request of the then Nyanza Provincial Commissioner Peter Raburu, who wanted him to consider Investing in the region.
He talked about his visit to Yala Swamp in 2003, where Dominion Farms would eventually set up shop, setting up irrigation projects to grow rice and maize.
He vividly described the appalling levels of poverty he witnessed.
Burgess, who has accused Raila and politicians associated with him of frustrating his business through extortion, violence and eviction threats, claimed his troubles began when he refused to fund the Opposition leader and his Orange party. He argued that this would have been against American law.
He also talked of a time when the Government asked him to look into the problems of the housing sector when Raila was both minister for Housing and Roads. He said a "major battle between Raila and the then Finance minister crushed hopes of the project taking off".
"During this same time Raila began demanding for me to support him politically with large sums of money. I explained that the US law called "The Foreign Corrupt Practices Act" did not allow me to do this and would result in the end of the farm, my imprisonment and a $2 million (Sh207 million) fine in the US," he said.
"He (Raila) would not accept this, saying people from Canada and Europe gave him money so I had to do so as well. He claimed nobody would ever find out. I said No! At every subsequent meeting this became a topic of discussion."
Burgess further accused a civic leader in the area at the time, whose job he alleged was to interrupt everything Dominion did "so we would abandon the farm to the politicians".
"He became a continuous harassment demanding more land, claiming this was the community's ancestral land even though they knew it used to be a lake bottom (reference to the swamp's link to Lake Victoria)."
Burgess claimed the area representatives incited the local community by telling them to plant their crops so Dominion could not plough its fields.
"The county had persons file lawsuits to claim ownership of the former swamp and this took years to work through the legal system. The courts all ruled in our favour but it cost us so much time and money," he said.
Burgess' claims dragged several leaders in, including Gem MP Jakoyo Midiwo, Ruth Odinga (Kisumu deputy governor) and MP Gideon Ochanda (Bondo) as part of the group that frustrated him.
But his claims have been met with furious rebuttals from Siaya County leaders.
Midiwo, Ochanda, and Ruth accused Burgess of looking for an excuse to abandon the Dominion Farms Project at Yala Swamp, which they said was collapsing due to mismanagement and non-payment of staff.
The leaders defended Raila against accusations that he tried to force the investor, who owns rice and fish farms at the swamp, to fund his presidential campaigns in 2007.
Jakoyo asked why Burgess declined to appear before the Parliamentary Committee on Land, which had summoned him, if he was sincere in his claims.
SNUBBING INVITATIONS
But yesterday, after rattling MPs by snubbing invitations from the Lands committee chaired by Alex Mwiru (Tharaka MP) and convening a press conference to 'malign' some of them, the House issued fresh summons.
Speaker Justin Muturi directed that Burgess should appear before the committee after Mr Mwiru's complaint about his refusal to honour the invitations since 2015, when they received a petition from locals protesting the displacement.
Ochanda rose on a point of order to give a personal statement regarding the investor's conduct and even brought the House up to speed on the pending petition before the Lands committee.
Burgess has had problems with local leaders and residents owing to his alleged failure to implement promises he made in 2003.
"This man is very dishonest. In fact, I suspected he was not sincere from the first day he set foot in Siaya. He is now throwing tantrums because his tricks and wayward ways of doing business have been discovered," claimed Midiwo.
The leaders argued that the investor was planning to run away because he had failed to honour the memorandum he signed with the now defunct Siaya and Bondo county councils that he would provide water, and build schools, hospitals and roads in the project area.
They said it was because of the Dominion Farms activities at the swamp that Lake Kanyaboli was drying up.
Midiwo further claimed that the Dominion investor had created the same issues when he was running farming projects in Ghana before running to Kenya.
"After getting a federal grant from the US government to come and invest in the swamp, he came and compromised former councillors and a lawyer who is now an MCA to do a bad deal that allowed him to do things not agreed in the contract," Midiwo claimed.
He further accused Burgess of failing to create employment, build roads, and change the face of hospitals and schools 15 years later.
"He produces 400,000 bags of maize per season but where is this maize? He is now growing sugarcane but with whose permission? He has built a factory that is discharging chemicals in rivers and lakes and he has bribed his way through the environmental protection agencies, then he is going around accusing and blackmailing leaders?" Midiwo went on.
ALLEGED THREATS
Ochanda said: "This man is preparing to abandon the project and he wants it to appear that he is leaving because of the alleged threats from locals. We want to tell the world that these are lame excuses.
"There is no way you can invest in people yet you do not want to listen to them. You cannot be in the middle of people and always want to have your way even if you are the investor. Burgess' intentions are not good because he is not keen on clearing disputes between him and the community."
Ochanda told Burgess to apologise to the people of Siaya for describing the county as "a place of death and forgotten people, where residents had never seen a white man".
In his press statement issued in Nairobi, Burgess who started farming activities at Yala Swamp in 2003, claimed he had been harassed and threatened many times by Siaya leaders who wanted kickbacks from him.
He claimed the leaders should thank him for saving the people of Siaya from death.
Claiming his arrival in Siaya was a blessing to the locals, Burgess said: "This was truly a place of death. We were in the heart of Luoland. It was like being 10 centuries behind the rest of the country. These were people forgotten by their leaders and their country."
Yesterday, the leaders asked Burgess to leave if he was no longer able to manage Dominion Farms.