Danson Mungatana got Sh5.3m of stolen cash, says suspect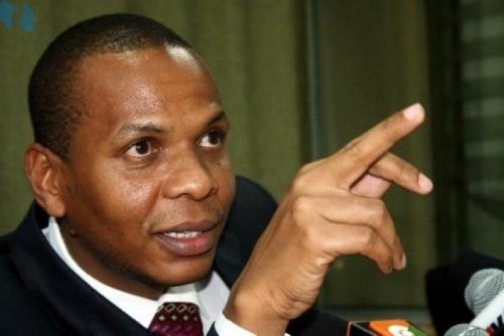 A director of one of the firms implicated in the Sh51 million IFMIS scandal in Kilifi County now claims former Assistant Minister Danson Mungatana was a leading conspirator in the theft and received Sh5.3 million.
In an explosive affidavit sworn by Lucy Wanjugu Kibogo, a director at Zohali Services Limited, which allegedly received some of the money from the Kilifi County Government's accounts at the Central Bank of Kenya (CBK), claims Mungatana later declined to assist her when she was eventually detained.
Kibogo has attached SMS and WhatsApp communication messages to the affidavit dated January 12.
The director claims that when the fraud was discovered and some of her accounts frozen and money returned to the CBK, she was questioned by CID officers and detectives from the Banking Fraud Unit and the Ethics and Anti-Corruption Commission (EACC) and she offered to be a state witness. However, she was detained for five days and charged instead.
Yesterday, Mungatana told The Standard on Saturday that he could only comment on the affidavit after reading it.
"I have heard claims that I have been named in the Kilifi Sh51 million IFMIS (scandal), but I will only respond to the allegations when I have seen the document in question. I have asked for the document from those accusing me of stealing money," he said, adding that he has not been questioned.
But last evening, Kilifi Governor Amason Kingi demanded that Mungatana should record a statement with the police on this matter and asked for a thorough probe into losses incurred by other countries through the manipulation of the Integrated Financial Management Information System (IFMIS).
Meanwhile, a separate letter from Kibogo's lawyer dated December 14 last year, suggests that by this time, detectives investigating this matter were already aware that the former Garsen MP had been mentioned as a key suspect but he was not questioned at all.
These documents are filed at the Kilifi law courts where Kibogo is battling a civil case filed by the Kilifi County Government, seeking orders to have her forced to refund the money she received from the county's coffers at the CBK.
She is also battling a theft charge before a separate magistrate's court alongside directors of five other firms that benefited from the loot. The firms include Makegra Supplies, Zohali Services, Kilingi Investment, Leadership Edge Associates and Daima One Enterprises.
Kibogo alleges in the affidavit that Mungatana approached her "sometimes in July" last year with a proposal seeking to use her company's bank account to receive money whose source he did not disclose. She claimed Mungatana could not use his own bank accounts because they had been overdrawn.
She claims that on October 4 last year, her firm's account at Jamii Bora Bank Limited was credited with Sh5.3 million. She says before she withdrew the money, Mungatana showed her a document indicating it originated from the Kilifi County Government.
Kibogo says she withdrew the money in bits and handed it in cash to Mungatana, adding that on October 7, a further Sh3,870,123 was credited to the account, but suddenly recalled by the CBK.
She claims she communicated with Mungatana on cellphone number 0722411971. Some of the messages suggest that at one time, Mungatana boasted that more county governments were targeted in a scheme to swindle money through manipulation of IFMIS.