Three suspects arrested for chopping off teenager's hands in Meru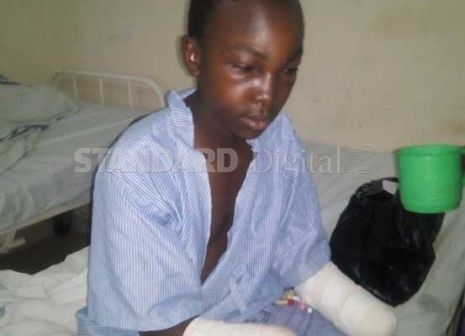 Three family members suspected to be behind the chopping off of a teenager's hands in Meru have been arrested.
Igembe North police chief Peter Kimani confirmed that three men suspected to have attacked the boy are being held at Kangeta Prison.
Speaking at the Meru Referral and Teaching hospital the victim, Stanley Kinoti, from Mwanika village, Igembe North recounted the chilling ordeal. He was on his way to the market when a local tycoon known to him, and his sons grabbed him, accused him of stealing their miraa and did the unthinkable.
"One of them cut my right hand and asked them to do the same to the other. He said my parents would not do anything to them because they are too poor, so they cut my other hand," the boy said.
"They then removed my trousers and left me by the road to bleed to death."
Kinoti, who dropped out of school at Standard Four, identified his assailants — three of whom are in custody. Their father, is still at large.
The teenager's distraught father Joseph Kiriamburi and his wife Mary Karim are pleading for justice.
The family said the young Kinoti was their breadwinner, doing casual jobs around.
A Good Samaritan Christopher Kionga, a businessman, and his friends contributed the money to take the boy to hospital.
The boy's lawyer Kirimi Mbogo said he will ensure the boy gets justice. "It is sad when a rich man and his sons maim an innocent boy. He comes from a very humble family, and his parents are elderly and weak. The boy was the one taking care of them but he cannot do that anymore," said Mbogo.
Njuri Ncheke Council of Elders and religious leaders condemned the act and blamed it on drug abuse. Njuri Ncheke regional chairman Linus Kathera said: "Incidences of people attacking others with machetes is becoming too common in Igembe. This is happening because of consumption of too much illicit brews," said Kathera.