Police recover three AK47 rifles from ex-officer wanted over terror links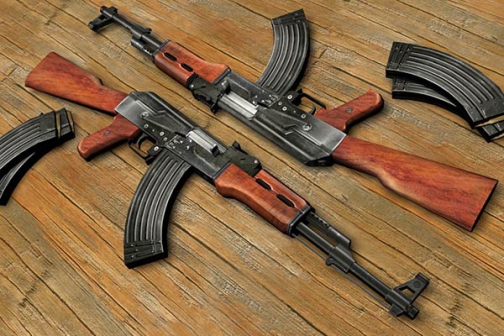 Ruiru, Kenya: Police recovered three AK47 rifles and 178 bullets from a thicket in an operation targeting a former police commando in Ruiru Town.
The suspect is still at large amid reports he had been radicalized and planned an attack at his former work station- Recce Squad in Ruiru- together with an accomplice who was arrested in the operation.
A pistol magazine was also recovered in the operation that spread out to Githurai 45 where the accomplice was nabbed.
The weapons were recovered in a riverbank where the man had hidden them. Police said a witness who saw him burry the weapons there tipped them before the recovery was made on Thursday at 2 am.
National Police Service spokesman George Kinoti said a hunt on the suspect identified as Eric Ngethe Kanyingi is ongoing.
"He evaded a police dragnet but we are looking for him," said Kinoti
Police involved in the operation said the suspect was well trained in hostage and rescue missions.
Kanyingi who is believed to have been radicalized is said to have been planning to attack his fellow colleagues at the Recce headquarters in Ruiru.
Recce is a special forces' squad that is highly trained in various issues and in specific rescue missions. Kanyingi had served in the unit until 2014 when he deserted for unknown reasons.
His colleagues said he was an Al-Shabaab sympathizer and had been spotted visiting a mosque in Majengo slums in Nairobi.
A team of detectives from Ruiru raided a house said to be owned by the former police officer in Githurai 45 estate but they did find him.
They said they found literature material that indicate the man had been radicalized and arrested a man believed to be an accomplice from there.
The development comes in the wake of reports there are many sympathizers of Al-Shabaab in the service.
On Wednesday a police constable based in Embu was charged with terrorism in relation to the Kapenguria police station attack in July in which seven of his colleagues were killed.
Abdi Jelle Ali alias Abdimunaf Jelle was charged of posting words on Facebook that were meant to solicit and give support to commission of terror.
Police have formed what they call a court of inquiry to investigate an increase of cases where officers shot their colleagues, causing death and injuries.