IEBC protests take new twist as Kalonzo alleges evil plot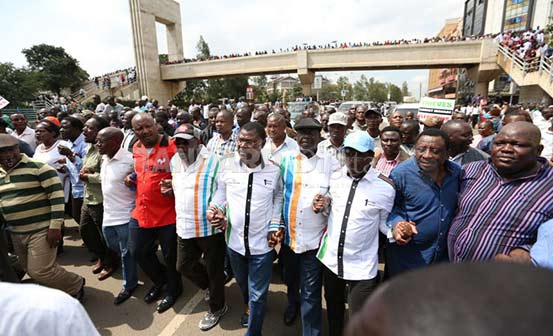 Threat of violence in the protests against electoral commissioners loomed large yesterday as the Opposition sensationally warned of a plot by Jubilee leaders to incite civil unrest.
CORD co-principal Kalonzo Musyoka named three Jubilee politicians who he alleged were mobilising goons to spark off civil war on the streets of Nairobi tomorrow.
The former Vice President named Starehe MP Maina Kamanda, Gatundu South MP Moses Kuria and Dagoretti South MP Dennis Waweru, accusing them of plotting to incite violence during tomorrow's planned protests against IEBC.
"We do not have a problem with the Gikuyu, Embu, Meru Association (Gema) or our colleagues in politics. We have a problem with IEBC. We do not mind Jubilee protesting in support of IEBC, but we have a problem when Waweru, Kuria and Kamanda organise goons to disrupt CORD rallies because that is criminal. The three have hired goons associated with Gema to cause civil war on Monday (tomorrow)," he said.
The opposition has organised street protests to force IEBC commissioners out of office. Jubilee leaders insist CORD must take the battle to remove the commissioners to Parliament.
Kalonzo accused Jubilee of promoting ethnic polarisation and alleged that the Inspector General of Police has failed to arrest gangs, allegedly, hired to infiltrate CORD rallies to loot and pillage.
Asked for comment on Kalonzo's remarks, National Police Service spokesperson George Kinoti said: "Such allegations are a wild imagination as a mitigation to a personal or group failure. The police will deal with all criminal acts impartially as prescribed by the law."
Kalonzo spoke only a day after Gema warned the opposition to stop the street protests and pay Sh100 million as compensation for alleged business losses arising from the demonstrations.
The Gema officials warned that should the demos not be called off, then their members will also be on the streets tomorrow to counter the CORD protesters.
"We, Gema Nairobi Branch, are demanding that CORD takes responsibility and pays the amount of more than Sh100 million being demanded by aggrieved parties before Monday May 23, failure to which we will meet them on the streets one on one come Monday. The constitution is clear on how a constitutional institution ought to be removed or disbanded. We don't understand why they are not using these legal mechanisms. Their actions amount to overthrowing the constitution," read part of the statement delivered by Gema chairman (Nairobi Branch) Wilfred Kamau Gathigi.
But Kalonzo, who spoke to The Standard on Sunday on the phone from Mombasa, termed the statement by Gema obnoxious, claiming that the group leaders were responsible for recruitment of goons to disrupt peaceful protests.
Kalonzo arrived in Mombasa last evening to meet opposition supporters and launch demonstrations against the IEBC in the coastal town.
On Monday, police used brutal force to disperse protesters who were calling for the exit of IEBC commissioners. Several people were injured and property of unknown value destroyed in the melee. At least 15 people were arrested and later arraigned in court where they were charged with participating in an unlawful assembly, going to the public while armed with stones and creating disturbance in a manner likely to cause a breach of peace.
The wiper leader claimed state hirelings were bussed into Nairobi to cause violence during last Monday's protests.
In a quick rejoinder yesterday, Kuria accused Kalonzo of being part of what he said is a "bigger plot to destabilise the country".
The Gatundu South MP said it was not lost on Kenyans that CORD started the protests almost immediately after all the Kenyan cases at the International Criminal Court (ICC) collapsed.
"It is CORD who should answer the strange coincidence between the collapse of the Kenyan cases at the ICC and the latest attempts to cause violence. Even a small child can see through CORD's plan. They want violence so that they can revive the cases at the ICC," he went on,
"On Monday (tomorrow), we will be asking the United Nations through Secretary General Ban Ki-Moon to note the impending threat to Kenya and regional security arising from the calculated actions and schemes by CORD to destabilise the country and cause a wave of violence. The idea is to provoke reactions and retaliations from those who do not subscribe to their philosophy of violence in order to revive cases at the ICC. We will ask UN to take cognisance of the fact that the said demonstrations came shortly after the collapse of cases at the ICC."
Mr Waweru refused to weigh in on the matter, only saying: "That's rubbish".
Kamanda dismissed the allegations of plotting violence and accused CORD of disregarding the rule of the law, adding that in their protests, the Opposition leaders must "not provoke the silent majority".
"We are telling them there is a constitution in this country and Kalonzo himself has been a defender of the constitution. What has changed? It is a shame that Kalonzo, who is a renowned lawyer, wants anarchy by taking the country to the dogs. They are the ones breaking the law. If they want to organise street demonstrations, they should do it. But they must not provoke the silent majority," said the Starehe MP.
According to Kalonzo, the IEBC impasse would only be resolved if the country's top political leadership would agree on a deal and advise their respective members of Parliament on the way forward.
Contempt of court
"The only way this matter will be resolved is for President Uhuru Kenyatta, Deputy President William Ruto, CORD leaders Raila Odinga, Moses Wetang'ula and myself to sit and agree on how to proceed. We can't just take this matter to Parliament because only Wetangu'la is there. The rest of the political leadership is not."
But Leader of Majority in the National Assembly Aden Duale dismissed Kalonzo's assertion, saying both the Wiper leader and Raila have no legislative mandate.
"Kalonzo and Raila cannot direct MPs on how to vote. They became citizens like many other citizens when their presidential bid flopped. That's why they are not in Parliament. Even if in the unlikely event the President and his Deputy choose to sit with them on the IEBC matters, the only way they can bring that discussion to reality is through amendments to the relevant laws. The amendments can only be executed by the Legislature to which neither Kalonzo nor Raila belong," he said.
City lawyer Harrison Kinyanjui moved to court on Friday and filed a contempt of court proceedings against CORD leaders.
"We have a court order issued on 29 April 2016 in petition number 169/2016 in which all these CORD luminaries namely Raila, Kalonzo and Wetang'ula were restrained from in any manner interfering with IEBC executing its constitutional mandate at its office in Nairobi and across the country. In that same order, these people are forbidden from trying to force IEBC commissioners currently in office from vacating office through acts of intimidation," said Kinyanjui.
"We filed an application for contempt of court on Friday and it will be heard on Monday (tomorrow) in defence of the constitution and in protection of the principal of the rule of law," he added.