Ezra Chiloba: Give electoral commission the benefit of doubt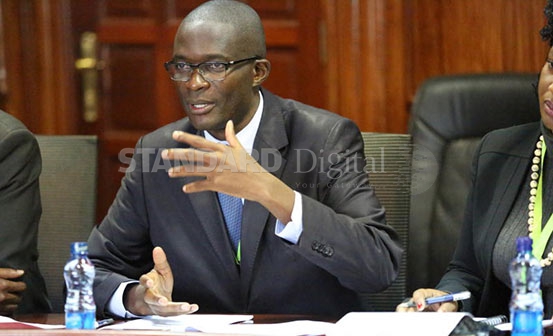 Q: Beyond the resignation calls, do you recognize that there's need for essential electoral reforms ahead of 2017 election, and what are some of the areas requiring the reforms?
A: You will be surprised to know that we are ahead of our accusers in terms of reforming or beginning conversations on the electoral environment. The first thing to appreciate is that Kenya has always conducted a general election every five years since independence. The quality of election is a different matter altogether. The fact of the matter is that we seem to appreciate, as a nation, that elections are the only way of legitimizing state authority and its leadership. This is important.
Q: In terms of specifics, what are some of the issues you are looking at or the ones you would wish the country addressed?
A: Based on 2013 election and our experience, we need to improve on the quality of the voters register in terms of certainty, equity and accessibility in good time. These three require a number of interventions which the commission is working on. We also wish to address the role of political parties in conducting nominations which are seen to be fair and transparent. This goes into our political culture.
Q: This is very critical area. There are those who believe unless we work on our political party culture, every other reform will come to naught...
A: And they are right. The frustrations that arise from the political party level tend to spill over to us and to affect the quality of the elections where voters abstain or disrupt the electoral process. We need greater transparency in our parties, more maturity and more accountability. We have made a number of proposals which will hopefully enhance greater discipline within political parties and lead to fairer processes and outcomes.
Q: The impunity within political parties is also reflected in commission dealings where timelines are not observed. We have seen IEBC bend over backwards in the past to accommodate iniquities of political parties....
A: Again, you will be surprised if I told you that this is not the commission of the past. The sort of attitude you see from some of the political parties against the commission might as well be related, in part, to specific instances in 2013 when the commission stood against the parties in the matter of party lists. I get your point though. Perhaps we need a more aggressive enforcement of the law.
Q: In terms of results management, a number of issues have been raised, what is the commission doing to address these?
A: The law is more or less clear on these although when you mix the law and operations, you definitely encounter challenges. In 2013, we experienced a lot of challenges risk of error was too high. However we have since developed an election results management framework. It's all geared towards improving on accountability, reliability and transparency in results management.
Q: Are you satisfied with the "six in one" election provision of the Constitution?
A: We managed in 2013 despite the odds. 2017 is yet another opportunity, away from the transitional issues of 2013, to test whether the country can manage to conduct the six elections in one day and still maintain quality of the outcome.
Q: Are you comfortable with the integrity threshold for access to public leadership? Some have said the the low threshold you settled for 2013 election could be the one informing the confusion in the country at the moment.
A: Integrity is critical because it affects the quality of leadership and also because it is a constitutional requirement. The trick is that we must have information to enforce it properly and this information must come from people outside the commission. If I were out there, I would probably be looking at ways of developing an integrity data base for all people wishing to access public leadership. The point is, we need to get more people, the civil society, other government institutions and even individuals to participate in quality vetting of candidates to lock out tainted persons.
Q: Have we implemented all the reforms proposed by the Kriegler Commission and are you satisfied with the progress of reforms so far?
A: We have made significant progress. The most important thing is that we are still in the spirit of Kriegler and I was glad when at the parliamentary committee the other day, they asked a similar question.
Q: One of the recommendations of Kriegler was the integration of ID issuance and voters card. We seem to have ignored this aspect.
A: Based on our experience of the difficulties of getting people to register, I think it is time we revisited this. My somewhat controversial proposal is that we give the IEBC the function of civil registration. We are going to seriously study this proposal and make a concrete proposal to parliament.
Q: There are those calling for removal of the secretariat alongside the commission, are they justified and are you ready to leave?
A: They are not and I will tell you why. This is a very young organisation. It's not yet there but we are quite ahead of many other organisations. It's the only place where people who know what it takes to run an election are to be found. My proposal would be that we approach this debate with utmost care. If you start politicising the secretariat, they may start looking for patronage in political circles and we lose the hard-gained independence. We want a secretariat which is faithful to the institution, that's Kriegler, that's us at the moment.
Q: But even at the secretariat level you surely have "issues"?
A: True, but ours are challenges which are largely administrative. Everything is new, the electoral system is new. Even if you were to bring a new secretariat, they will have to learn the ropes like us. The point is, let us give the commission the benefit of doubt. Our challenges are administrative, issues of capacity, more training, corporate governance and resources. The institutional culture we are seeking to grow can only arise out of proven record in history. It cannot be a one occurrence event.
Q: Finally, how do you see the current stand-off ending?
A: Whatever happens there must be dialogue at political level that aims at bringing this matter to a closure. If we do not do this in time, the suspense could jeopardize our preparations to run a successful election next year. The earlier this matter is settled the better. We have a lot of work to do as a commission secretariat amidst all this. We need to look at these issues a little bit more soberly. It should not be a battle of revenge.
Q: Are you ready for your guests tomorrow and what is your message to them?
The Constitution grants them the right to demonstrate. But the demos must be peaceful and must respect other people and their property. More importantly, I would wish to call upon the demonstrators to consider a process that will bring all voices together. The faith-based organisations have spoken on the importance of dialogue. The commission chairman too has called for political dialogue. As a commission we remain open to this dialogue and will support it. Let us remember that the country is at a very critical point in time were elections seems to be almost everything. We need to prepare for the next election in spite of all this.