Why have you neglected us? IDPs cry out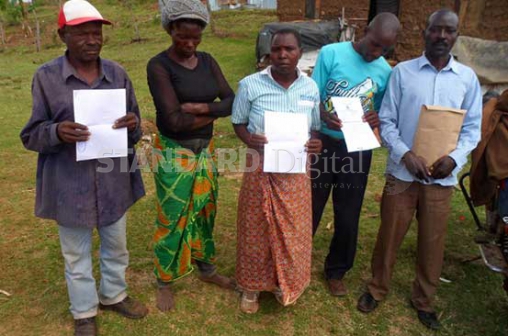 A group of internally displaced persons (IDPs) is crying foul over the government's resettlement programme. They claim the government has ignored them. This comes against the backdrop of President Uhuru Kenyatta's statement on the resettlement of integrated IDPs.
The President, while on a tour of Nyandarua County this week, said the government will compensate integrated IDPs. This, he said, would be done regardless of whether the IDPs went to camps or were hosted by family and friends.
The assurance comes as dozens of integrated IDPs recount their woes, nine years after eruption of violence following a disputed poll threw their lives into turmoil. IDPs in camps and their integrated colleagues who moved in with relatives after they were uprooted from their homes were neither resettled nor paid unlike their counterparts from Mt Kenya and Rift Valley.
Also yet to be compensated are IDPs displaced after the 1992 and 1997 post-election violence who are still living in parts of Western, Nyanza and some towns in the North Rift.
Mr Bernard Ndege, whose case after the 2007 violence was highly publicised, claims not to have been compensated. Ndege relocated to his ancestral home in Karachuonyo after he was displaced from Naivasha during the 2007/08 PEV. He was then living in Naivasha's Goldfish Estate with his two wives and nine children when their house was set ablaze by arsonists.
Ndege survived with severe burns but lost his family in the attack and has been relying on well wishers to survive.
Through his lawyers, Rautta & Co Advocates, Ndege cites discrimination by the government and is seeking among other demands an acknowledgement of the pain and loss he suffered due to the failure of security organs under its control.
He is also seeking an apology for the extreme physical and psychological harm inflicted on him during the violence, and for the government's failure to protect his family and other persons that took refuge in his house during the attack.
Ndege is also seeking payment towards his continued medical treatment, full compensation for the loss of each member of his family, as well as reasonable compensation for expenses he incurred in resettling.
The law firm has sought the intervention of the Commission on Administrative Justice (CAJ) in the matter. CAJ has since written to the Devolution and Planning Cabinet Secretary on the same.
In Siaya County, Governor Cornel Rasanga has threatened to sue the national government over unfair distribution of funds meant for the resettlement of PEV victims.
Regional balance
"The government has been allocating funds for IDPs but left out some from Nyanza. This disregards regional balance since the election violence affected every community and not just two groups that have been given priority by the Jubilee government," said Rasanga.
But when contacted, Siaya County Commissioner John Sawe denied any knowledge of IDPs in the region. He said most IDPs were either reintegrated or resettled through its Ministry of Special Programmes.
In Kisii County, the chairman of the Gusii IDPs Rev Nemwel Momanyi said they have been compelled to petition the Speaker of the National Assembly on the matter of compensation. In May 2012, Gusii Integrated IDPs moved to court to seek direction over alleged misappropriation of millions meant for IDPs from the region.
In July 2015, the same IDPs also moved to court to petition the government over nonpayment of their compensation funds, but the cases were thrown out by a Kisii Court for lack of valid court documents. Kisii and Nyamira Counties had about 35,000 IDPs. Of this number, 17,000 got Sh10,000 each as compensation.
Across in Uasin Gishu County, 51 families under the Sakasaka IDP group are happy Kenya's ICC cases have been terminated, but saddened by what their lives have become. The group lives in shanties at Kampi Thomas and Maili Nne Estate and take up menial jobs to survive.
According to the group's organising secretary Justo Wekesa, 15 families are yet to receive compensation.
"We camped at the Eldoret ASK showground until we were moved to here and given Sh10,000 to buy a piece of land," said Wekesa.
The group was also given tents and food but the supplies ran out in 2013, making life difficult.
Samuel Genyelo, a PEV victim in his 80's, does not understand why he has not been compensated yet he was enlisted with those at the showground, majority of who been resettled. Wilberforce Natembea, a father of eight, says they were told to open bank accounts after Deputy President William Ruto closed Yamumbi IDP camp in 2015, but nothing has been forthcoming since.
In Trans Nzoia, families living at Geta, Cherangany, accuse the Devolution ministry of only resettling people from two communities.
For Lilian Anyango, a resident of Ikonyero, Kakamega County, life became unbearable following the loss of her husband. "I have two children in school. Educating them is challenging and I have to do menial jobs to provide for them," Anyango said.
Elusive justice
She said the ICC ruling means nothing to her since justice has not been served and the government is yet to compensate them.
Moses Lumbasi, who represents 761 IDPs living in Chwele, Mayanja, Cheptais, Kimilili and Kamukuywa said they are living in uninhabitable conditions.
"We are suffering. Our efforts to get assistance from the government have fallen on deaf ears. We only keep getting registered but we haven't received any compensation," he said.
The narrative is the same in Kisauni, Mombasa, where IDPs are looking forward to compensation from the Government.
- Reports by Osinde Obare, Fred Kibor, Eric Abuga, Mwangi Muraguri and Grace Wekesa