Corruption taking a worrying trend as 2017 polls near, Mutunga warns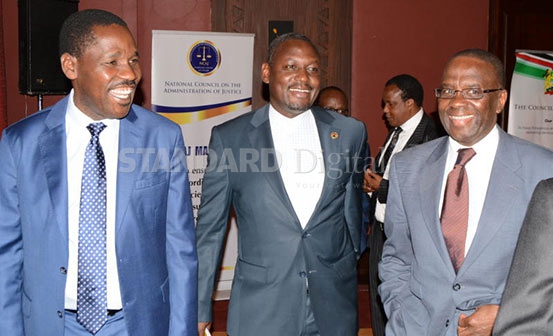 Corruption is taking a worrying trend as next year's General Election approaches, Chief Justice Willy Mutunga has warned.
In reference to recent mega corruption cases, the CJ urged those in authority to act decisively against the vice because it will have a bearing on the national elections. Another important aspect that will determine the success of the exercise, Justice Mutunga noted, is the Treasury.
"Apart from the willingness to fight corruption at all levels, another major factor that will determine the next General Election is the Treasury," he said.
Without naming names, Dr Mutunga took a swipe at some politicians keen on condemning the Judiciary while in power for no apparent reason. "I often watch in amused horror when I see individuals in positions of power viciously attack the independence of the Judiciary and the Constitution, accusing the two - rather parochially - that they are too strong and activist in its judgements," said Mutunga.
He added: "Later, they will dash for the protection of the same activist Constitution and Judiciary."
Mutunga was speaking at Enashipai Spa in Naivasha on Thursday during the second National Council on the Administration of Justice and Council Of Governors' conference.
COG chairman Peter Munya lauded the Judiciary for defending the tenets of devolution. He said owing to consultations between the Judiciary and the Council, a separate registry had been designated at the municipal courts to handle county legislation.
"The gazettement of special prosecutors has been hastened so that the enforcement of county laws is not slowed down," he said.
Also present, Inspector General of Police Joseph Boinnet said they had embarked on the process of rolling out the County Policing Authority.
Attorney General Githu Muigai expressed concern over the high number of cases that did not warrant going to court.
He termed this as a waste of public resources noting that the State Office had a bill of Sh1 billion from lawyers seeking payment for the legal services.