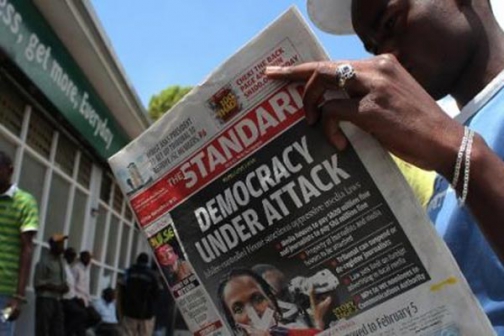 Nairobi, Kenya: Kenya is one of the nine countries that have enacted "vague and overly broad laws" that seek to repress journalists and the civil society, it has emerged.
In a 659-page report covering 90 countries, Human Rights Watch (HRW) has listed Kenya alongside other repressive regimes such as Egypt, Sudan, Kazakhstan, Morocco, Ecuador, Bolivia, Cambodia, and Venezuela. The global rights lobby slammed the Jubilee administration for enacting repressive laws to "rein in activists and undermine independent groups' ability to operate".
The laws, official blackmail and branding of those who ask questions about Government excesses as people advancing a "foreign agenda" or people abetting terror, are some of the tactics the Government uses to suppress human rights, HRW said.
"As Western governments intensify their efforts to stop terrorism, others have become adept at using vague language about terrorism to deflect criticism of their crackdown on civil society," HRW Executive Director Kenneth Roth said in Istanbul, Turkey yesterday, in a launch beamed live online.
The World Report 2016 captures the events of the past 12 months. HRW is also upset at what it says is official blackmail of civil society by labelling some of its members as "terror organisations", so that the Government sidesteps scrutiny over impunity, corruption and extra-judicial killings.
"Kenya included two human rights groups (Haki Africa and Muslims for Human Rights) on a list of suspected terrorism supporters. The two organisations documented abuses by security forces during counter terrorism operations. The organisations had to go to court to be cleared them of any links to terrorism and unfreeze their bank accounts," Mr Roth added.
The global report records that some unnamed "senior officials" have "attacked civil society organisations for supporting prosecution by the International Criminal Court (ICC) of those who allegedly directed the 2007-2008 post-election violence, including Deputy President William Ruto".
The police and military have also been indicted for "extrajudicial killings, torture, disappearances and arbitrary detentions, particularly during counter terrorism operations in Nairobi, Mombasa, the Coast and in the Northeast, and rarely faced investigations or prosecution".
The report added: "Security forces from multiple agencies raided communities, beating, harassing and extorting money from residents. Hundreds of predominantly Muslim and ethnic Somalis were targeted and detained without charge for periods beyond the 24-hour limit set by Kenyan law." Sudan is also "a closed society", where forming a civil group to hold the government to account is a recipe for imprisonment.