Revenue clerks evicted, injured in border row between Kiambu and Murang'a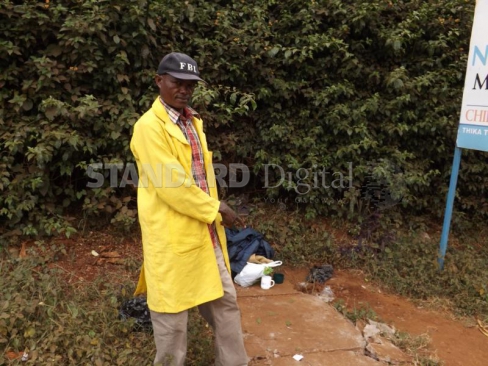 KIAMBU: A border dispute between Kiambu and Murang'a counties has once again escalated after county askaris from the former allegedly attacked revenue clerks stationed in Jogoo Kimakia.
Daniel Kamau, one of the revenue clerks attacked, said Kiambu County askaris came in a convoy armed with clubs, and told them they were collecting levies in an area that belonged to Kiambu.
Their efforts to make them understand the area was in Murang'a County fell on deaf ears and the askaris started beating them up.
They also allegedly confiscated receipt books and took the money they had collected.
"They could hear none of our explanation. In fact, they went ahead and uprooted our revenue collection booth, and put it in their vehicle before they started beating us. One of our female colleagues sustained serious injuries from the beating," said Mr Kamau.
He said they have already recorded statements over assault at the nearby Ndurumo police post.
The two counties have been embroiled in a border dispute since the county governments came into force. Jogoo Kimakia, Bendo and Maporomoko, which fall under Gatanga constituency, are high end estates that both counties have been fighting to control.
POSH ESTATES
While Murang'a maintains the border of the two counties is Chania River, Kiambu on the other hand says that should not be the border point since they offer services to the neighbouring high end estates.
"We know Kiambu want to control the area since it is a rich revenue base. The area has high end hotels, schools and other businesses, which attract a lot of revenue. We will not take that lying down," said a Murang'a County official.
Murang'a Governor Mwangi wa Iria has already made an official complaint to Kiambu county government on harassment of his officers and trespass by the county askaris.
Gatanga sub-county administrator George Murimi said everything was back to normal following the deployment of the reinforcement unit.
"We are in the process of re-erecting the revenue collection booths. County askaris have already been deployed to the area to offer security to revenue collection officers" said Mr Murimi.
But Kiambu County Secretary Fredrick Kitema differed with his Murang'a counterparts, saying the border row was not a new thing but an issue that has been there for years.
The county secretary said they will continue collecting revenue from the neighbouring estates and business ventures since they were the ones offering services in those areas.
"We have agreed with Murang'a county government that they will only collect cess and we will collect all the other revenues," said Mr Kitema.
Mukuru gets state of the art maternity unit
The new Sh20 million state-of-the-art maternity wing that was unveiled by Governor Evans Kidero is the only one of its kind in the area and offers maternity and general health care services.