Community starts drive to flush out criminals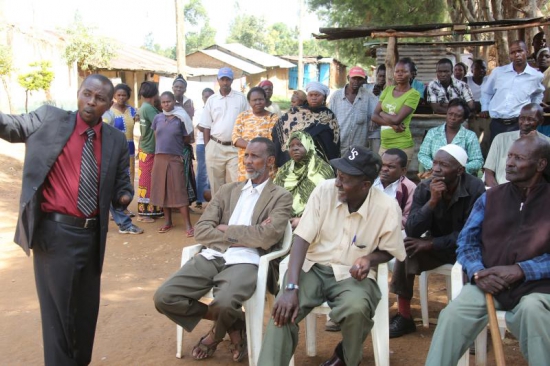 Residents of Kakamega town have launched a security initiative to flush out suspected criminals.
The initiative dubbed 'Mimi ni Mkenya na nitalinda Kenya' (I am a Kenyan and I will secure Kenya) will see residents inform the authority on any security threats.
Speaking during the launch at Makaburini estate yesterday, Joseph Kinuthia, a peace ambassador in the county said terrorists have shifted their targets to slums and villages to recruit youths in their groups.
"Slum areas and villages have become the latest targets of militia groups to radicalise youths, most of who are unemployed and idle. They have taken advantage of poverty and unemployment to get youths to join them," said Mr Kinuthia.
He urged the residents to inform security agencies on suspicious people living in their midst.
"Intelligence information indicate that terrorists are targeting learning institutions, shopping malls and worship centres in the county. We plan to have door-to-door campaigns on security," he said.
David Mumia, the chairman of Vibanda squatters, asked landlords to provide the relevant authorities with information on their tenants.
"Landlords should provide the authorities with information on all their tenants if we are to flush out any criminals, or people planning to cause chaos in the community. This is the only way of identifying security threats," said Mumia.
Community policing
Kakamega town has experienced increased cases of crime, mostly targeting boda boda riders and their customers.
Dickson Njiru, the assistant inspector of police in charge of security co-ordination blamed the riders for being accomplices to crime, and asked them to be more vigilant when on duty.
"We have many cases of motor bike theft in Kakamega town. This is because they do not care about their security and would carry anybody so long as they are offering money. Most also operate late in the night," said Mr Njiru.
"We want them to report any suspicious elements before they attack," he added.
Mr Njiru said security officers are on a high alert to deal with any case of insecurity and asked Kenyans to provide them with information to enhance security in the county.