Majority Leader Aden Duale sparks gay debate as date for Barack Obama's visit nears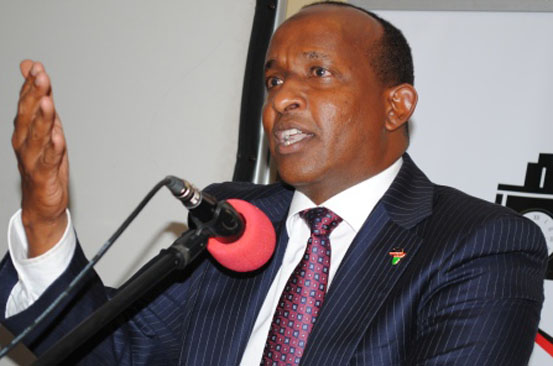 National Assembly Majority Leader Aden Duale has sparked a fresh debate over US President Barrack Obama's visit to the country, vowing that the Jubilee Government will resist pressure to adopt same sex marriage policies.
Duale said Kenya was "a God fearing nation" and that it will not be swayed to adopt policies that favour "irreligious unions". President Obama is scheduled to visit Kenya for the Global Leadership Summit to be held in Nairobi on July 25-26.
The US President is scheduled to meet with President Uhuru Kenyatta and Opposition leaders although the agenda of those meetings remains unknown. But Duale said on Saturday that as a Muslim and a leader in the Jubilee administration, he was duty bound against making decisions that are against the will of Kenyans.
"We want to tell Obama that if one of the agendas of his visit is to push for the adoption of same sex marriage, we won't accept. As a Muslim and a leader in the Jubilee administration I must tell the President the truth about issues that are dear to the Muslim community and I am happy that he (President) listens," said Duale.
He becomes the second high ranking leader in the Jubilee administration to rebuff President Obama's promotion of homosexuality after Deputy President William Ruto, also at the forefront to oppose it during the US President's last visit in the continent in 2013.
Ruto said then that Kenya was committed to a nuclear family as prescribed by the bible in reference to Obama's campaign for homosexuals' rights.
"This is a God fearing nation and those who believe in other things, that is their business. Kenya is a sovereign and God-fearing nation," said Ruto during Obama's last visit in Africa.
In 2013, Obama clashed with Senegal's, Macky Sall, who openly opposed pro-homosexual comments. This month a US Supreme Court ruled that its Constitution provides same sex couples the right to marry in a verdict that was hailed by Obama as "a victory for America".
Speaking during a funds drive in aid of Madrass teachers in Kilifi South, Duale said on Saturday that Kenya will not accept any push to accept any attempt to allow same sex marriage in the country.
Kilifi Governor Amason Kingi who also attended the Masjid Madrassatul Madina fund drive, called on Muslim clerics to guard against "bad elements" spoiling the name of Islam by supporting radicalisation and terror.