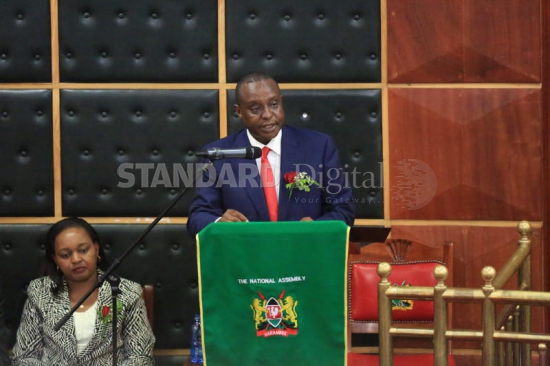 NAIROBI: Kenyans will pay a heavy price through more taxes to support the national budget unveiled by National Treasury Cabinet Secretary Henry Rotich Thursday.
Teachers and students were, however, big winners in the budget, more than a quarter of which the CS said would be financed through borrowing.
Of the Sh2.1 trillion that Government organs and counties have been given to spend, citizens will raise Sh1.35 trillion through taxes while a funding gap of Sh569 billion will be plugged by loans.
All households will especially feel the pinch through costlier petroleum whose price will rise by Sh3 per litre, while landlords will be required to pay Sh120 for every Sh1,000 they collect as rent for property taxes. But the 12 per cent tax on rental income was a climb down from the usual 30 per cent.
Mr Rotich said the decline was hoped to encourage landlords to be compliant because the compliance has been "very bad".
A rise in the cost of petroleum has far-reaching implications through higher fares, and costlier cooking energy sources and manufactured essential commodities. Smokers were also hit in Kenya's most ambitious national budget yet.
Beer lovers in the lower income segment were however a lucky lot after Rotich said there would be tax rebates for manufacturers of cheap and safe alcohol. The exception could mean that consumers of cheap unmalted beer – mostly known as keg beer – may have received a major reprieve.
Rotich said he would review the taxation on other categories of beer, which could in essence see their prices rise.
In another shock to households, the State has raise taxes levied on plastic bags – which are the most common packaging material in Kenya. From the revised guidelines on taxing non-essential commodities called excise duty that would be charged on beer, cigarettes and plastic bags, the State aims to raise Sh25 billion.
Wearing a navy blue suit, white shirt and red tie, Rotich delivered his third budget speech to a rather dull House that lacked the usual cheering and foot-thumping. In just under two hours, the CS spent most of his time outlining the various projects that the Government was focused on in the new financial year.
He told the legislators that the Kenya Revenue Authority would help the State raise more than Sh1.35 trillion in the financial year, more than half of that from income tax paid by salaried workers.
Investment in security got the biggest boost, taking nearly Sh224 billion, to be shared between the military, intelligence and the police.
It was clear from the allocation how much of a headache insecurity and the ever-present threat of terror has posed to Uhuru Kenyatta's administration. Several attacks staged by Somali militant group Al-Shabaab had dealt the country a severe blow, Rotich said, with the aftershocks being felt in nearly all segments of the economy.
Tourism, the country's second largest foreign exchange earner, has specifically taken the biggest hit with several tourist facilities closing shop as holiday-makers stayed away.
But Rotich, putting on a brave face, said the investment in security through better equipment and an additional Sh5.2 billion set aside to support the revival of the tourism sector, would guarantee a turnaround.
"This investment in security will ensure a swift and uncompromising response to security threats," Rotich said.
Parents will also be a happy lot after the State said it has raised the capitation to support free education in primary school, and tuition fee for secondary school students. Over Sh32.8 billion had been set aside to cover tuition fees for all secondary school students attending public schools, while Sh14.1 billion will go to the free primary school education programme.
Rotich also announced that the National Youth Service would be allocated Sh25 billion towards youth employment and re-engineering as a vehicle for transforming and empowering the youth.
Among the most notable policy changes announced Thursday were a Sh40 per kilo import duty slapped on sugar that is not locally produced, in a move that is hoped will help to cushion local millers from external competition. It is not clear yet what the new taxes on sugar would mean for the region, where Kenya is the most prominent member and biggest importer of sugar.
Underpinned by major infrastructure projects including the Sh327 billion standard gauge railway line, the task of raising capital was always going to be huge.
Most legislators were happy with the budget, noting that it favoured the common man.
Earlier, Opposition MP Ababu Namwamba had told KTN television reporters he was worried about the possible taxes that would be introduced in the budget speech.
"Rotich should spare the common mwananchi but should target the cream of society and tax them to death if he wants," said Mr Namwamba.