Relief for patients in Machakos as hospital gets new machines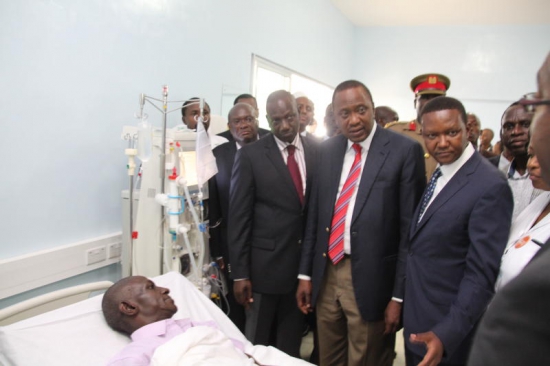 It is a dream come true for Martin Kioko, 40, who has for years been forced to travel for hours in agonising pain in search of medical treatment. But now Mr Kioko, who has kidney problems, can dare to hope. He does not need to travel from Machakos to Kenyatta National Hospital in Nairobi for dialysis anymore.
"I used to travel to Kenyatta National Hospital twice a week for dialysis but this is no longer necessary. I am grateful to the governor for bringing the machines closer," says Kioko.
He says the trips to Nairobi drained his finances, adding that the installation of dialysis machines at Machakos Level Five Hospital is a great relief.
Victor Mutiso, another patient, says he had to move to Nairobi where one of his sons lives to be able to attend his scheduled clinics at Kenyatta. Mr Mutiso, who comes from Mutituni in Machakos, says he has now moved back home.
"I have no words to express my joy. May God bless those who have made this happen," says Mutiso.
The hospital has six dialysis machines, with more expected by August. In the maternity wing, patients now have hot water showers, modern toilets and clean gowns.
Faith Mwelu, 18, says the refurbished maternity wing has made it refreshing for expectant mothers. Ms Mwelu, who comes from Nzoeni village in Kathiani, says the maternity wing is now better equipped, with patients no longer sharing beds.
"We now have hot showers and delivery has been made more comfortable," says Mwelu.
Theatre equipment
Machakos County Health Executive Naomi Mutie says already at least 25 patients have registered on the waiting list for dialysis with the new machines.
Commissioning the machines in Machakos on Wednesday, President Uhuru Kenyatta pledged that his government was committed to ensuring that citizens enjoyed access to quality specialised health services regardless of their location in Kenya.
"My vision and that of my government is that every Kenyan at village level will be able to access treatment in our health facilities. That is my commitment," said the President.
Health Cabinet Secretary James Macharia said the transformation at Machakos Hospital was a milestone that needed to be emulated by other counties.
"Machakos has set the pace and we are really proud of what the governor has done," said Mr Macharia.
He said through the Managed Equipment Programme, Machakos had received theatre equipment that would see patients access quality life-saving surgical procedures.
Machakos Level Five Hospital has become a model public hospital. The transformation has been enabled through a collaboration between the government of Machakos County and the national government through the Ministry of Health.
The hospital, built in 1925, has been renovated and modernised by Machakos Governor Alfred Mutua as part of the programme that includes receiving new equipment provided by the national government.
Dr Mutua explained that his government was committed to the provision of better health care and had purchased 70 van ambulances for emergency response.
"Our women in labour are no longer being taken to hospitals on wheelbarrows but rather in ambulances that are based in the villages," said Mutua.
He said so far, more than 4,500 people had been assisted by the ambulances, and of these, 3,000 were women in labour.
The governor added that there were enough drugs in all health centres across the county, saying no patients should be referred to fill out their prescriptions outside. All the walkways in the hospital have also been refurbished and there is a modern cafeteria set up to cater for visitors.