First Lady Margaret Kenyatta wins hearts serving needy children and mothers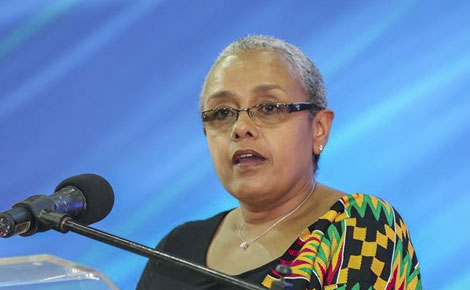 First Lady Margaret Kenyatta.
A honorary doctorate, a global award, a horde of grateful mothers and admirers across the country are among accolades that made the year for the First Lady Margaret Kenyatta.
That, plus the honour of being the only First Lady to tackle the 42-kilometre unforgiving course of the London Marathon, at 50, are what she takes home, to State House, when 2014 disappears and 2015 walks in.
Mrs Kenyatta carries herself with a quiet confidence and kind of shy charm. She seeks to achieve a dream her father-in-law, First President Jomo Kenyatta set out to deal with at independence: to rid the country of disease, poverty and ignorance.
The First Lady's "Beyond Zero" initiative targets HIV control, promotion of maternal, new born and child health.
"The Beyond Zero campaign has taught me that no goal is too great and no distance too long if you focus on the ultimate prize. With focus and courage, we can surpass most of our challenges as a nation," she said less than a fortnight ago when the Kenyatta University bestowed on her an Honorary Doctor of Humane Letters, for her efforts.
The mother of three also got inspiration from the London Marathon. In October, she was awarded the prestigious UN in Kenya Person of the Year, for her Beyond Zero Campaign efforts. She not only made history as the first ever First Lady to run and complete a marathon for a worthy cause, but also the first one to be awarded the award.
The First Lady recently launched the second edition of the 'First Lady's Half Marathon' at Karura Forest which targets to raise Sh600 million for the campaign by March 8 next year. No wonder some opinion polls have rated her as most trusted person, ahead of politicians.