7,000 fraud cases involving Lands officials 'in court'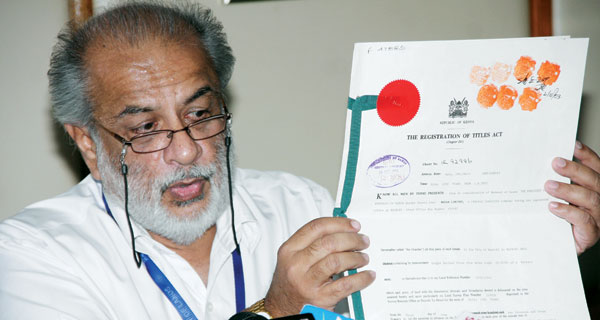 Nasir Manji with documents of a disputed property at the Press conference addressed by Lands Cabinet Secretary Charity Ngilu in Nairobi's Ardhi House. [PHOTO: JENIPHER WACHIE/ STANDARD]
By GEOFFREY MOSOKU
Kenya: Lands Cabinet Secretary Charity Ngilu has vowed to dismantle the cartels at her ministry, which she says were responsible for forgery of land documents that have aided in defrauding Kenyans.
Ngilu disclosed that there were over 7,000 cases in court where ministry officials have colluded to aide fraudsters get court nods over ownership. "This is something we are not going to condone and we will root out these people who are not only out to taint the image of the ministry but also the government," she said.
Ngilu, who was addressing a news conference at her Ardhi House office, was accompanied by an Asian family that is locked in a legal tussle with a company over a multi-million plot in Nairobi's Parklands area.
The family had been sent to Ngilu by Industrialisation Cabinet Secretary Adan Mohamed. "We were referred to madam by her colleague Adan to present our case. We are the genuine land owners but someone wants to con us," Nasir Manji, a director of Mbesa limited that claims ownership of the plot said.
According Ngilu, Mbesa's file had disappeared from the registry and a new one allegedly created that had commenced a process of allocating the said land to Flash Audio Services limited, whose director is shown as James Gichuki Wambugu.
Yesterday, Ngilu said she had written to the CID as well as the Ethics and Anti corruption Commission to investigate close to 1000 land fraud cases.
She failed to mention officers implicated and only told the media to help her clean Ardhi House because the cartels are land barons who are very powerful.
On her stand off with the National land Commission (NLC), Ngilu insisted that the constitution only gives the commissioner power to manage public land and not private land.
She told the Muhamad Swazuri led team to concentrate on its mandate as per article 67 of the Constitution and leave registration of titles to the ministry.
"I am the minister and the NLC is an agent of the ministry, let us be clear on that," Ngilu said while cautioning Kenyans not to use title registration forms that were recently gazzetted by the NLC.
She refuted reports of a paralysis in the ministry saying that registration of titles was being done by Jane Ndiba who had been appointed in an acting capacity by the Public Service Commission.
Ngilu said she was facing resistance in fighting land cartels that are depriving genuine landowners of their land.
President's challenge to EAC varsity team
President Uhuru Kenyatta has challenged Inter University Council of East Africa (IUCEA) to harmonise higher education and training systems through regional quality assurance and accreditation systems.