Full operations at Jomo Kenyatta International Airport to resume at midnight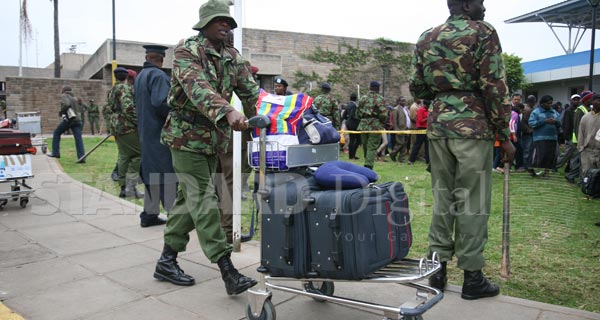 Police officer helps to push luggage to a safe place after flights were cancelled at the Jomo Kenyatta International Airport. (Photo:Wilberforce Okwiri/Standard)
By Standard Digital Reporter
Nairobi, Kenya: Transport Cabinet Secretary Michael Kamau Thursday said full operations at the Jomo Kenyatta International Airport (JKIA) will resume from midnight.
He also assured all travelers of their safety while in the country.
Kamau who was speaking during a press conference at the airport asked travelers to bear with the little discomfort, adding that the presidential pavillion will be used for international arrivals.
He however declined to comment on the likely cause of the fire urging people to avoid speculation.
"It is better to wait for the answers on the cause of the fire, there is no need to speculate," said the Cabinet Secretary.
I addition, he said that the Kenya Airport Services have not yet been able to assess the damage caused by the fire.
A few international flights cleared to take off since morning. Cargo and domestic flights took effect on Wednesday, hours after an indefinite suspension had been announced by the airport services.