New Deputy Chief Justice Kalpana Rawal rise to deputise Mutunga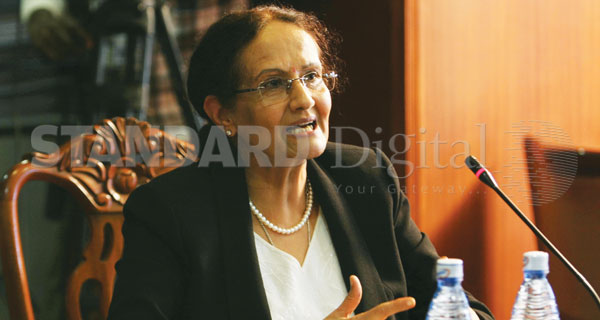 Deputy Chief Justice Kalpana Rawal
By WAHOME THUKU
KENYA: New Deputy Chief Justice (DCJ) Kalpana Rawal had aimed at the sun but has finally hit the moon. Justice Rawal was in May last year among nine applicants interviewed for the job of Chief Justice (CJ), which eventually went to Dr Willy Mutunga.
The High Court Judge then made several bids for other posts and was soon after elevated to the Court of Appeal.
She will be retiring from the Judiciary just at the same time with Mutunga who will attain the constitutional retirement age of 70 in 2017.The position of the DCJ was created by the new Constitution to ease the workload on the CJ, who was the only head of the Judiciary. The office is now established by Article 161(2)(a) of the Constitution as that of the Deputy Head of the Judiciary.
The DCJ is also an automatic judge of the Supreme Court where he or she deputises the CJ and is the vice-president of the court.
The only position in which the DCJ does not deputise the CJ is in the latter's position as the chairman of the Judicial Service Commission (JSC).
The appointments of the CJ and the DCJ are the only ones in the Judiciary, which require approval of Parliament. All other judges are picked by the JSC and appointed directly by the President. The Parliamentary Committee on Justice, which was the last to approve Rawal's appointment recommended that a proper system be put in place to manage the transition since the two Judiciary heads will retire together.
There is no requirement, however, that upon the retirement of the CJ, he or she must immediately be replaced by the deputy.
Rawal was admitted to the Kenyan Bar in July1975 and opened the first woman's law firm. In June 1999, she was appointed commissioner of assize in Nakuru.
Replacing Baraza
On June 2, 2000 she was sworn-in as High Court judge and served up to 2012 when she became Court of Appeal judge.
Rawal has filled in the vacancy left by Ms Nancy Baraza who resigned from the Judiciary last year following a determination by a judicial tribunal that she was unfit to continue holding the office.
The decision followed a rigorous investigation into an altercation between her and a security guard Rebecca Kerubo at the Village Market shopping mall in Nairobi, on December 31, 2011.
Though Baraza had the option of appealing against the decision to the Supreme Court, she decided to resign saying she was not likely to get a fair hearing. Rawal says being an insider in the Judiciary for 13 years she would complement Dr Mutunga who came from outside to head the institution. "The link between the old insiders and the newcomers is important and with my experience I could bring a more efficient, understanding judiciary," she told the Committee on Justice.
She added, "I know the complexity of courts. Being insider is a plus in my view. The CJ was out of Judiciary for long hence my match with him will be good."
Asked what changes she would institute in that short time and what legacy they would leave, the judge said, "If I can accelerate what I have done in 13 years, we can make a difference. That will be our transition."